Welcome to Morgan State University!
Morgan State University, founded in 1867, is a Carnegie-classified doctoral research institution providing instruction to a multiethnic, multiracial, multinational student body and offering more than 125 academic programs leading to degrees from the baccalaureate to the doctorate. As Maryland's Preeminent Public Urban Research University, Morgan fulfills its mission to address the needs and challenges of the modern urban environment through intense community-level study and pioneering solutions.
Located in a charming residential area of northeast Baltimore near the historic neighborhoods of Morgan Park and Wilson Park, Morgan's impressive, 152-acre campus features state-of-the-art facilities geared toward innovative teaching and learning in the 21st century. The campus, designated as a National Treasure by the National Trust for Historic Preservation, offers a safe and inviting learning environment with easy access to the best the city has to offer: culture, exhibits, dining, shopping, activities, sightseeing, and employment. The off-campus opportunities also extend to community projects and civic engagement.
Morgan has graduated more than 50,000-degree candidates since its establishment more than 150 years ago, producing a passionately devoted corps of alumni who have found success in all areas of endeavor, in the U.S. and beyond. Among the nation's most diverse Historically Black Colleges and Universities, and the largest in Maryland, Morgan seeks to ensure that the doors of higher education are opened as wide as possible to as many as possible.
Morgan At A Glance
Morgan State University, a coeducational institution, is located in a residential section of Baltimore, Maryland. The campus covers an area of more than 143 acres.
The University offers a comprehensive range of academic programs through the doctorate. Morgan is also a founding member of the Mid-Eastern Athletic Conference (MEAC).
Morgan State University is an equal opportunity affirmative action institution of higher education. See the Nondiscrimination Policy.
By action of the Maryland Legislature, the University has been designated as Maryland's Preeminent Public Urban Research University, with the responsibility of addressing the needs of residents, schools, and organizations within the Baltimore Metropolitan Area. Morgan State University is located in a residential area of northeast Baltimore City. It is easily accessible from downtown, the Baltimore beltway, and Interstate 95. Each year, the school enrolls an average of 7,700 students in programs from the baccalaureate level through the doctorate.
Morgan was named after the Rev. Lyttleton F. Morgan, who served as Chairman of the Board of Trustees from 1876-1886. Morgan was formerly known as the Centenary Biblical Institute. It was named Morgan College in 1890.
Morgan attracts students from each state and many foreign countries. About 35% of all students enrolled at Morgan are from outside the State of Maryland. It is one of the leading institutions nationally in the number of applications received from African-American high school graduates. The largest sources of its enrollments outside of Maryland are New York, New Jersey, and Pennsylvania.
The University has a comprehensive undergraduate curriculum with more specialized offerings at the master and doctoral levels. Morgan traditionally has placed a strong emphasis on the arts and sciences at the undergraduate level and on the preparation of students for advanced study. In addition, it offers a variety of programs in professional fields, including engineering, business, teacher education, architecture, hospitality management, and social work.
While Morgan is a historically black institution, it has served students of all racial and ethnic backgrounds. Its mission today is to enroll a student body that is diverse in its socioeconomic and academic status and to provide the full range of experiences and services that permits it to successfully serve students with a wide variety of goals and needs.
The University awards more bachelor's degrees to African-American students than any campus in Maryland. In many fields, but particularly in engineering and the sciences, Morgan accounts for large percentages of degrees received by African-Americans from Maryland institutions. An above-average percentage of Morgan graduates enter graduate and professional school. Historically, the University has ranked among the top public campuses nationally in the number of black graduates receiving doctorates.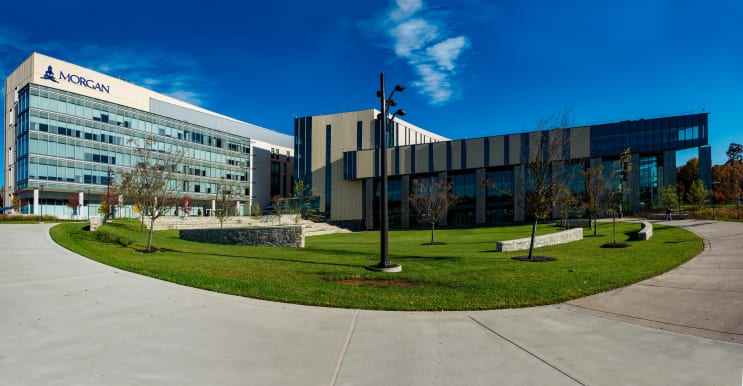 photo courtesy of Morgan State University
Vision, Mission, and Core Values of Morgan State University
Morgan State University's vision and mission statements as well as its core institutional values are consistent with the University's Carnegie Foundation classification as a doctoral research university and are intended to direct Morgan's strategic growth over the next decade.
Vision Statement
Morgan State University is the premier public urban research university in Maryland, known for its excellence in teaching, intensive research, effective public service and community engagement. Morgan prepares diverse and competitive graduates for success in a global, interdependent society.
Mission Statement
Morgan State University serves the community, region, state, nation, and the world as an intellectual and creative resource by supporting, empowering and preparing high-quality, diverse graduates to lead the world. The University offers innovative, inclusive, and distinctive educational experiences to a broad cross-section of the population in a comprehensive range of disciplines at the baccalaureate, master's, doctoral, and professional degree levels. Through collaborative pursuits, scholarly research, creative endeavors, and dedicated public service, the University gives significant priority to addressing societal problems, particularly those prevalent in urban communities.
Core Values
The following institutional core values guide the promotion of student learning and success, faculty scholarship and research, and community engagement at Morgan:
Excellence. Excellence in teaching, research, scholarship, creative endeavors, student services, and in all aspects of the University's operations is continuously pursued at Morgan to ensure institutional effectiveness and efficiency.
Integrity. At Morgan, honest communications, ethical behavior, and accountability for words and deeds are expected from all members of the University community.
Respect. Each person at Morgan is to be treated with respect and dignity and is to be treated equitably in all situations.
Diversity. Broad diversity of people and ideas are welcomed and supported at Morgan as essential to quality education in a globally interdependent society. Students will have reasonable and affordable access to a comprehensive range of high-quality educational programs and services.
Innovation. Morgan encourages and supports its faculty, staff, and students in all forms of scholarship including the discovery and application of knowledge in teaching and learning and in developing innovative products and processes.
Leadership. Morgan seeks to provide rigorous academic curricula and challenging co-curricular opportunities to promote the development of leadership qualities in students and to facilitate leadership development among faculty, staff, and students.
Brief History of Morgan State University
Founded in 1867 as the Centenary Biblical Institute by the Baltimore Conference of the Methodist Episcopal Church, the institution's original mission was to train young men in ministry. It subsequently broadened its mission to educate both men and women as teachers. The school was renamed Morgan College in 1890 in honor of the Reverend Lyttleton Morgan, the first chairman of its Board of Trustees, who donated land to the college. Morgan awarded its first baccalaureate degree to George F. McMechen in 1895. McMechen later obtained a law degree from Yale and eventually returned to Baltimore, where he became a civic leader and one of Morgan's strongest financial supporters.
In 1915 the late Andrew Carnegie gave the school a conditional grant of $50,000 for the central academic building. The terms of the grant included the purchase of a new site for the College, payment of all outstanding obligations, and the construction of a building to be named after him. The College met the conditions and moved to its present site in northeast Baltimore in 1917. Carnegie Hall, the oldest original building on the present MSU campus, was erected two years later.
Morgan remained a private institution until 1939. That year, the state of Maryland purchased the school in response to a state study that determined that Maryland needed to provide more opportunities for its black citizens.
From its beginnings as a public campus, Morgan was open to students of all races. By the time it became a public campus, the College had become a relatively comprehensive institution. Until the mid-1960s, when the state's teachers colleges began their transition to liberal arts campuses, Morgan and the University of Maryland College Park were the only two public campuses in the state with comprehensive missions.
As Maryland's teachers' colleges began to broaden their objective, Morgan and other like institutions, were placed into a state college system governed by a Board of Trustees. However, in 1975 the State Legislature designated Morgan as a university, gave it the authority to offer doctorates, and provided for it to once again have its own governing board. In 1988 Maryland reorganized its higher education structure and strengthened its coordinating board, the Higher Education Commission. The campuses in the state college system became part of the University of Maryland System. Morgan and St. Mary's College of Maryland was the only public baccalaureate-granting institutions authorized to have their own governing boards. The legislation also strengthened Morgan's authority to offer advanced programs and designated the campus as Maryland's Public Urban University.
Visiting Morgan
The University has the advantages of both suburban life and proximity to an urban center. Built on two slopes, the campus is strategically located in the picturesque northeastern section of Baltimore, a city with a population of more than 657,000, and is surrounded by rapidly growing residential communities. The center of the city is easily accessible from the university campus.
Information about Baltimore
Morgan's campus in northeast Baltimore provides easy access to all the good things the city has to offer: world-class museums, the Baltimore Symphony, great jazz clubs, ethnic festivals, fabulous restaurants, major league sports, shopping and sightseeing at the Inner Harbor. You'll also find great opportunities for internships, community projects, and other off-campus experiences in the city that Chase Econometrics hail as one of the top ten future employment markets in America.
Where To Stay
Morgan's suburban-like setting is a spacious 140- acre campus located in a pleasant residential neighborhood, nestled among rolling hills in the Northeast section of Baltimore City. The campus can be reached from hotels in the Inner Harbor area in about fifteen minutes. The campus is ten minutes from lodging in the Towson area and 10-15 minutes from hotels in Northern Baltimore County.
Locations
Baltimore
Address
East Cold Spring Lane,1700
21251
Baltimore
,
Maryland
,
USA