Kelley School of Business Indiana University
Home ›
USA ›
Kelley School of Business Indiana University
Read more on the institution's website
The Kelley School offers a top-tier business education focused on guiding you toward your own true success. At the Kelley School of Business, we are in the business of creating career momentum. Our students have the talent to succeed, the humility to grow and the tenacity to persevere. That spirit—combined with an education that only the elite Kelley School can deliver—results in graduates with the knowledge and skills needed to meet new challenges, to make positive change possible and to contribute to their organizations from day one. We have our roots in the first business course offered at Indiana College in Bloomington in 1830. Indiana College grew to be Indiana University, and the School of Commerce and Finance, established in 1920, grew to be the Kelley School of Business. We've offered business courses on our Indianapolis campus since 1916, implemented executive education in 1952 and advance business education on a global scale. Our timeline showcases more than 100 years of business excellence.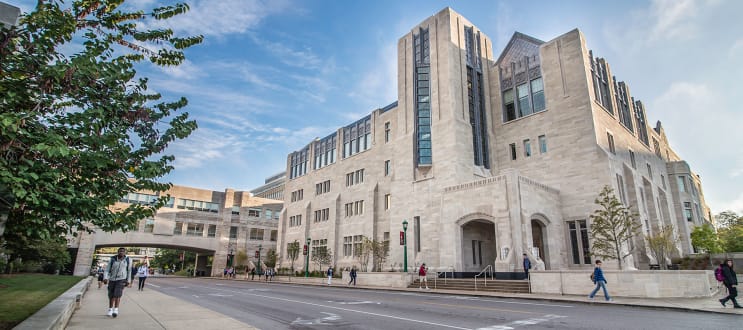 Recruiters tell us they seek out our students and graduates for their positive, hardworking attitude and their confidence that comes from the real-world, applicable education our faculty deliver at every degree level. Our faculty members demand and get, the best out of our students. Kelley students learn how to drive results. This quality is reflected in our exceptional student job-offer rates, the reputation of our career services and our global position as a top business school.

Go from moment to momentum
There are moments of significance in life. They happen anywhere, anytime. A flash of inspiration for a new business, an introduction to a mentor, landing the big job—they're pivotal moments that define you. And without the proper training and support, that's all they are: single moments that end when they end. With Kelley, these moments explode into chain reactions of opportunity. You're not just prepared for them; you're able to navigate them in order to guide yourself toward your own true success.
Mission
The mission of the Kelley School of Business is to transform the lives of students, organizations, and society through management education and research. Our aim is to produce: a) students who are citizens of the world who have a positive impact on their organizations and on the communities in which they live, and b) research that advances both theory and practice. We emphasize a collaborative approach that encourages the creation of value-added partnerships among faculty, students, alumni, other universities and academic units at IU, and with private-sector and not-for-profit organizations. At the Kelley School, we are committed to maintaining a system of values grounded on:
Ethical conduct and integrity
Excellence, professionalism, and pride in all that we do
Personal initiative and individual responsibility
Full engagement of all of our faculty and staff in pursuing the mission of the school
Ongoing innovation in our programs and scholarship
A spirit of collaboration, civility, respect and collegial conduct in all contexts
Open and forthright communication
Diversity and inclusiveness and
Just and equitable recognition for performance
Locations
Bloomington
Address
Godfrey Graduate and Executive Education Center
1275 E. 10th Street

47405
Bloomington
,
Indiana
,
USA
Indianapolis
Address
801 W. Michigan Street

46202
Indianapolis
,
Indiana
,
USA