About TCNJ
The College of New Jersey (TCNJ) is a highly selective institution that is consistently recognized as one of the top comprehensive colleges in the nation. Founded in 1855 as the New Jersey State Normal School, TCNJ maintains the seventh-highest four-year graduation rate among all public colleges and universities. It is ranked by Money as one of the top 15 public colleges "most likely to pay off financially," and U.S. News & World Report rates it the No. 1 public institution among regional universities in the northeast.
Known for its natural beauty, the college is situated on 289 tree-lined acres in suburban Ewing Township, New Jersey, in close proximity to both New York City and Philadelphia. A strong liberal arts core forms the foundation for a wealth of degree programs offered through the college's seven schools: Arts and Communication; Business; Education; Engineering; Humanities and Social Sciences; Nursing, Health, and Exercise Science; and Science. Five signature experiences are the hallmark of a TCNJ education. They include a personalized, collaborative, and rigorous education; undergraduate research, mentored internships, and field experiences; community-engaged learning; global engagement; and leadership development.
TCNJ's longstanding commitment to faculty-student collaboration was recognized in 2015 by the Council on Undergraduate Research, which named the college the recipient of its inaugural "Campus-wide Award for Undergraduate Research Accomplishment." In 2006, TCNJ was awarded a Phi Beta Kappa chapter—an honor shared by less than 10 percent of colleges and universities nationally.
Essential to its mission, TCNJ believes in the transformative power of education to develop critical thinkers, responsible citizens, and lifelong learners and leaders. Leadership programming is offered throughout an undergraduate's career, as well as other programs and services aimed at students' social, emotional, career, academic, spiritual, and physical development. TCNJ encourages students to expand their talents and skills through more than 200 campus organizations. These groups include performing ensembles, professional and honor societies, student publications, fraternities, and sororities, and intramural and club sports.
High achievement and scholarship in the classroom have been mirrored by the success of The College of New Jersey's varsity student-athletes. Since the 1978–79 Lions wrestling team captured the college's first National Collegiate Athletic Association (NCAA) team championship, TCNJ has established itself as one of the nation's most successful Division III programs, winning 40 teams and 49 individual NCAA championships.
TCNJ enrolls approximately 7,400 students including 6,790 undergraduates and 610 graduate students.
Character
A highly selective public residential college focusing on the undergraduate experience. Seven schools—Arts & Communication; Business; Humanities & Social Sciences; Education; Engineering; Nursing, Health, & Exercise Science; and Science—offering more than 50 liberal arts and professional programs.
Facts
| | |
| --- | --- |
| Undergraduate Enrollment | Approximately 6,580 full-time students. |
| Average Class Size | 21 students |
| Student-Faculty Ratio | 13:1 |
| On-Campus Freshmen | 95 percent |
| Freshman-to-Sophomore Retention | 93 percent |
| Graduation Rate | 87 percent |
| Average SAT Score | 1228 for General Admits (Critical Reading and Math Only) |
| Athletics | Consistently ranked among the best NCAA Division III programs in the nation. |
| Employers Recruiting on Campus | 400+ |
Campus
TCNJ's Georgian Colonial campus occupies 289 landscaped acres in suburban Ewing, New Jersey. The College is approximately 5 miles from Trenton, the state capital, 10 miles from Princeton, and one hour from both Philadelphia and New York.
Housing
Ninety-five percent of freshmen are housed on campus, and two years of housing are guaranteed for all new, full-time first-year students. Fourteen residence halls provide a variety of living accommodations for all students, including upperclassmen.
Mission
The College of New Jersey, a nationally recognized public institution founded in 1855 as the New Jersey State Normal School, is a primarily undergraduate and residential college, with targeted graduate programs. Grounded in the liberal arts, TCNJ's personalized, collaborative, and rigorous education engages students at the highest level within and beyond the classroom. TCNJ believes in the transformative power of education to develop critical thinkers, responsible citizens, and lifelong learners and leaders. The College empowers its diverse students, staff, and faculty to sustain and enhance their communities both locally and globally.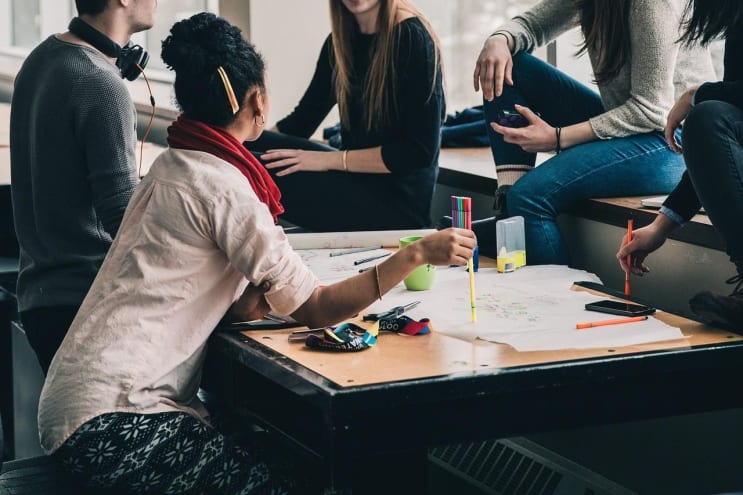 StockSnap / Pixabay
Vision
TCNJ will offer an unparalleled education in a vibrant, collaborative, and inclusive community of learners who will make a distinct mark on the world. By following our values, we will serve as a national exemplar of public higher education, and we will do this while being committed to accessibility and affordability.
Values
Excellence
We admit highly talented students, whom we challenge to discover and realize their potential.
We recruit the highest quality faculty, staff, and administrators who have the expertise and experience to mentor and challenge our students.
We support innovation and experimentation and continue to build on our accomplishments. We hold the highest expectations for ourselves and support each other in achieving them.
Engagement
We encourage students, faculty, and staff to pursue their curiosities and passions inside and outside the classroom.
We collaborate across disciplinary and operational boundaries to draw on all our strengths.
We work together to enrich our local, national, and global communities.
Integrity
We treat each other with civility and respect.
We act ethically and take responsibility for our choices.
We work together in a spirit of fairness, cooperation, and transparency.
Inclusiveness
We recognize the unique worth of each member of our community.
We believe that a community composed of people with diverse backgrounds, perspectives, and abilities promotes learning and engagement.
We are committed to building a diverse and inclusive community.
Self-reflection
We assess our practices in the classroom, on campus, and in the community.
We nurture ongoing campus dialogue to ensure that we adhere to our mission, vision, and values.
We routinely monitor the allocation and expenditure of our resources in order to assure that we are supporting priorities and that we are fiscally responsible.
Locations
Ewing Township
Address
2000 Pennington Road
Ewing Township
,
New Jersey
,
USA