Universidad Ana G. Méndez - Recinto de Cupey
Home ›
Universidad Ana G. Méndez - Recinto de Cupey
Dr. Ángel A. Toledo López completed his PhD in Political Science at Pennsylvania State University with a concentration in American Politics, Research Methodology and Comparative Politics. He attended the Institute of Survey Research of the University of Michigan, Ann Arbor and was a primary researcher of the second wave of the World Values Study conducted from this university. In 2006, after completing his doctorate, Dr. Toledo completed a Juris Doctor of the Law School of the University of Puerto Rico. He worked as a full-time faculty at the Universidad del Este in Carolina and a trial lawyer until he relocated to the state of Maryland in the United States. He was the academic director of the Capital Area Campus of the Ana G. Méndez University System where innovative teaching strategies are used to implement the Discipline-Based Dual Language Immersion Model® at the University level. While serving as full-time academic and faculty director of Social Sciences, he completed a Master's Degree in Curriculum and Teaching with a specialty in Bilingual Education and a Graduate Certificate in Teaching English as a Second Language.
In January 2017, he moved back to his home island of Puerto Rico where he was appointed Vice Chancellor for Academic Affairs at Ana G. Méndez University, Carolina Campus, formerly known as the Universidad del Este. Subsequently, President José F. Méndez Méndez appointed him Vice Chancellor of the Ana G. Méndez University, Cupey Campus, and on September 1, 2019 he was appointed interim rector of this venue. His academic experience has focused on the teaching of social sciences, statistics and criminal justice, and on faculty training on issues related to teaching processes and techniques in higher education. His most recent publications and research interests span a wide range of topics that include political psychology, the perception and behavior of actors in the judicial system, research methodology, and the acquisition of language skills among adults.
Mission
Ana G. Méndez University, Cupey Campus is a private nonprofit higher education institution that has made a genuine commitment to the economic and social development of Puerto Rico. Its mission is to provide, to a diverse student population, the opportunities to acquire personal and professional skills through education, research and community service, so that they become agents of change, lifelong learners and responsible collaborators. with globalization and global sustainability.
Vis i ng
The Ana G. Méndez University, Cupey Campus will be recognized as a leading higher education institution worldwide for: openness to inclusion; the quality of its offers and innovation in the creation of programs; excellence and innovation in teaching and learning processes; education initiatives that provide students with opportunities for social and economic mobility; outstanding research that promotes economic and social development and meets the needs of the world community; the use of advanced technologies to enrich the learning, administrative and student services processes; as well as telecommunications and distance education; and the commitment to the community in order to foster a sustainable and competitive economy that promotes transformative social changes.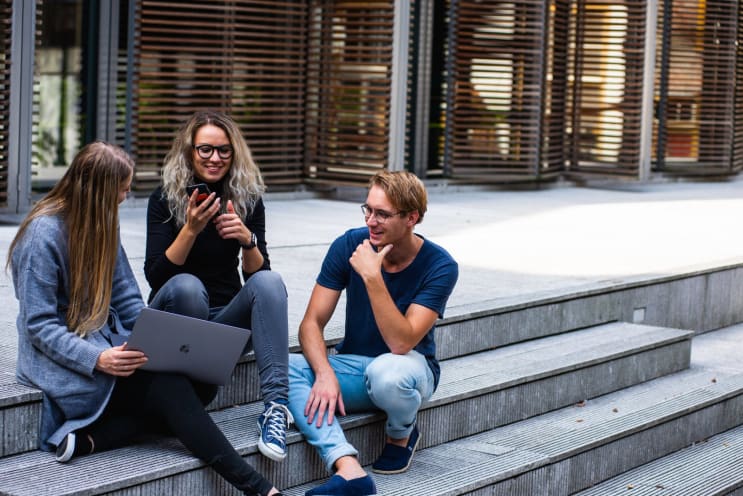 Buro Millennial / Pexels
Brief history
1969: It was established as a secondary campus of the former Puerto Rico Junior College.
1980: It gained autonomy under the name of the Metropolitan University College (CUM) and revised its mission giving priority to environmental issues as an area of institutional specialization.
1982: The first University Center was established in Jayuya.
1985: Received authorization from the Higher Education Council and the Middle State Association for the name change to Metropolitan University (UMET).
1988: The first master's programs in Education and Business Administration were offered.
1990: The School of Professional Technical Certificates, the School of Professional Studies (Program NOW) was established and Programs in Distance Education and Interactive Television (ITS) for non-traditional populations and adults began.
nineteen ninety five; The National Science Foundation (NSF) for its acronym in English recognized the UMET among 6 other institutions in the United States and the only one in Puerto Rio, as a Model Institution of Excellence in the area of science.
1998: The second University Center in Aguadilla was established.
2002: Received accreditation from the Middle States Association and the third University Center in Bayamón was established.
2003: Their offers were extended outside of Puerto Rico by establishing a Center in Orlando, Florida (Metro Orlando Campus).
2004: A Center was established in South Florida (South Florida Campus).
2005: The first doctoral degree in Education (EdD) was offered
2006: The PhD in Philosophy with spatiality in Teaching (PhD) unique in Puerto Rico was offered.
2008: The University Regional Occupational Project (PROU) was developed in Comerío
2016: UMET achieves its third patent (US9505618B2) "Synthesis and characterization of lead selenide capped with a benzoate ligand" and the first of Dr. Micket Santiago. This patent protects a method for the preparation of lead selenide with an aromatic ligand. Lead Selenide is a n-type semiconductor that is used in various applications from infrared sensors to solar cell construction. The preparation and synthesis protocol for this type of material was developed in the Materials Science Laboratory of the Metropolitan University.
2018: The American Chemical Society (ACS) student chapter at Universidad Metropolitana received the "Commendable award" for its activities carried out during the 2017-2018 academic year together with its mentor Professor Nelson Morales, the recognition will be carried out in the 257th ACS National Meeting 2019, Orlando, FL. UMET achieves the fourth USPTO approved patent of Dr. Mitk'El B. Santiago "Lead selenide capped with a benzoate ligand"
2019: The Board of Postsecondary Institutions (formerly known as the Higher Education Council) officially approved the name change of our institutions to Ana G. Méndez University (UAGM). In our case, it will be known as Ana G. Méndez University, Cupey Campus.
Locations
San Juan
Address
1399 Ave. Ana G Méndez
San Juan
,
San Juan
,
Puerto Rico