NABA, Nuova Accademia di Belle Arti, is an internationally renowned art and design academy. Founded in 1980, NABA is the largest private art academy in Italy. It offers bachelor's and master's degree programs in Italian and in English that are accredited by the Italian Ministry of Education, University and Research (MIUR).
As a student at NABA, you will develop your craft while preparing for the world of work. NABA has spent decades cultivating relationships with prestigious design companies and studios, and you will have the chance to work on real-world project briefs given by these companies. This emphasis on hands-on practice, balanced with lectures about art and design theory, is what makes NABA's academic methodology so successful and unique. Within one year of graduation, 89% of our alumni find jobs.
The Milan campus, set in the beautiful and historic Navigli area, comprises of 13 modern buildings spread over 17,000 square meters. Our design laboratories, cutting-edge tools, and classrooms are constantly updated so that your work can be as fresh and relevant as possible. With 4000 students from 70 countries on our campus, NABA is a truly multicultural environment. You will have a chance to collaborate with and learn new approaches from your international peers.
To offer students the opportunity of developing their design skills in the city that originated and shaped Western art and culture, NABA is opening a new location in Rome in 2019. Set in a central area and well connected to Rome's world-famous archaeological sites, art museums and lively neighborhoods, the new school occupies 2 historical buildings and features cutting-edge laboratories as well as student spaces, lounge rooms, and a library.
Why Choose NABA?
To study in Milan and Rome, world capitals of fashion, culture, art, and design.
To collaborate with over 1.000 companies, working on real-world projects, experiencing unique internship opportunities.
To obtain a multidisciplinary and multi-cultural learning experience, with a focus on direct experimentation.
To learn from an outstanding faculty of inspiring industry professionals and mentors.
To attend Italian and English programs to give you an internationally recognized degree.
To study at an award-winning academy considered one of the world's top schools for art and design.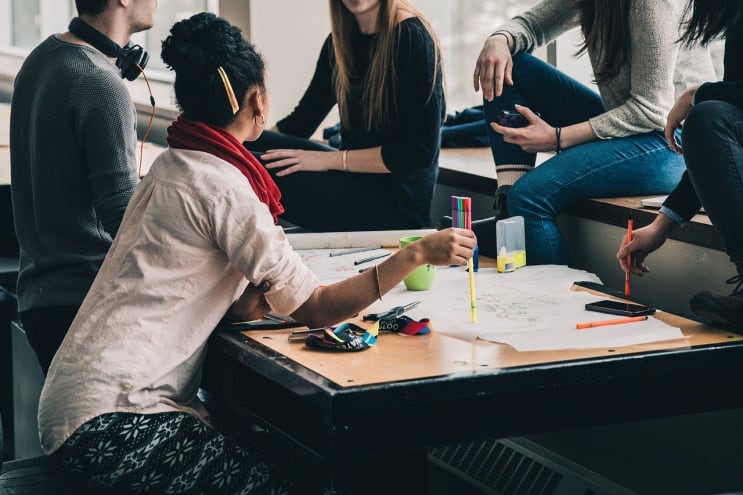 StockSnap / Pixabay
Study in Milan
Bring your talent to this unique city and see where it takes you.
If you are passionate about design and the arts if you want to develop your passion into a fulfilling career, come to the city where design and the arts are part of a rich historical past, a vibrant present, and a thrilling future.
The world's epicenter of fashion and design
For decades, Milan has been a magnet for top designers, a place where brilliant and creative minds come to make their fortunes in fashion and design. What better place to learn the craft? In Milan, you'll enjoy a rare level of access and immersion in design. You'll be exposed to Italy's finest artisan resources, production, and fabrication facilities. You can attend and even participate in world-famous design shows and exhibitions, including Milan's Salone del Mobile and Fashion Weeks. You'll be among the first to know about the latest trendsetting work, and you'll have the chance to make valuable career connections.
A city rich in history, young in spirit
Artistic expression has been a fundamental, vital element of Italian culture for centuries. You see it in the ancient ruins, the classic architecture, the timeless paintings, and sculpture. You see it in each newly launched fashion label and product brand, and in exhibitions that feature some of the most innovative designs being conceived and produced anywhere in the world.
A city that lives and breathes art
Milan is a full immersion in all forms of art. You'll find yourself surrounded by a thriving contemporary art scene; a bold avant-garde theatre community; world-class galleries, museums, design studios, and showrooms; and cutting-edge interaction design and media production companies.
A city in the heart of Europe
Milan is ideally located in Europe for maximum travel opportunities and fun. You can explore the spectacular alpine and lakeside beauty of northern Italy, take a train to Venice, and Tuscany, Umbria, Rome... Or hop a plane to spend the weekend in France, Germany, or even the UK or Spain! The possibilities really are endless. Italy is a country with extraordinarily beautiful landscapes and dynamic urban scenes. You'll understand why Italy has nurtured the passions of artists and designers for centuries. NABA's campus has good public transportation connections to major airports and train stations.
Study in Rome
Begin your educational journey at the roots of modern culture.
If you have creative talent and you want to express it in your future profession, come to the city where Western civilization has its origin, where classic and Renaissance art meet contemporary architecture and the great Italian cultural tradition is renewed every day through internationally renowned projects and events.
The origin of western culture
Many of history's greatest artists and thinkers spent part of their education in Rome, the first capital of Western civilization, the Eternal City whose artistic and architectonic history shaped the development of world culture. Considered one of the most beautiful cities in the world, Rome is a UNESCO World Heritage Site and presents itself as an open-air museum.
The cradle of civilization meets contemporary architecture
Rome's extraordinary artistic heritage is constantly enhanced by great architectonic projects created by contemporary masters. Besides living and breathing classic and Renaissance art, our students have the opportunity to discover new masterpieces such as the MACRO (Contemporary Art Museum), the MAXXI (National Museum of 21st Century Arts) designed by Zaha Hadid, Nuvola and Lanterna by Massimiliano Fuksas, and the Auditorium Parco Della Musica by Renzo Piano.
The capital city of Italian culture and cinema
A living, vibrant city, Rome offers students innumerable opportunities for cultural enrichment, including exhibitions, plays, concerts, conventions, trade shows and events such as the Roma Jazz Festival. Among these are the most important cinematographic events in Italy, such as the David di Donatello awards and the Rome Film Fest, confirming Rome's position as the capital city of Italian cinema, home to the glorious Cinecittà studios, breath-taking open-air film set leveraged by great film-makers from all over the world.
High fashion and prestigious brands
Milan may be the modern capital of world fashion, but the unforgettable Dolce Vita style, favored by Hollywood stars and still exemplified by high fashion catwalks, finds its home in the Eternal City. This is where brands that are synonyms for elegance such as Bulgari, Capucci, Fendi, Gattinoni, and Valentino have their roots; this is where high fashion showcases its best creations every year within the Altaroma fashion week. The famous shopping streets of the city center such as Via Dei Condotti and Via del Babuino host the boutiques of the most prestigious Italian and international luxury brands.
An international heart at Italy's core
Positioned exactly in the center of Italy and ideally placed to allow students to visit every region of the Italian peninsula, Rome is also one of the most international cities in the country. Besides being the site of the Italian Parliament and government, Rome also hosts international organizations such as the UN, FAO and European Commission.
Locations
Milan
Address
Via Carlo Darwin, 20, 20143 Milano MI, Italy
Milan
,
Lombardy
,
Italy
Rome
Address
Via Ostiense, 92
Rome
,
Lazio
,
Italy
Programs
This school also offers: