SDS - The Sustainable Design School
Home ›
France ›
SDS - The Sustainable Design School
The International Design School in Sustainable Innovation for Human Solutions
The Sustainable Design School -

The Design School in Sustainable Innovation
Founded in 2013, The Sustainable Design School is an international establishment of higher education dedicated to sustainable design and innovation for human.
A word from the founders:
«A strong common conviction has guided our work in founding The Sustainable Design School: the profound changes occurring in the world today require us to approach innovation in an entirely different, radical way. By sharing our reciprocal pedagogic and professional experiences, we are convinced that: Design, as a means of thinking, plays an essential role in new, sustainable innovation for all.
The Objectives of Sustainable Development
The SDS follows the 17 Sustainable Development Goals as a creative tool.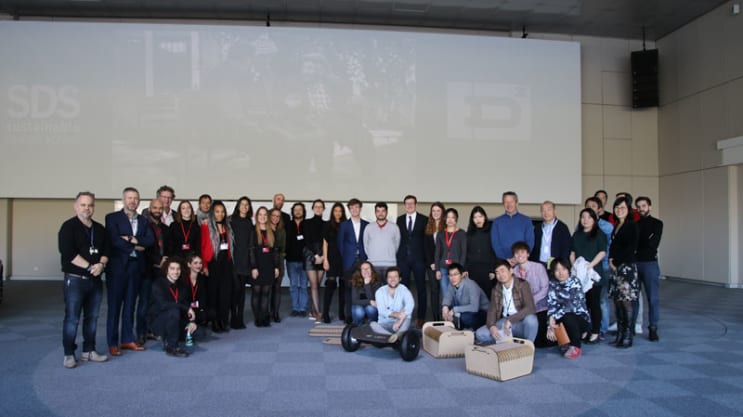 Admissions -

Join us
The diversity of the students, from different backgrounds and fields of study, contributes to sustainable innovation and its practices.
Today, we are confronted with important questions concerning the viable evolution of our planet. Changes are not only necessary but inevitable in order to allow us all to live in acceptable conditions. To answer these questions, imagination, and innovation must be emphasized. Our students can act on these incredible opportunities.
In order to best address the complexity of current world issues, the Sustainable Design School offers a program that is transversal, international and multidisciplinary. The pedagogy is put into practice through concrete projects submitted by enterprises that share our values.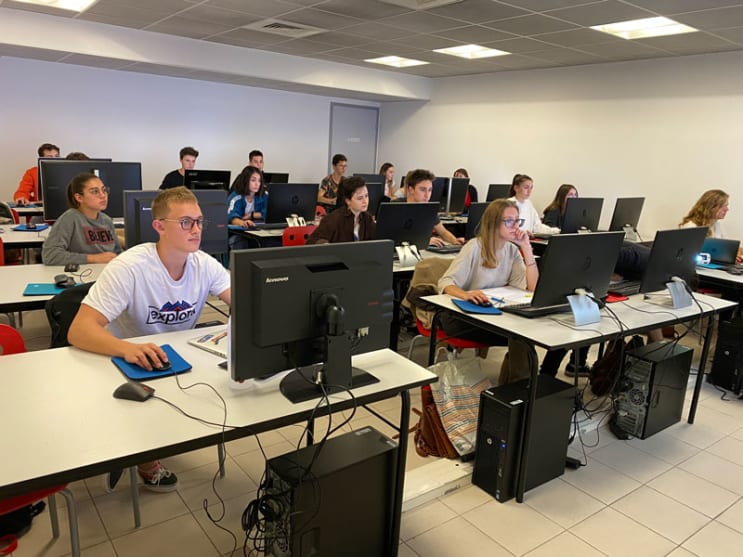 The Campus
The SDS, situated on a privileged site in Cagnes-sur-Mer in the heart of the Côte d'Azur, provides a campus of 2000m equipped with: a computer lab, model workshop, music studio, photography studio, creativity room, communal garden, terraces.
Collaboration with the FabLab ECOLAB Côte d'Azur (3D printers, laser cutters, 3D scanner) allows the students to create objects for their design projects.
University:

Member of the Université Côte d'Azur (UCA), our students have access to research and a doctoral cursus, as well as academic exchanges with other members of the UCA.

Admissions:

Upon application (enrollment file, identity card, school results, portfolio) and individual interview.

Financing:

Financial aid is available through "The SDS Friends" endowment fund.
A transversal curriculum

with many multidisciplinary entries
We privilege the process of integration based on exchange and personal skill. Our priority: to get to know you and value your talents.
International -

International Exchanges
The SDS is a member of the Cumulus Association, an international network which regroups 280 design school and universities worldwide.
Université de Buenos Aires, Faculté de l'Architecture, du Design et de l'Urbanisme (UBA – FADU) - Argentina

Universidad de Ciencias y Artes de América Latina (UCAL) -

Peru

Srishti Institute of Art, Design & Technology - India

Ringling College of Art & Design - USA

Özyegin University - Turkey

Tbilissi State Academy - Georgia

Universita degli studi della campania luigi vanvitelli - Italy

Jiangnan University - China

Universidad del desarrollo (UDD) - Chili

HIT Holon Institute of Technology - Israel
Professional experience -

Partnership projects
As of the first year of your studies, you "learn by doing" in the context of professional partnerships.
« These major companies come to work with our students because they have an intuitive vision of tomorrow, they are already living with the knowledge and sharing of the economies of tomorrow, they are born in a digital world and they aspire to help others in a responsible way! »Maurille Larivière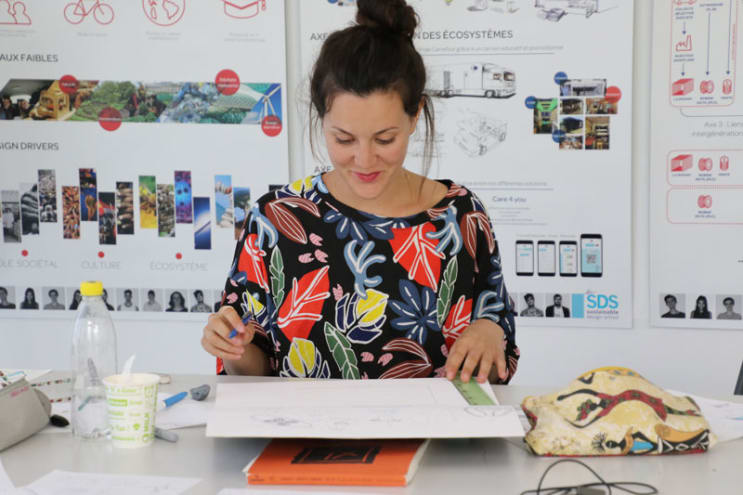 Projects -

What are they?
The professional projects implemented each year allow the encounter of a new generation of creative, curious students who are concerned about the world.
PHASE 1 - Brief and problematic
Meeting with representatives of the partnership company is a key point. During this exchange, students are introduced to the project, identify the needs, fine-tune the brief and draft perspective strategies.
PHASE 2 - Analysis
The sequences of research and immersion sessions allow the students to integrate the needs of the company on the one hand, and to define essential personas for strategic reflection on the other. Inclusion of sustainable development objectives related to the project.
PHASE 3 - Ideation
This phase allows the generation of a large range of innovative ideas, from the most utopic to the most concrete. Ideation will lead the students to find conceptual answers.
PHASE 4 - Realization The selected ideas are analyzed, reworked and drawn by the students in order to validate their relevance for future users.
By using models (3D digital visual representation) and prototyping (functional and dynamic mock-up), the students give a real, visual aspect to the validated solutions.
PHASE 5 - Prototyping
All of the work phases are formalized and illustrated by different physical and digital media. The objective is to explain to the company the reflection carried out, the positions are taken and the results of the project.
With new innovative methods :
«Design Thinking»

Frugal innovation

Life cycle analysis, Eco-Conception, Biomimicry Knowledge of Design ®

17 Sustainable Development Goals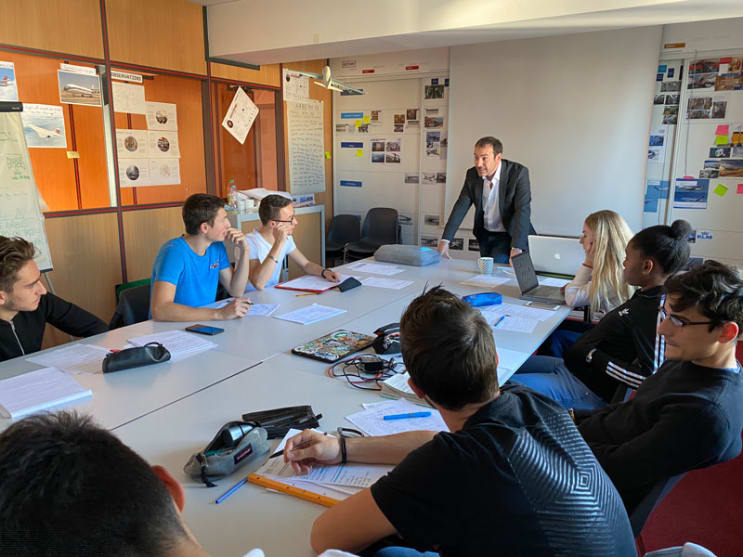 Alumni -

Where are they now?
« Yesterday I was a student, today I am a Designer! » With an SDS diploma, our students have the opportunity to integrate major companies or to create their own start-up.
«My vision of design is not just to create an aesthetic object. Design is foremost a philosophy: to create in order to improve the daily life of each person. I chose The SDS for its Design Thinking and Eco-Design approach»
Antoine Trouvé, Diplômé 2017
Student testimonies -

They tell us
Each experience is different; who better than the students to tell about theirs.
«I have always been attracted to drawing, even if I never took lessons. I am also interested in the environment, which is a subject of great concern to my generation. The SDS combines design and the concept of sustainable innovation. It is a place where I believe I can thrive.» Laura Jovene - 1st Year
«I chose to integrate The SDS because of the eco-conception emphasis and because it offers students the possibility to participate in professional projects with major companies like Toyota, Decathlon and Accenture..» Paul Sossouhounto - 2nd Year
«I chose to be a designer at The SDS because I need to work for others and feel useful to those who are needy. I considered a career in the humanitarian sector for a long time until I discovered design.» Julian Coiffard - 2nd Year
«I chose The SDS because of its values and the interesting program (an international school, partnership projects). Design is a creative profession where one can improve things by creating more aesthetic, ergonomic and sustainable solutions.» Rosa Hämäläinen - 3rd Year
«I asked myself, « what is sustainability?" Is it an approach engaged for the environment or for ourselves? No. After reflection, I decided to orient myself where I can find answers and where we can create solutions because it isn't just about knowledge, but action.» Jérémie Polese - Master 2 graduate 2017
«I have always been interested in design and artistic domains in general, so it was quite a natural choice for me to study design after my Bac SDT2A. I chose this school because of its position interests me greatly. I think it's important to create solutions that are more respectful of our environment.» Corentine Masson - Master 2 graduate 2018
Locations
Nice
Address
Nice
,
Provence-Alpes-Côte d'Azur
,
France
Programs
This school also offers: