Part time MBA in
Professional MBA (PMBA)
WU Executive Academy - Vienna University of Economics and Business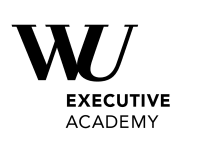 Introduction
The Professional MBA combines a broad business management education with a functional or industry focus. We offer a large variety of specializations ranging from Digital Transformation & Data Science through Finance, Marketing & Sales, Energy Management, Entrepreneurship & Innovation, Project Management to Health Care Management or Public Auditing. Depending on the focus, programs are taught in English or German.
This part-time Professional MBA is structured into two tiers. The business core offers vital economic and business administration expertise alongside up-to-date management and leadership tools and techniques.
Admissions
What requirements do I have to meet to be admitted for an MBA at the WU Executive Academy?
If you apply, we will carefully assess your
academic background,
your work experience, and your
interpersonal, intercultural and communication skills.
In general, we expect you to have to have a solid career progression and the commitment to pursue an MBA next to your busy schedule.
You need at least an undergraduate university degree (e.g. bachelor degree) for our MBA programs. Furthermore, we require a minimum work experience of 3 years (5 years for the Executive MBA) together with an excellent knowledge of the program language (English or German).

How do I apply for an MBA at the WU Executive Academy?
Online application: In order to apply for an MBA you need to fill out our online application form and pay the application fee of EUR 200 via credit card.
Document submission: After that, you will be asked to e-mail all required documents. Our program managers check them regarding the applicable admission requirements.
Admission interview: If you are a prospective student, you will be invited to a personal interview with the academic director and the program manager.
Admission decision: Shortly after the interview, you will receive our decision. If you are admitted, we will send you important instructions on how to secure your MBA spot. Do you want feedback on your profile before starting the application? Simply send your curriculum vitae to [email protected]
If you have any further questions, please consider our frequently asked questions here: https://executiveacademy.at/en/information-for/future-students/faq
Curriculum
During the Business Core part participants focus on comprehensive business, management and leadership knowledge and techniques while addressing fundamental areas such as:
Managing People
Managing Organizations
Competitive Analysis and Strategy
Data Analysis and Decision Making
Financial Reporting
Financial Management
Operations Management
Controlling
Marketing Management
Global Markets
Information Systems Management
Managerial Economics
Entrepreneurship and Innovation
Leadership
Ethics and Corporate Social Responsibility
When applying for the Professional MBA, participants choose one of the specialization options - enabling them to study a specific industry or function in depth.
The following specializations are offered:
Digital Transformation & Data Science (English)
Energy Management (English)
Entrepreneurship & Innovation (English)
Finance (English)
Health Care Management (German)
Marketing & Sales (English)
Project Management (English)
Public Auditing (German)
Find more information on our website.
Rankings
Besides our triple-accreditation of AMBA, AACSB and EQUIS (which only less than 1% of all business schools worldwide can proudly claim), the WU Executive Academy is consistently ranked among the best universities in Europe and worldwide by various organizations.
Financial Times Executive MBA Ranking 2021
Overall

# 34 worldwide
# 11 in EU
# 2 in DACH

International course experience

# 10 worldwide
# 4 in EU
# 1 in DACH

Participants' work experience

# 11 worldwide
# 4 in EU
# 1 in DACH
You can find all rankings and achievements on our website.
Scholarships and Funding
Scholarships
The WU Executive Academy offers a wide range of partial scholarships for applicants for whom financing the tuition fee is a challenge, regardless of their residence or citizenship. Moreover, we have been supporting women in their professional development for many years, thus we additionally offer a "Female Leaders" scholarship that is open to all female applicants.
Scholarships are awarded on a case-by-case basis. The admission committee decides whether and to what extent a scholarship will be granted by evaluating:
Submitted application documents
Performance in the admission interview
Potential contribution to peer-learning in class
Financial situation (income, costs for logistics, etc.)
Leadership potential
Analytical skills
Ability to work in a team
Career goals and motivation
Personal circumstances
You can find detailed information about all different scholarships, including the maximum amount, on our website.
In addition, there are further financing options possible, including employer sponsorship, payments by installments, or early bird reductions. You can find an overview of all opportunities here.
Career Opportunities
To maximize the opportunities for networking we are pooling the participants of the various specializations of the Professional MBA during the business core. This increases the variety of professional perspectives and the number of business contacts. Some specializations are not pooled as the teaching content is especially targeted to a specific industry.
The Professional MBA's didactic design ensures efficient knowledge transfer - while participants continue to pursue their careers. Pedagogical approaches vary, ranging from interactive case studies to business simulations and formal presentations. The Professional MBA consists of consecutive blocked modules, each divided into Pre-Module, Core-Module, and Post-Module.