EMBA in
Executive MBA Bucharest
WU Executive Academy - Vienna University of Economics and Business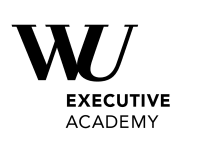 Introduction
Challenge yourself with the #1 MBA program in Romania
Irrespective of whether we teach in Vienna, Bucharest or the USA, we provide you with a challenging but nurturing environment, which enables you to acquire the tools necessary to fulfil your potential to become a world-class business leader. The Executive MBA Bucharest builds a deep understanding of core business subjects in all major functional areas while emphasizing the skills and abilities needed to recognize and adapt to emerging trends and new technologies.
The Executive MBA Bucharest program is on the Romanian market since 2006. Our program is an internationally oriented, cutting-edge MBA program providing a unique 360° global vision with expert insights into management best practices in developed markets on two continents, during the 3 international modules. With an international faculty comprised of many of the finest minds in business and economics and accredited by the most world's renowned accreditations such as AACSB, AMBA, and EQUIS makes the Executive MBA Bucharest program to be on top of the EMBA programs from Romania.
Admissions
What requirements do I have to meet to be admitted for an MBA at the WU Executive Academy?
If you apply, we will carefully assess your
academic background,
your work experience, and your
interpersonal, intercultural and communication skills.
In general, we expect you to have to have a solid career progression and the commitment to pursue an MBA next to your busy schedule.
You need at least an undergraduate university degree (e.g. bachelor degree) for our MBA programs. Furthermore, we require a minimum work experience of 3 years (5 years for the Executive MBA) together with an excellent knowledge of the program language (English or German).

How do I apply for an MBA at the WU Executive Academy?
Online application: In order to apply for an MBA you need to fill out our online application form and pay the application fee of EUR 200 via credit card.
Document submission: After that, you will be asked to e-mail all required documents. Our program managers check them regarding the applicable admission requirements.
Admission interview: If you are a prospective student, you will be invited to a personal interview with the academic director and the program manager.
Admission decision: Shortly after the interview, you will receive our decision. If you are admitted, we will send you important instructions on how to secure your MBA spot. Do you want feedback on your profile before starting the application? Simply send your curriculum vitae to [email protected]
If you have any further questions, please consider our frequently asked questions here: https://executiveacademy.at/en/information-for/future-students/faq
Curriculum
Gain a Global Perspective with International Residencies
Providing students with a global perspective is at the heart of the Executive MBA Bucharest program. Students learn from international faculty alongside international peers and complete residencies in the US and in Austria. During residencies, lectures and classroom activities are combined with company visits and guest talks. Get an overview of contemporary challenges that companies face and how they approach these issues. Exchange ideas and discuss key learnings with corporate representatives from some of the world's foremost companies. This invaluable hands-on and international experience will prepare you to excel in the global marketplace as you become exposed to new ideas, attitudes, and cultures.
Competitive Analysis and Strategy (Austria)
Executive Lab
Business, Government, and Macroeconomics
Leading People and Organizations
Managerial Accounting
Financial Management
Advanced Financial Management
Business Analytics for Executives
Innovation & Entrepreneurship
Operations and Supply Chain Management
Contemporary Issues in Global Business (USA)
Strategic Marketing Management
Negotiations and Conflict Management
Change Management (Austria)
Gain Access to Our Alumni Network
Throughout the program, students build lasting connections with outstanding peers, faculty, and business leaders. However, this is just the beginning of the opportunities that await you. Both during and after your studies, you'll have access to our coveted alumni network of over 4,500 members from 85 different nations.
Find more information on our website.
Rankings
Besides our triple-accreditation of AMBA, AACSB and EQUIS (which only less than 1% of all business schools worldwide can proudly claim), the WU Executive Academy is consistently ranked among the best universities in Europe and worldwide by various organizations.
Financial Times Executive MBA Ranking 2021:
Overall

# 34 worldwide
# 11 in EU
# 2 in DACH

International course experience

# 10 worldwide
# 4 in EU
# 1 in DACH

Participants' work experience

# 11 worldwide
# 4 in EU
# 1 in DACH
You can find all rankings and achievements on our website.
Scholarships and Funding
Scholarships
The WU Executive Academy offers a wide range of partial scholarships for applicants for whom financing the tuition fee is a challenge, regardless of their residence or citizenship. Moreover, we have been supporting women in their professional development for many years, thus we additionally offer a "Female Leaders" scholarship that is open to all female applicants.
Scholarships are awarded on a case-by-case basis. The admission committee decides whether and to what extent a scholarship will be granted by evaluating:
Submitted application documents
Performance in the admission interview
Potential contribution to peer-learning in class
Financial situation (income, costs for logistics, etc.)
Leadership potential
Analytical skills
Ability to work in a team
Career goals and motivation
Personal circumstances
You can find detailed information about all different scholarships, including the maximum amount, on our website.
In addition, there are further financing options possible, including employer sponsorship, payments by installments, or early bird reductions. You can find an overview of all opportunities here.
Ideal Students
Our Flexible MBA is Designed for Busy Professionals
We understand the time demands that many of today's executives face, and so have designed the Executive MBA Bucharest program to be flexible. Our part-time MBA program utilizes a state-of-the-art eLearning platform so that you can spend as little time away from work as possible, continuing to earn while you learn. Through our targeted and focused courses, you can earn your MBA in just 16 months.
Take a look at our class profile.
Career Opportunities
Learn from the Finest Minds in Academia and in the Business World
To provide our students with a world-class and cutting-edge education, we have brought together internationally acclaimed executives as well as some of the best professors from universities across the globe. Originating from WU Vienna, Carlson School of Management (U.S.A.), University of South Carolina (U.S.A.), and IESE Business School (Spain)—among many other institutions—our faculty strives to provide the nurturing and challenging education needed for students to become world-class business leaders.
Find current career moves on our website.