EMBA in
Executive Master of Business Administration
Warsaw Management Academy - Wyższa Szkoła Menedżerska w Warszawie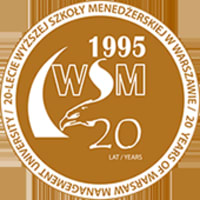 Scholarships
Explore scholarship opportunities to help fund your studies
Introduction
Executive Master of Business Administration
Postgraduate Executive Master of Business Administration studies is amongst the most prestigious and recognised in the world managerial qualifications intended for people of business and senior management. The curriculum of EMBA studies allows for effective completion of academic education in the field of management and business. The graduates of EMBA postgraduate studies, gain an advantage over the competition and increase their value and their attractiveness in the job market.
Addressees
The curriculum of EMBA postgraduate studies is designed, first of all, for managerial staff, member of statute organs, directors of trading companies, managers, or those who want to take managerial positions, in order to use their knowledge and skills in various fields, among others, in finance management, marketing, human resource management, the media and PR and coaching.
The graduates of EMBA postgraduate studies gain a comprehensive look at management and development while improving their knowledge, competence, and skills and becoming reputable specialists and people on their way to professional success. The basic modules of postgraduate studies in EMBA curriculum are based on specific needs of the managerial practice and realised by outstanding specialist researchers and practitioners from Poland and abroad.
Thematic range of the studies
Theory of management
Critical management
International companies management
Making managerial decisions. Management systems
Marketing
Human resource management
Project management
Management leadership and Coaching
The media and Public Relations
Business negotiations
Business Protocol
Ethics in business
Personal management
Business simulations
Cultural and social environment - mediations
Economic law in management and entrepreneurship
Business seminar