EMBA in
Executive MBA (London)
Warwick Business School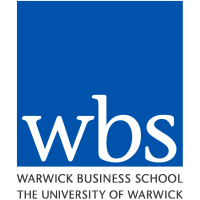 Introduction
Study your Executive MBA at The Shard in London part-time over two years.
If you are excited to explore the bigger picture, expand your network and want the tools to transform the next step of your career, then our Executive MBA (London) could be just what you are looking for.
Our world-renowned teaching and research combined with our innovative culture and comprehensive leadership and development support will give you the skills, aptitude and vision you need to start your own business, fast track to the C-suite, or to transform your career by redefining your next steps.
Learning in London, the financial capital of the world
By bringing the Warwick Executive MBA to The Shard, we have created an intensive and demanding two-year programme in the capital city enabling you to take full advantage of our prestigious academics and connect with the wider WBS community. The Shard is situated next to London Bridge so getting to us from anywhere in London couldn't be easier.
For up-to-date course information and tuition fees, please visit www.wbs.ac.uk
*Ranked in The Economist/WhichMBA? 2020 Executive MBA ranking.
Curriculum
Daytime or Evening study options
Our Executive MBA comprises eight required modules and your choice of four elective modules. In parallel with the global focus of the course we enable you to increase your exposure to different international learning opportunities. At least one taught module from the 12 studied overall will be taken at a non-UK location. We offer a range of exciting locations at world class institutions, covering both required content and extending the elective topic range.
You may choose between studying the Executive MBA (London) in either a daytime format, with your required modules typically taught on Fridays and Saturdays every other week between September and July, or the evening format, where each required module is typically taught over two evenings in a four-week period between September and July.
Skills and tools to drive your organisation
Take new ideas straight from the classroom into your day-to-day work, and demonstrate your new skills as they develop. You will engage in interactive sessions led by your professors, allowing you to discuss concepts and theories with your peers from different business backgrounds and cultures, and together you will find new and effective ways to apply them to real workplace scenarios.
Locally based cohort - your network for life
The majority of our participants are based in and around the city of London providing you with opportunities to meet up, study together and discuss group work outside of your scheduled teaching hours. This added contact time with your talented peers will maximise your learning experience, help strengthen your connections and broaden your professional networks.
Well-established programme delivered in London
The Warwick Executive MBA is a well-established programme that has been delivered over many years. This has allowed us to adapt our programme overtime to ensure only the most current and relevant topics are taught. By bringing the Warwick Executive MBA to The Shard, we have created an intensive and demanding two-year programme enabling you to take full advantage of our prestigious academics and connect with the wider WBS community.
Rankings
Ranked 4th in the UK, 34th in the world in the Financial Times 2022 Executive MBA ranking
Scholarships and Funding
When and how to pay
To secure your place on the course, you must lodge a deposit of 10% of the year 1 fee with us within four weeks of receiving your offer. This will be a deposit of £2,795 for the September 2022 and March 2023 intakes. The deposit is part of the total fee, not an additional cost. Read more about how to pay at the University's finance pages. By paying the deposit, you agree to the University of Warwick refund policy.
Tuition fees are payable in advance or at the start of each academic year. Payments can be made by bank transfer, banker's draft, cheque, telephone, direct debit or credit/debit card. If you have been awarded a scholarship, this will be deducted from your tuition fee as stated in your offer letter.
Self-funding students can either pay the annual tuition fee at the start of each year or can opt to pay in instalments with the following payment schedule:
25% of tuition fees due on the first day of your academic year
25% of tuition fees due on the first day of month 4 of your academic year
25% of tuition fees due on the first day of month 7 of your academic year
25% of tuition fees due on the first day of month 10 of your academic year.
This is a two-year programme, and we expect most candidates to complete their studies within this time period. If you are unable to complete within two years due to work or unexpected family commitments, you can extend your studies into a third year at no additional charge. If you extend into a fourth year, there will be an extension fee of £1,120 payable in the academic year of 2025/26 for the September 2022 and March 2023 intakes.
Financing your MBA
Choosing to complete the Executive MBA (London) requires significant investment both in terms of cost and time. To support this investment, various funding sources are available.
Please note that the Executive MBA (London) is not eligible for the Postgraduate loan through Student Finance.
Available scholarships
We have scholarship funding available to self-funding and part employer-funded candidates admitted onto the Warwick and London variants of the Executive MBA. Our scholarship offering has been designed to promote excellence and diversity within each class, across the professional sectors, geography, gender and experience.
We take a holistic approach when evaluating a candidate's suitability for a scholarship, and applications will be assessed on the following broad criteria:
Evidence of individual impact
Alignment with WBS' core values – Curiosity, Openness, Restlessness and Excellence
A desire to make a positive difference in the world of business and beyond
The potential to become a future Change Maker
The ability to fulfil future ambassadorial duties for the School. Successful applicants are expected to work closely with the marketing and recruitment teams in order to attract future candidates onto the programme.
Scholarships are awarded on an ongoing basis, so candidates who apply early may have a stronger chance of being successful. We offer a range of scholarships from 25% up to a maximum of 50% in truly exceptional cases. Scholarships are allocated in the following areas:
Scholarships we offer
Changemaker scholarship
WBS inspiring social impact scholarship
WBS inspiring women scholarship
WBS inspiring diversity scholarship
Alumni loyalty scholarship
Bursaries
Applying for a scholarship
If you are self-funding and are interested in applying for a scholarship, you need to submit a written statement (up to 500 words) with your application outlining why you believe you should be awarded a scholarship, taking the criteria listed above into consideration. You don't need to specify which scholarship you wish to apply for, as the committee will consider which scholarship would be most suitable following your interview.
Ideal Students
We're looking for Change Makers
The Change Maker mindset is a way of approaching the world that sets our people apart. Change Makers see the bigger picture, challenge the norm, and have the drive as well as the vision to succeed. So, if you're interested in debate, discussion, and different ways of doing things, if you're ready for personal and professional transformation, if you want a diverse network of lifelong contacts, then WBS is the place for you.
You must be intellectually outstanding and display strong interpersonal and communication skills, motivation, creativity, maturity, drive, and leadership qualities. You must also have proven academic ability, the ability to work effectively in a team, the desire to learn, and the potential to succeed.
Experience
We require you to have at least four years'postgraduate managerial work experience.
Academic record
You must have an upper second class honours at undergraduate level from a UK university or the equivalent from an overseas university. We also welcome applications from candidates who do not have the academic qualifications but are exceptional, with a proven ability to achieve.
English language requirements
The latest information about English language requirements can be found here
Career Opportunities
As an Executive MBA (London) participant at WBS, you will have access to tailor-made leadership and professional development designed around our Career Management Cycle specifically for Executives. Through tailored guidance and one-to-one coaching, we will ensure that you leave WBS feeling confident with all the skills to make your next career move.
Our career services don't stop when you complete your programme. You will still be able to access online resources, one career consultation, and our Professional Interest Groups for free. You'll also be able to participate in our career skills masterclasses and webinars on a pay-as-you-go basis.
Where do our graduates work?
Alstom
American Express
ARUP
BP
Capgemini
Deloitte
DHL
EY
Fujitsu
Hilti
IBM
KPMG
National Grid

pfizer
P&G
pwc
Qatar Airways
Rolls Royce
Schneider Electric
Shell
SSE
Standard Chartered
Tata Steel
Tesla
Unilever
Vodafone
*Difference between pre-MBA and 3 years after graduation. Financial Times' Executive MBA ranking 2020