EMBA in
Executive MBA: Leading with Purpose
Vrije Universiteit Amsterdam - School of Business and Economics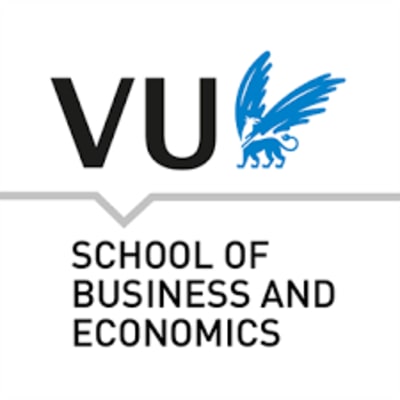 Key Information
---
Campus location
Amsterdam, Netherlands
Tuition fees
EUR 43,500 / per course
Application deadline
25 Aug 2024*
Earliest start date
Sep 2024
* application deadlines: february 24 2024, april 14 2024, june 16 2024, august 25 2024
Introduction
People, businesses and society are looking for change and answers in an uncertain world. At VU, we help pioneering leaders dig deep to uncover their purpose, their ambitions and use that energy to transform the world for the better.
Because like you, we stand on the side of progress and are committed to helping you take the next step.
Breaking free from conventional approaches, our Executive MBA: Leading with Purpose is all about knowledge co-creation and working together to ask the big, challenging questions and go deeper into the issues of today and tomorrow. In doing so, the programme will help to accelerate your development into a more forward-thinking and purpose-driven leader.
Here, you'll gain not just the skills, knowledge and confidence needed to tackle some of the biggest challenges facing us today, but also the mindset and support to equip you for what's to come tomorrow, and to develop into a forward-thinking and purpose-driven leader.
More than a programme, it's an opportunity and challenge to join a truly progressive community of change-makers ready to move the world forward.
Through the Executive MBA: Leading with Purpose, we will support you in:
Reflecting on your leadership purpose and the purpose of your organisation
Developing a holistic, cross-functional perspective on your organisation and its operations
Anticipating disruptions to your organisation's business model and seizing new business opportunities
Combining your experience with data-driven knowledge to make decisive strategic decisions that give your organisation a competitive edge
Leading the transformation of your organisation
Establishing your role as a societal thought leader who leads the way forward
Leading your organisation through times of crises and uncertainty
Ideal Students
Our Executive MBA: Leading with Purpose is designed for professionals looking to tap into their inner purpose and use that to solve unconventional problems and transform the world for the better.
Curriculum
The curriculum is structured into 6 blocks. Each block consists of several courses which together prepare you for a business challenge. At the end of the journey, these six blocks will transform you into a purpose‐driven leader.
Team of Professors and experts
Professors from the VU's School of Business and Economics are supported by global thought leaders, journalists from renowned business newspapers, executive coaches, and former and current senior executives who will share their expertise and experiences with you and support you in improving your leadership skills.
Core Courses and Learning Experience
Block 1: My Personal Leader Purpose … Putting Yourself at Stake
What: How to be a purpose‐driven leader
Focus: Identify your leadership purpose to inspire your followers and leave an imprint on society.
Courses: Identify your Leader Identity and Purpose, Empowering People, Being a Thought Leader.
Block 2: Business Foundations
What: Lead an organisation in dynamic markets.
Focus: Develop a holistic perspective on the organisation and its operations to drive its performance.
Courses: Operations Management, Strategic Marketing, Managerial Finance, Strategic HRM, General Management Lab.
Block 3: Leading with Purpose for Business and Stakeholders
What: Create a responsible, purpose-driven organisation.
Focus: Reconcile ethical dilemmas of business decisions and rediscover the purpose of your organisation.
Courses: Business Ethics and Corporate Governance, Organising with Purpose.
Block 4: Strategic Decision-Making and Organisational Innovation
What: Be a strategic leader who guides the path.
Focus: Develop the tools for renewing your organisation and for exploring and exploiting opportunities.
Courses: Organisational Renewal and Innovation, Data Science for Executives, Business Model Innovation and Disruption, Strategising for Success.
Block 5: Leading a Business Through Transformations and Crises
What: Lead an organisation through existential threats.
Focus: Learn to persuade others to transform your organisation and become the leader who surpasses expectations during crises.
Courses: Leading Change, Leading Through Crises and Uncertainty.
Block 6: Capstone Project
What: Prepare your masterpiece and leave your imprint on your organisation and society.
Focus: Use the tools you have learned to provide a solution to a relevant problem.
Course: Putting Science into Practice
Scholarships and Funding
Scholarships between 2,000 and 12,000 euro are available.
We offer a 10% lifelong learning scholarship to all VU alumni