MBA in
Master of Business Administration
The University of New Brunswick-Saint John, Faculty of Business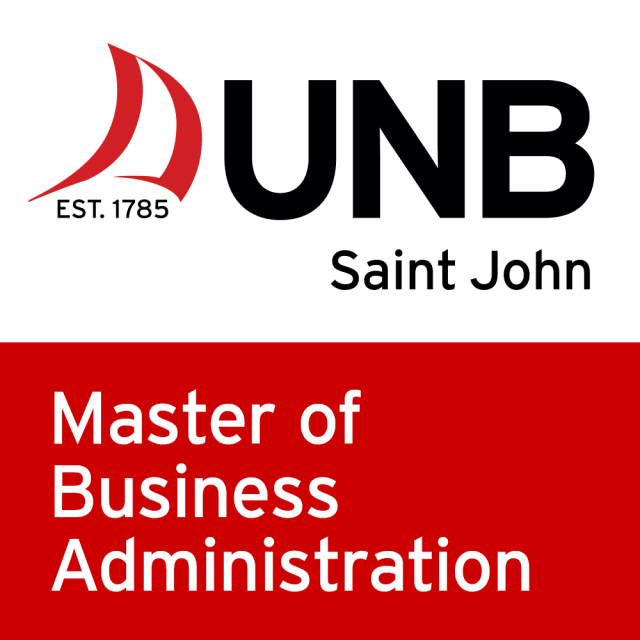 Introduction
Master of Business Administration
Offered by the oldest English-language university in Canada, the University of New Brunswick Saint John's Masters of Business Administration (MBA) program provides world-class education and one of the shortest payback periods in North America for one-year or part-time MBA's.
Our MBA is an investment in your future, with an intensive program that blends classroom learning with practical applications and real-world experience.
The program is designed to develop innovative entrepreneurial leaders, and our students enjoy small class sizes, a diverse international student body, accessible faculty and a dedicated staff.
All these elements work together to hone the skills you need to compete and succeed in the global marketplace.
Curriculum
Learning about your schedule
The University of New Brunswick's MBA program offers students the flexibility of fitting their courses with their individual schedules.
Both the full-time and part-time options are structured in modules that build from the fundamentals of business to advanced management practice. The full-time program is made up of five eight-week study modules followed by an examination period, an optional three-month workplace internship and a final integrative project.
Part-time students may complete the program in as little as two and a half years. Students may choose to take any one of our three streams or develop a unique combination to suit their individual career needs.
Program Outcome
Competitive advantage
Our MBA program offers four streams - International Business, Entrepreneurship and Technology Management, Project Management and Business Development and Professional Sales.
Our MBA students receive a common foundation in business essentials in the first two modules of study while specializing in an area of interest as they progress through their studies.
To rise and stay at the top in business requires an incredible breadth of knowledge - multi-national industry activity, innovative business technologies, keen self-awareness - all supported by a broad business base.
UNB Saint John recognizes and embraces this challenge with its cutting-edge MBA program. Here you will develop the skills and experience you need while building relationships that will last a lifetime.
Graduates of our program not only have an appreciation of the challenges and opportunities the international business environment affords but also have access to a global network of colleagues and contacts, invaluable in business today.
Unleash your potential
The UNB Saint John MBA program is respected and challenging, designed for today's economy. Courses are taught by academics as well as seasoned practitioners. The program offers plenty of opportunities for networking, internships, and study abroad to round out your educational experience and unleash your innovation and leadership potential.
Students who come to our program not only have a unique opportunity to study with faculty who are world experts in their field, they are also on a first-name basis with all faculty and staff due to our low student to professor ratio.
English Language Requirements
Certify your English proficiency with the Duolingo English Test! The DET is a convenient, fast, and affordable online English test accepted by over 4,000 universities (like this one) around the world.