MBA in
MBA Masters of Business Administration
University of Europe for Applied Sciences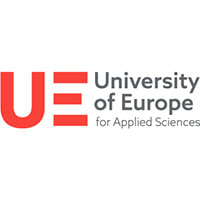 Introduction
Digitalization, globalization, and increased demand for sustainability present companies with challenges today. They need qualified specialists and executives who identify and implement innovative and future-oriented business models.
Your success as a leader depends on how willing you are to take on responsibility and develop new areas. It's about network management and personal growth in the world of work 4.0.
As a graduate, you will be able to:
Respond precisely to the challenges of global and digital markets, leverage innovation, and lead teams.
Redefine your business expertise and study the quality of your teaching at one of Germany's top 10 universities.
Practical relevance and leadership development
With the MBA from the University of Europe for Applied Sciences, you acquire leadership skills that qualify you for successful endeavors in a complex, digitalized world. Interdisciplinary thinking and work in intercultural settings are the basis of all of our modules. The curriculum involves customer analysis, managing and developing innovations, planning strategies at various levels of the organization, managing resources, and managing and leading companies and staff.
Unique combination of online study, virtual classroom, and on-site events
FIBAA, a European agency for quality assurance and quality development in higher education says: "With this program, digital learning reaches a new level of quality."
Course Requirements
Admission requirements for different lengths of master's degrees:
Fast Track 2 semesters: Bachelor 240 ECTS + 60 ECTS Master
Thesis Focus 3 semesters: Bachelor 210 ECTS + 90 ECTS Master
Industry Placed 4 semesters: Bachelor 180 ECTS + 120 ECTS Master
Application requirements (1,1.5 or 2 years):
Application form
High School Diploma / Certificate
Undergraduate degree (Bachelor's, MBA, or Master)
Language Proficiency* (or request to waive**)
CV
Copy of Passport
Letter of motivation
Non-EU applicants only: €3,000 deposit (This reservation fee will be deducted from the total amount of study fees)
Portfolio
Portfolio Requirements: About 8 - 12 work samples which show your strength in visual communication.
*Language Proficiency:
Please note: German-taught programs need both English/German language certificates.
IELTS 5.5 overall
TOEFL iBT72
TOEFL ITP (paper based) 543
Pearson Test of English (Academic) 59
Pearson Test of English (General) Level 1
Cambridge English Advanced and Proficiency 160 overall
Cambridge Exam First (FCE)
TOEIC Listening/Reading 785, Speaking 160, Writing 150
PASSWORD 5.5 (no less than 5.0 in each component)
EF SET (50-minute Test) 51 (only for students applying with an MOI letter)
Duolingo 90
**Language Waiver
To request a language test waiver, you must have studied in a country where the official first language is English:
At least nine months in duration;
Full-time;
Undertaken at a recognized institution where teaching and assessment throughout the course are entirely in English;
Has been completed within 2 years of the start date of the course to which you are applying;
Medium of Instruction (MOI) should indicate English + EF SET or any accepted English proficiency certificate requested.
Duration
3 Semester (1.5 years)
OR 4 Semesters (2 years)