MBA in
Master of Science in Business Administration
The Continents States University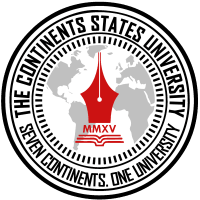 Introduction
The Continents States University built the Master of Science in Business Administration program for professionals looking to improve their careers by seeking employment in management positions, students looking to establish their businesses, or those seeking success in the business industry. The MSBA degree program will help students, entrepreneurs, and business owners advance their knowledge in a business environment, finance, economy, management, and marketing. Besides, the Master of Science in Business Administration (MSBA) program's mission is to lead students and provide them with specific administrative or leadership positions in public and private institutions.
Program Features
Annual-Tuition (Membership) based program.
Available 100% online with the support of competency-based education options.
Programs are to be completed in twelve months.
An internship or externship is not necessary for graduation.
Degree program accredited by Accreditation Service for International Schools, Colleges, and Universities.
Why should you consider our university
Veteran-founded educational institution
Dedicated student support team 24/7
No fixed schedule for attending live courses
No limited time to transfer credit
Accessible online courses
Four-weeks course structure
Library resources provided through LIRN
Military friendly school
Internationally accredited
Curriculum
Courses are taught in English, and students are expected to learn about APA, write in article format, engage in weekly workshops, and participate in development training groups with hands-on training.
Establishment Course | Non-Credit Course
Competency-based | English | BUS 5010 Business Management
Competency-based | English | BUS 5203 Marketing Management
Competency-based | English | BUS 5050 Managerial Accounting
Competency-based | English | BUS 5101 Corporate Communication
Competency-based | English | BUS 5051 Business Law and Ethics
Competency-based | English | BUS 5002 Operations Management
Competency-based | English | BUS 5014 Strategic Management
Competency-based | English | BUS 5210 Human Resources Management
Competency-based | English | BUS 5120 Project Management
Live Industry Projects
Faculty and project support are in your hands 24/7.
Start your resume by adding your exponentially devoted experience.
Receive hands-on experience, knowledge, and support from world-leader industries.
Program Outcome
Implement best practices to resolve business issues.
Demonstrate quantitative skills and effective written forms of communication.
Students will learn to implement management and leadership skills as freelancers or business members.
Students will learn to identify marketing, accounting, and behavioral skills.
Students can apply concepts to take actions and decision-making to resolve management issues.
Integrate theories and practice to perform strategic analysis
Students will demonstrate verbal, written, and communication skills.
Career Opportunities
The U.S. Bureau of Labor Statistics (BLS) predictions indicate overall solid growth in management positions, with an 8 percent average increase in supervisory-level employment expected across all professions from 2016 to 2026, creating 807,000 jobs. (Statistics, 2021)
Longer-term career prospects include all Chief-Suite positions across all functional areas (CEO, CFO, CIO, CMO).