MBA in
GEMBA: Master of Business Administration in Global Business Management
Thammasat Business School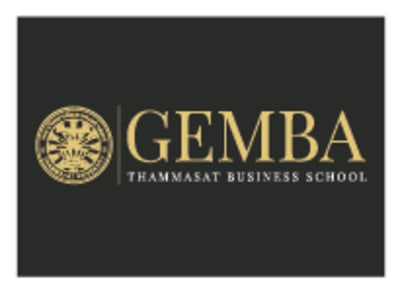 Key Information
---
Tuition fees
THB 704,000 *
Application deadline
Request info
Earliest start date
Request info
* Baht 650,000 (Thai students); Baht 704,000 (International students)
Scholarships
Explore scholarship opportunities to help fund your studies
Introduction
ABOUT GEMBA
Master of Business Administration Program in Global Business Management is designed for those who have at least 3 years of experience after earning a bachelor's degree in any fields.
The program emphasizes on case studies, best practices, and dynamic learning experiences to allow students to benchmark east and west business strategies in areas such as management, finance, marketing, innovation, digital enterprises and global business.
WHY GEMBA TBS?
Compact & Dynamic MBA program for the 21st Century
36 credits in 17 months (3 Semesters and 1 Summer)
Subjects are offered in 'modules' aiming to provide concise, interactive and productive classroom experience
PROGRAM OVERVIEW
The details of Master of Business Administration (MBA) in Global Business Management are as below
Required Courses
Business Model in the Globalized World
Strategies and case studies of organizations in delivering businesses in countries of different economic and social conditions. Management, marketing, human resources and operating issues of companies in merger and acquisition situations are discussed.
Global Consumers and Marketing
Consumer needs of different market levels such as Business-to-Business and Business-to-Consumer are analyzed. Characteristics and segments of consumers in different countries and contexts are discussed. The course also discusses how business policy and marketing strategy are developed and responsive to the needs of the consumers especially in the age of digital.
Decision Making using Accounting & Financial Information
The use of firm's accounting and financial information for executive's analysis, planning, and decision making. Executive's case studies in the use of accounting and financial information in measuring firm's performance is discussed.
ASEAN Economic Community I
ASEAN geographic, economic and social environment as opportunities for businesses in this region. Directions and trends of industries and businesses in ASEAN.
ASEAN Economic Community II
Case studies of successful companies having their footprints in ASEAN and their marketing, management and financial strategies. Challenges in maintaining long-term competitive advantage are discussed.
CEO Vision Series I
CEO's vision of successful globalized companies is discussed. This includes business policy, marketing, finance & technology, as well as leadership. The course aims to provide students with case studies from different countries.
CEO Vision Series II
CEO's vision of successful globalized companies is discussed. This includes management strategy, organization change, and innovation. Students will explore case studies of different countries.
Leadership for Global Business
The roles of leaders in managing people's differences, teams, and cultural diversity are studied. Principles of leaders with vision and passion to change of global business will also be discussed.
Global Business Strategy Management
Organization management strategies are discussed. Internal and external environmental assessment and the process of formulating a business strategy for regional and global competitiveness are also discussed.
Global Business Finance
Principles of financial planning for firm's target, survival, and success. Case studies of executive's strategy on finance. This includes how CFO manages business financial activities for the firm's competitiveness in different countries.
Innovation Management for Global Business
Firm's innovation development process and innovation management strategy in globalized business. Case studies of successful innovation in different markets. This includes how a firm is managed to be responsive to change and innovation.
Elective Courses
Seminar in Organization Management
Discussion of perspectives on firm's management and key success factors in reaching a global business. This includes business structure, organization structure and firm's strategy for different forms of business expansion.
Seminar in Global Marketing Management
Discussion of perspectives on firm's marketing and key success factors in global business marketing. This includes the discussion of case studies in global branding strategy.
Seminar in Global Human Resources Management
Discussion of perspectives on firm's human resources management and human resources development in global business. This includes the discussion of recruitment, selection, development, performance appraisal, and compensation of executives and leaders in different levels of global business.
Independent Study
Independent Study
Researching issues significant to global business management. This can be, for examples, in the areas of global marketing, finance, operations, human resources or innovation. Creating an independent study under an advisor's consultation and supervision.
TENTATIVE STUDY PLAN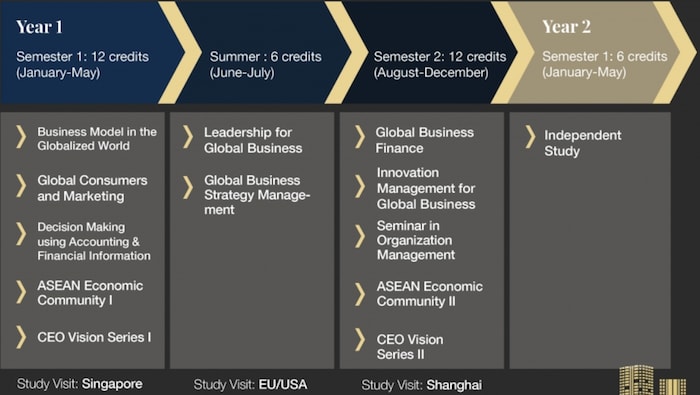 ADMISSION REQUIREMENTS
Bachelor's degree or equivalent (in any fields) from an accredited institution, from Thailand or overseas with 3 years working experience, or A TBS Bachelor's degree graduate with 3.00 cumulative GPA and 6 credits of Internship.
A submission of an English test (as specified by the University), taken not more than 2 years until the last date of the admission.

a. TU-GET Score of at least 550, or
b. TOEFL score of at least 550 for Paper-based, or at least 213 for Computer-based, or at least 79 for Internet-based, or
c. IELTS score of at least 6.5
Students who are native English speakers will be exempted in this case.
If candidates do not have the score of an English test as specified above, and they have the score of TU-GET at least 400, or TOEFL Paper-based at least 400/Computer-based at least 97/Internet-based at least 32, or IELTS at least 4.5, candidates must have a GPA of a bachelor's degree of at least 3.00 or they must either have a research publication or executive experience. Please note that candidates must take the English test with the score of not more than 2 years until the last date of the admission. In this case, the program may accept the candidates and the candidates must submit the English score as required by the University before the examination of the Independent Study. If not, candidates will be automatically dismissed from the program.
A submission of a statement of purpose and/or a discussion of relevant job/business experience related to the program of not more than one page.
Pass English Interview Test by the committee appointed by the University. Those who are based in overseas may be exempted from the interview in Thailand and the program committee will consider an alternate process case by case.
ADMISSION DATES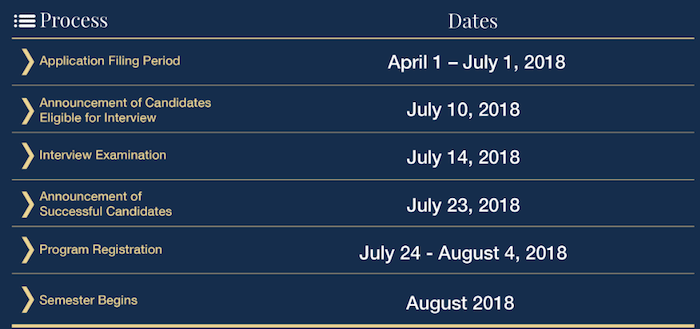 PROGRAM FEES
TUITION FEES
Baht 650,000 (Thai students) and Baht 704,000 (International students) covering instruction, teaching materials and most meals during classes.
ADDITIONAL COST
Flights, local traveling expenses, and accommodation are not included in the tuition fees above. This additional cost, which will be fully responsible by the applicant, is approximately Baht 300,000.