MBA in
Master of Business Administration
Stanton University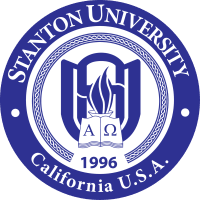 Introduction
Program and Objectives
The Master of Business Administration (MBA) program is designed to meet the educational needs of working adult managers in an ever-expanding global economy. The program emphasizes the identification, analysis, and solution of complex management problems within a context requiring both technical understanding and balanced decision making.
Management consists of the rational assessment of a situation and the systematic selection of goals and purposes; the systematic development of strategies to achieve these goals; the marshalling of the required resources; the rational design, organization, direction, and control of the activities required to attain the selected purposes, and finally, motivation and rewarding of people to do the work.
The MBA program provides adult learners with a comprehensive foundation for business decision making and prepares them to lead effectively in a rapidly changing business environment. The program has been structured with flexibility so as to serve holders of baccalaureate degrees in business administration as well as those who hold degrees in other disciplines.
Curriculum
Curriculum
Common-Core-Curriculum:
32 units

General Concentrations:

Financial Management
International Business/Global Management (IB/GM)
Marketing
Other Individualized Concentrations

24 units

MBA Project (BA750)

4 units

Total

60 units
MBA Graduation Requirements
A candidate for the Master's Degree in Business Administration shall have:
Successfully completed an approved program in Business Administration with a cumulative grade point average of 3.0 or better, while having received no more than two letter grades of less than a B and no letter grade of less than a C;
Successfully completed a minimum of 60 quarter units of coursework, at least 40 of which were completed in residence at SU and at least 12 Units of which were completed after Advancement to Candidacy;
Successfully completed all degree requirements within the maximum time limit allowed, five years, or within an officially approved time extension;
Successfully completed the Master of Business Administration Capstone Project, BA750;
Filed all the necessary graduation forms in accordance with the timetable provided by the School of Business and Management, and
Settled all financial obligations to the University.