MBA in
Master in Business Administration
South University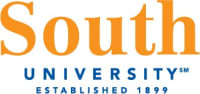 Scholarships
Explore scholarship opportunities to help fund your studies
Introduction
South University is currently offering a new format in addition to on-campus classes, called South VR [South Virtual Remote] which is a live instruction, interactive virtual classroom experience. This temporary learning format that was created to help our students continue their education remotely during the COVID-19 pandemic.
The Master of Business Administration degree at South University-West Palm Beach can further your knowledge in economics, decision-making, behavioral sciences, and business strategy. Offered in our new Online + On Campus learning format, you will have the opportunity to learn alongside your peers while still meeting the demands you face as a professional. The first week of the quarter is spent in the classroom, getting to know classmates and faculty, followed by an alternating schedule of one week online and one week on campus.
As an MBA student, you will examine diverse business models and study ethical and global perspectives in long- and short-term decision-making. Beyond that, you will have the opportunity to learn how to influence others using leadership, communication, and management best practices. Our new way of learning offers an educational experience that adds value to the career you have already created, surrounding you with like-minded professionals who also wish to thrive academically and professionally.
Outcomes
Graduates will be able to:
Demonstrate an ethical perspective as they assess decision-making processes, conflict, and other key macro and micro characteristics of organizations in diverse, global environments.
Influence individuals and organizations through the application of effective leadership and teamwork skills.
Apply effective communication skills in influencing others. They will create sustained, coherent arguments or explanations and reflections in their work.
Use critical thinking as they examine both qualitative and quantitative data, then synthesize and evaluate the information for use in problem recognition and problem-solving.
Determine the information needed, assess the needed information, evaluate information and its sources critically, use information effectively to accomplish a specific purpose, and access and use information ethically and legally.
Course Requirements
Master of Business Administration: 48 Credits
Foundation: 20 Credits
MBA5001 Organizational Behavior and Communication, 4 Credit Hours
MBA5004 Managerial Economics, 4 Credit Hours
MBA5005 Law and Ethics for Managers, 4 Credit Hours
MBA5008 Quantitative Analysis and Decision Making, 4 Credit Hours
MBA5009 Managerial Environment, 4 Credit Hours
Core: 12 Credits
MBA6010 Managerial Finance, 4 Credit Hours
MBA6011 Strategic Marketing, 4 Credit Hours
MBA6012 Operations and Supply Chain Management, 4 Credit Hours
Major Curriculum: 12 Credits
LEA5125 Leadership Ethics, Culture, and Politics, 4 Credit Hours
MBA6710 Entrepreneurial Organizations and Small Businesses, 4 Credit Hours**
PMC6601 Foundations of Project Management, 4 Credit Hours
Note(s):
** Students at the High Point Learning Site will take ACC5005 Financial Accounting and Reporting in place of MBA6710.
Capstone: 4 Credits
MBA6999 Strategic Development and Implementation, 4 Credit Hours
Note(s):
*South University, Online Program Offerings may not be available to residents of all states. Please contact an admissions representative for further information.
Online Classroom
Haven't experienced online learning before or wondering what it's like to earn your degree online at South University? While the mode of learning is different from the traditional classroom experience with added convenience and flexibility, we hold the same high standards of academic excellence in the online classroom.
South University's online programs combine a curriculum designed for student outcomes and a classroom designed for flexibility and engagement. Our online classroom learning platform, Brightspace, provides you with a host of features to enhance your learning experience, including:
Advanced media content
Personalized navigation
Simplified online learning atmosphere
Access to digital books
Emailing and instant messaging options
We provide more than just an online classroom, bringing a range of campus experiences and services online. In addition, the online classroom is accessible on the go via mobile devices and with tools like the Pulse App. Pulse helps you stay connected and on track with your course by providing a number of features such as course calendars, readings and assignments, feedback and grades, and announcements.
How to apply
We make the application process as smooth as possible so you can start earning your degree right away. Our admissions representatives will guide you through our three-step process.
To get started, call 888-444-3404, to speak with an Admissions Representative or fill out our request information form.
An admissions representative will review our degree programs with you, give you an overview of the admissions process, and help you complete the application process. You can take a guided tour of our campus or a virtual tour online. Apply Now
A Finance Counselor will work with you to discuss options and qualifications and to develop a payment plan that works for you. Programs with alternative application procedures.
2020-21 Starting Dates
On-campus
Online

May 14th, 2020
June 27th, 2020
August 6th, 2020
October 3rd, 2020
November 12th, 2020
January 9th, 2021
February 18th, 2021
April 3rd, 2021
May 13th, 2021
June 26th, 2021

June 2nd, 2020
July 14th, 2020
August 18th, 2020
September 22nd, 2020
October 27th, 2020
December 1st, 2020
January 12th, 2021
February 16th, 2021
March 23rd, 2021
April 27th, 2021
June 1st, 2021