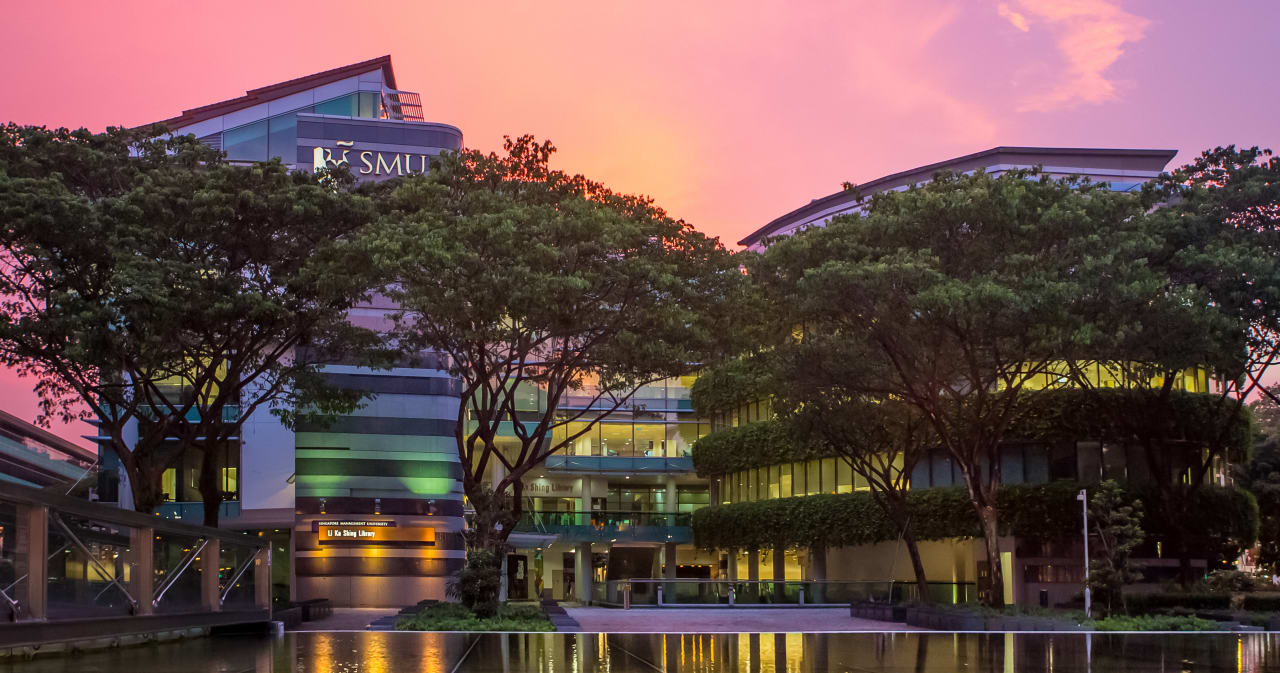 MBA in
Master of Business Administration (MBA)
Singapore Management University

Key Information
---
Campus location
Singapore, Singapore
Tuition fees
SGD 70,200 **
Application deadline
Request info *
Earliest start date
Jul 2023
* final deadline
** inclusive of GST
Introduction
The SMU MBA is designed to shape you into a versatile and dynamic leader that businesses need. Be inspired to learn business fundamentals with an interactive and rigorous curriculum that captures the forefront of management research and proven approaches in management practice.
Why Join SMU MBA?
With disruption redefining the current business landscape and the speed at which the global economy is evolving, business leaders are facing greater hurdles in their attempts to add value to their organisations in an increasingly volatile and complex environment.
The SMU MBA is designed to shape executives and managers into versatile and dynamic leaders that businesses need. With a rigorous and interactive curriculum that captures the forefront of management research and proven approaches in management practice, you will be grounded in business fundamentals and exposed to a variety of opportunities to lead, collaborate, analyse business decisions, strategise and execute business plans.
To top it off, our modules are structured to ensure that you receive maximum mileage in the lectures and discussions, and in addition, provide you options to flexibly arrange the programme to fit your busy work schedules.
Enjoy access to internships and job placement opportunities via our global network of close to 3000 companies.
Enjoy lifelong ROI by enrolling in complimentary MBA elective classes after graduation.
Stay relevant in the digital economy with an updated curriculum that includes courses on Data Science (Basic R and Python Programming) and Leading Digital Transformation.
Strengthen your grasp of business issues with contextual real-world learning through award-winning case studies on Asian and Western companies.
Learning is not restricted to the MBA programme. MBA students also have the option of taking selected electives from other postgraduate programmes offered by the Lee Kong Chian School of Business.
Minimise your time away from the workforce through Singapore's most accelerated MBA programme: 12 months full-time and 18 months part-time.
Strengthen your communication and presentation skills with our interactive seminar-style pedagogy modelled after the Wharton School of the University of Pennsylvania.
Enjoy access to internships and job placement opportunities with the extensive reach of our career service with over 2,000 companies globally connected to us.
Network and engage in excellent professional development and career opportunities through your access to over 100 events every three months.
Benefit and learn from the expertise of our international MBA faculty who are also experienced industry practitioners.
Rankings
The SMU MBA is ranked 51st worldwide, 20th in "ESG" and 25th in "value-for-money" (2022 FT Global MBA Ranking)
Curriculum
With SMU's unique emphasis on leadership and communication skills, our innovative and unconventional curriculum features a number of classes, of which MBA students must complete 8 modules that make up our core curriculum. In addition, you are required to take a minimum of 10 electives based on your interests and knowledge gaps to complement these core modules. The electives offered are subject to change every year.
We offer two tracks in the SMU MBA:
15-month Full-Time MBA (with the possibility to complete in 10 months)
18-month Part-Time MBA (with the possibility to complete in 15 months)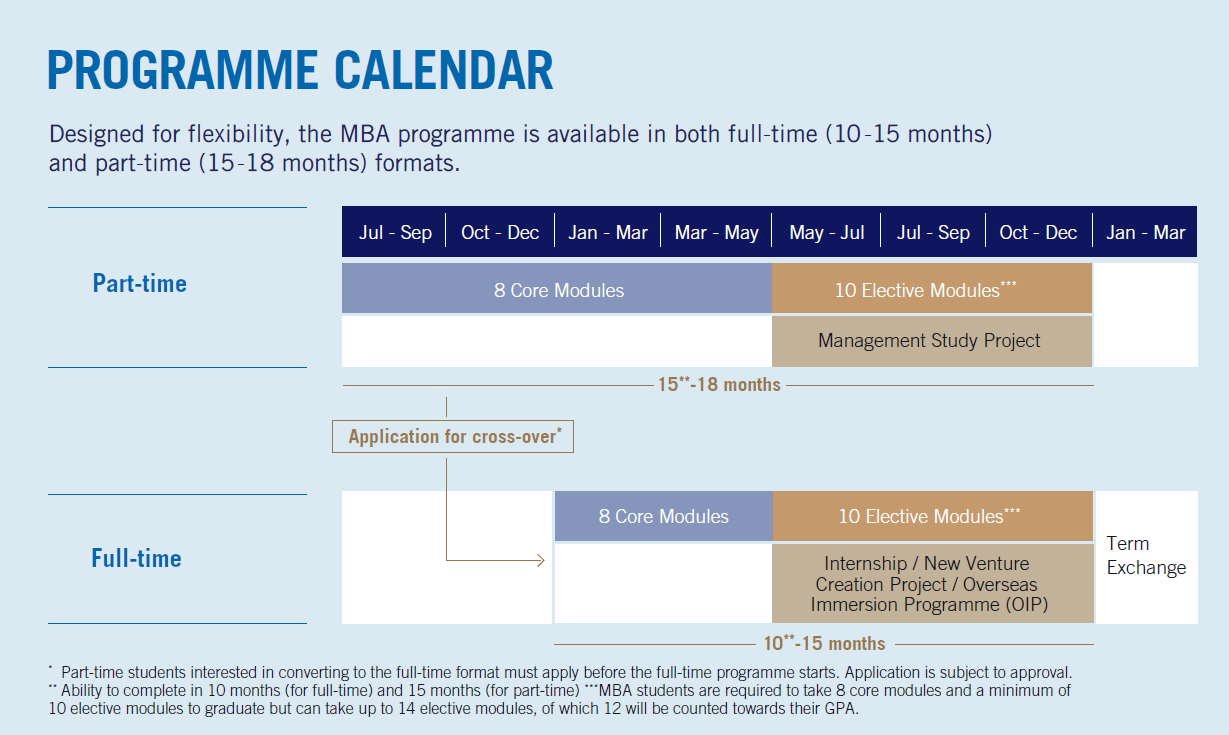 Career Opportunities
Our Career Services team runs workshops and events throughout the year to give you the opportunity to gain exposure across different industries and to build your network with the business community. The team also coordinates and makes available internship opportunities with leading companies.
Our Full-time and Part-time students will have access to the guidance of our Career Services team with regard to counselling, workshops and other resources.
Connecting with Asia's Business Community
Throughout your SMU MBA journey, you will have constant opportunities to interact with top business leaders and industry experts. This privilege is made possible through our extensive linkages with the business community.
Our MBAs have been recruited by companies that include Accenture, AEP Investments, Bain & Company, Check Point Software, Enterprise Sports Group, ExxonMobil, General Electric, Givaudan, HSBC, Julius Baer, Keppel, Kohler, K-Reit Asia Management, PriceWaterhouseCoopers, Singapore EDB Investments, Unilever and Yahoo, amongst others. The Advisory Board to the Lee Kong Chian School of Business comprises some of Singapore's top business leaders who also offer invaluable advice on the SMU MBA programme and the professional development of our students.