MBA in
MBA - Master of Business Administration in Executive Management
Royal Roads University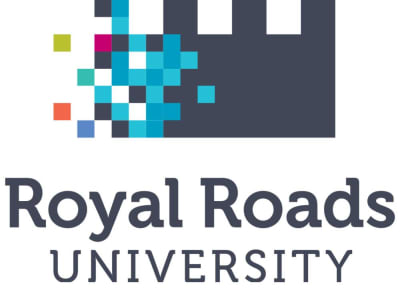 Key Information
---
Campus location
Victoria, Canada
Study format
Blended, On-Campus
Tuition fees
CAD 54,219 **
Application deadline
Request info *
Earliest start date
18 Jul 2023
* 18 Month Option | Blended Delivery
** tuition costs are for the entire program: $54219 international students, $46,194 domestic students
Introduction
The Master of Business Administration (MBA) in Executive Management at Royal Roads offers distinct advantages to those who seek to take their career and expertise to a greater degree.
Royal Roads has 20 years of experience delivering a blended MBA program that combines structured online courses with two short on-campus residencies. Whether you choose to complete the program in 18-months, or at a more relaxed pace over 31-months, the program allows you to complete your MBA without putting your career on hold. Starting fall 2021, you will have the option to complete your MBA full-time, on campus. Also, our unique MBA model allows you to earn both your MBA and a professional credential through our specialization options, giving you a competitive advantage in the marketplace.
Designed to recognize your work experience and training in addition to formal education, our flexible admissions policy creates professional pathways for those who may lack a 4-year undergraduate degree.
Royal Roads MBA students come from across Canada and around the world and are employed in industry, small business, government, education, non-profits, or as independent consultants. This rich diversity of backgrounds and experiences creates a cohort that is welcoming and mutually supportive.
The unique RRU MBA model allows you to earn both your MBA and a professional credential through our specialization options, giving you a competitive advantage in the marketplace. The wide range of specialization options lets you create an individualized learning experience that is intrinsically aligned with your personal career goals. The specialization options align with professional certifications and equip you with the skills and experience that will advance your career, whether that is advancing in your current organization, moving to a new job, or setting yourself up as an independent consultant.
Curriculum
Program Description
Royal Roads University Master of Business Administration in Executive Management
The MBA in Executive Management at Royal Roads University is designed for working professionals, by working professionals. Royal Roads MBA gives you a solid foundation and broader perspectives required to advance both your professional and personal life.
You can choose to complete this program in one of two ways: full-time on-campus (starting Fall 2021) or through a blend of online learning with short on-campus residencies, to allow you to gain your MBA while maintaining your professional career. Whether you opt for the 18-or 31-month program, our MBA will equip you with the key skills necessary to be a successful manager and leader in any setting, including critical thinking, analysis, and communications.
In our MBA program, you'll join a cohort of 30 to 40 mid-career learners from business, government, education, and non-profits. Our cohort model allows you to develop your professional networks and exposure, gain a broader understanding of key issues and see new opportunities that will expand your personal and professional horizons. Throughout the program, you'll share knowledge and tackle real-world problems through live case studies and team exercises. You'll gain new skills and knowledge that you can apply immediately to your organization. You'll gain the confidence and networks necessary to move your career forward.
Working together ensures that everyone contributes to and benefits from the program. The connections you create through our cohort environment form a powerful network of support you can turn to during your program and after graduation.
Who It's For
Royal Roads MBA program is designed for experienced professionals with a wide range of backgrounds in terms of education and employment. Our admissions process recognizes that your formal educational background is only one part of your story. If you have not completed an undergraduate degree or do not meet standard admissions criteria, our flexible admissions policy recognizes your years of work experience and training.
Our program is designed to help you successfully transition back to school and achieve academic success. For all students, we offer optional preparatory classes in academic writing and accounting before our regular program, allowing you to build your confidence and skills as you prepare to embark on your MBA journey.
In the MBA program, you'll meet students from across Canada, and around the world, who work for large corporations, family businesses, government, the military, non-profits, and independent consultants. You'll meet professionals who are just like you, juggling work, family life, and other commitments.
While there is a vast diversity of educational and work backgrounds, one common characteristic of all our MBA students is that they all have significant work experience. Students are required to have at least seven years of work experience, and most have much more. The average age is 40, and our balanced cohort of male and female participants has on average 15 years of work experience. This depth of knowledge and experience of our cohorts enhances the learning environment, facilitating deeper discussion and analysis and application of course materials to issues faced on the job.
Building your network
The rich diversity of participants allows you to build a wide network and develop new perspectives. The network you build in the MBA program will support you to advance within your current field or discover new opportunities. Ultimately, you'll expand your existing network around the country and the globe, gaining access to a wide range of new resources and contacts which are invaluable for your career growth.
The relationships developed within the cohort are a key reason why we have very high completion rates for the program. While external pressures may test your commitment to the program, the tight bonds and mutual support network you experience within the cohort will help you overcome your challenges and keep you moving forward to achieve success in the program and in your career. Learn more about Royal Roads MBA program design.
Customize your program
In Royal Roads' MBA program, you can customize your program to create an individualized learning experience that is tailored to your professional goals. The program gives you the opportunity to select from more than 20 specializations, and earn a dual credential of Royal Roads MBA plus a professional graduate certificate.
Royal Roads MBA specializations are offered through Graduate Certificates in various fields such as the ones in the list below:
Management Consulting
Executive Coaching
Project Management
Human Resources
Change Management
Leadership
Social Innovation
Sustainability
International Business
Obtain Professional Credentials
The practical and applied nature of the Graduate Certificates allows us to provide academic qualification in partnership with professional affiliations such as the Canadian Association of Management Consultants (CMC-Canada), the Chartered Professional in Human Resources (CPHR), Association of Change Management Professionals®, International Coaching Federation (ICF), Project Management Institute (PMI), and the Association of Change Management Professionals®. By completing the specialization program, you'll also earn education hours toward a highly regarded professional certification in the field.
If you have already completed a Graduate Certificate at Royal Roads, you can transfer all 9 credits towards the RRU MBA program. Learn more about the specialization options within the MBA program.
Applied business experience
The RRU MBA is designed to allow you to apply your learning immediately to your work and organization, while also gaining new skills, tools, and knowledge to address new challenges.
Live cases
You'll work with your classmates to identify, analyze and address key issues of invited company clients. You'll gain exposure to new industries and new problem-solving perspectives that you can bring back and apply immediately in your profession.
Business analysis
Our Organizational Management Project allows you to examine a management problem for a chosen client organization, conduct academic and best-case research, analyze options, and provide recommendations and a high-level implementation plan in a final report.
MBA + MGM Dual Degree
Combine the MBA and the Master of Global Management at Royal Roads University.
Doing both master's degrees will give you the advantage you're looking for in your career. You'll gain executive leadership knowledge and gain the experience, skills and perspective to lead a global business.
New applicants
For students who have not completed an MBA or MGM at Royal Roads
You'll spend the first year of your studies taking required courses in either the MBA or MGM. In the second year, you'll cross over to the other program and take its required courses.
You'll choose a specialization (graduate certificate or MITx Micro Masters®) and complete an applied research project.
You can take time off in between the two degrees to gain work experience before completing the second master's.
To be accepted to do the dual degree, you'll need to meet the admission requirements for both the MBA and the MGM.
MBA and MGM alumni
If you've already completed your MBA or MGM at Royal Roads, you can return to the university at any time to do the second master's degree.
To complete the second degree, you'll take its required courses. You won't need to retake core courses that are common between both degrees (e.g., corporate finance).
You'll also need to complete a specialization (graduate certificate or MITx Micro Masters®) and an applied research project.
To be accepted into the second program, either the MBA or MGM you'll need to meet its admission requirements.
MBA specializations
Royal Roads MBA program allows you to complete your program with a specialization.
Coaching
Graduate Certificate in Advanced Coaching Practices
Graduate Certificate in Executive Coaching
Management consulting, change management, and innovation
Graduate Certificate in Management Consulting
Graduate Certificate in Change Management
Graduate Certificate in Workplace Innovation
International business
Graduate Certificate in Asia Pacific Trade and Investment
Graduate Certificate in International Business and Innovation
Social innovation
Graduate Certificate in Corporate Social Innovation
Organizational design
Graduate Certificate in Organization Design and Development
Leadership
Graduate Certificate in Personal and Professional Leadership
Graduate Certificate in Management and Leadership
Graduate Certificate in Global Leadership
Graduate Certificate in Leadership
Graduate Certificate in Values-Based Leadership
Project management
Graduate Certificate in Project Management
Human resources
Graduate Certificate in Strategic Human Resources Management
Environment and sustainability
Graduate Certificate in Environmental Education and Communication
Graduate Certificate in Science and Policy of Climate Change
Communication and culture
Graduate Certificate in Professional Communication Management
Graduate Certificate in Strategic Global Communication
Education and technology
Graduate Certificate in Business Development in International Education
Graduate Certificate in Instructional Design
Graduate Certificate in Systems Leadership in Higher Education
Graduate Certificate in Strategic Enrolment Management
Interdisciplinary studies
Graduate Certificate in Interdisciplinary Studies
Tourism and hospitality
Graduate Certificate in Tourism Management
Courses
GDB: Getting Down to Business
ITAI: Introduction to Academic Integrity
BUSA502: Constructing and Communicating Effective Arguments
BUSA506: Strategy
BUSA507: Foundations of Strategic Leadership
BUSA508: Accounting for Strategic Business Decisions
BUSA513: Delivering Customer Value
BUSA514: Organizational Behaviour
BUSA522: Creating Customer Value
BUSA523: Corporate Finance
BUSA531: Environment of Management
BUSA632: Understanding Economic Decision Making
BUSA608: Change Management
BUSA650: Advanced Strategic Integrative Practice
BUSA696A: Organizational Management Project - Introduction and Company Background, Literature Review, and (Limited) Research Methods
BUSA696B: Organizational Management Project - Research Methods, Findings, Analysis, Discussion, and Recommendations
EXMN601: European Union Business Environment
EXMN602: Innovation Management
EXMN655: Leading a Global Workforce - A Human Resources Perspective
EXMN658: Leading with Emotional Intelligence
EXMN661: Management Consulting - Best Practices
EXMN665: Asia Pacific Business Environment
EXMN668: Management Consulting - Essentials
EXMN669: Asia Pacific Management and Strategy
Program Outcome
As a graduate, you'll have the confidence, abilities, and credentials that will help you to get recognized and achieve a higher position in your organization.
For example, Ben Chung of Toronto, who took part in the Asia Pacific Trade and Investment Specialization, was successful in being chosen for a highly selective IBM program in international consulting. Sergio Sabatini moved up from Chief Operating Officer to President of a private North American railroad and transportation management company in Denver. Former NHL player Jim Kite entered the MBA program through the flexible admissions process and was able to supercharge his post sports career through the MBA by being named the Dean of Algonquin College's School of Hospitality & Tourism in Ontario.
If you are interested in exploring a new position in a different organization or industry, the RRU MBA offers you in-depth knowledge of new industries and settings and key contacts through the new network you develop within your cohort and among our 2500 MBA alumni. MBA alumni James McGrath successfully pivoted from a position in communications to the investment business in Calgary after getting his MBA degree. Wendy Rock fellow transitioned from the private sector to the public sector to become the Chief Administrative Officer in Clinton, BC.
Many Royal Roads MBA graduates are interested in building on their years of experience and knowledge to become part- or full-time independent consultants. Our MBA specializations are designed to build your skills and credentials to launch your consulting career. Through the RRU MBA, James Grieve achieved his Certified Management Consultant credential and established a successful consulting business in Kelowna, BC.
Scholarships and Funding
At Royal Roads University, we have the Financial Aid & Awards team available to provide you with the information and support you need in your financial planning. Learn more about the Loans, Awards, and Research Scholarships.
Women and Men from the Canadian Armed Forces and Department of National Defence are eligible for up to $80,000 in educational and training funding. Learn more about the Veterans' Education and Training Benefit (ETB) offered by the federal government. Royal Roads University's flexible admission process recognizes your military, academic, professional, and life experiences.
Graduates of Royal Roads' MBA program report that participation in the program gave them the confidence, skills, and credentials necessary to make career shifts, whether within their own organization, to a new firm or industry, or into a role as a full- or part-time consultant.
English Language Requirements
Certify your English proficiency with the Duolingo English Test! The DET is a convenient, fast, and affordable online English test accepted by over 4,000 universities (like this one) around the world.