EMBA in
Executive MBA
Rollins Crummer Graduate School of Business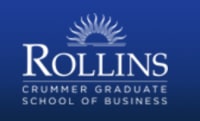 Scholarships
Explore scholarship opportunities to help fund your studies
Introduction
The one constant about business is changing. At the Crummer Graduate School, we know that as business changes so must our curriculum to align with the new challenges that leaders will face. Providing you with the skill sets necessary to succeed is why our faculty designed a new Executive MBA curriculum allowing for more customization based on your interests. Students graduate in 18 months based on the concentration path you decide to choose.
The Executive MBA starts one time per year in August and all classes are held on campus each Saturday from 8:00 a.m. – 3:00 p.m. It's time for you to experience the uniqueness of the Crummer Executive MBA.
Schedule & Courses
Executive MBA students attend class on campus each Saturday from 8:00 am - 3:00 pm with seven extended enrichment days that cover trending business topics hosted by experts in their fields. Enrichment days are scheduled from 3:15 pm to 5:00 pm and are prescheduled.
EMBA students are exposed to advanced business techniques and practices through business concepts courses, core courses, and an International Business Experience. Once they complete the core program, they will have the opportunity to achieve a concentration in finance, marketing, or entrepreneurship. The concentration path you choose will determine the program length of either 18- or 20-months.
Global Opportunities
Studying the effects of cultural influences on business is one thing; seeing them in action is another. Rollins Executive MBA students can experience international business first-hand by applying classroom learning to real-world challenges through the following programs:
Required Course: Global Research and Study Project
All Executive MBA students take this experiential learning course, which focuses on the challenges and opportunities of doing business in a particular country or region. It features travel overseas as a group, accompanied by the instruct