MBA in
Master of Business Administration (MBA) International Management
New European College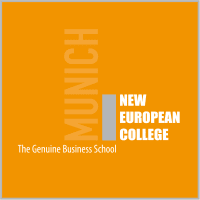 Introduction
The Master of Business Administration (MBA) in International Management is taught by an international team of lecturers and researchers from academia and industry.
The MBA in International Management degree program is aimed at students with business and non-business administration Bachelor's degree backgrounds. Candidates will have had at least 3 years of experience working in companies and organizations in a role that manages people, processes, or both.
"The MBA degree program is aimed at providing graduates with the skills and competencies to fulfill management positions in the field of business administration, both in the public and private sector. These positions can include management or policy-making positions in large organizations, as well as positions of management in small to medium-sized companies (SMEs). An aim is that students are able to critically analyze and evaluate various developments within an organization so that they can form, create and instigate policies, visions and aims, and solutions within that organization. They should be in a position to analyze the strategic processes and vision of a company or organization and, using this analysis, apply and implement tools to innovate, optimize, and (re-)structure these processes using an integral approach. From an international perspective, the students should learn to analyze the environment they find themselves in and adapt their behavior and role according to the macro and micro environments they find themselves in."
The Master of Business Administration (MBA) has become an academic career boost for both entrepreneurs and corporate workers. Globalization demands MBA graduates with truly international business education.
With our MBA in International Business, you will gain the necessary skills and tools to be able to take over challenging positions with managerial responsibility. For students without previous education in business, the MBA is the perfect program to qualify them for managerial positions.
Our MBA in International Business connects theory and practice and is taught by instructors with significant experience in their profession. Small groups allow for very interactive education. As our MBA students need to first have job experience to be able to enroll, the individual experiences and backgrounds of each and every student make classes even more enjoyable. Our faculty members use activating elements such as case studies, simulations, projects, and presentations to give every student an opportunity to easily connect the gained knowledge with their personal experiences.
Entrepreneurs and intrapreneurs are successful because they can quickly understand complex situations that require them to plan and make strategic decisions and work on a multitude of business ideas and projects at the same time. They have a solid understanding of marketing design and implementation. Being able to develop business ideas simultaneously requires an ability to determine and understand important details, pinpoint alternatives and continuously evaluate and review business processes. A characteristic of entrepreneurs is that they have the ability to fully devote and commit themselves to achieving their long-term business objectives and goals and this energy is also directly translated into short-term objectives.
An entrepreneur can be the driver of new business ventures themselves (entrepreneur) or the driver of innovation and change within an existing business (intrapreneur).
An entrepreneur requires the ability to manage through leading and motivating people. This can occur in business startups and project launches but also in times of change and innovation. The entrepreneur will understand the need for good communication skills and have a good understanding of society, economics and sustainability. The entrepreneur will have the skills of selling ideas and products, winning commitment, and presenting and executing business plans. Understanding the need for stable and solid management within a company – large or small – is important. An entrepreneurial business person in modern-day Europe needs to be able to communicate with people across the continent and across the world and requires the ability to understand the effects of national and international governments on the business ventures they are involved in. Entrepreneurs and Intrapreneurs require the ability to look at problems and risks from a holistic viewpoint and find solutions and manage risk through innovation.
They need to have a good understanding of finance and fiscal matters and be able to knowledgeably communicate with people supporting them through accountancy, human resources or information services, and be able to lead these people.
Curriculum
The school year at New European College is divided into two terms – Winter Term and Summer Term, and six main blocks, which last six weeks each. Each six-week block consists of two lesson weeks, followed by a project week, then two more lesson weeks, followed by an exam week, to complete the module.
The MBA is comprised of 3 phases which are made concrete in 3 semesters.
In Semester 1, students follow 6 core MBA modules. These modules incorporate a number of classic functional business administration areas, which, in addition to teaching classical delegation of knowledge, will be grasped by reflective learning, i.e. learning in which students reflect on their prior work experience in light of the materials provided in the various modules.
Semester 1 Modules:
Management Accounting & Finance
Marketing Management
Research Methods Introduction
Human Resource Management
Operations Management
International Management
Information Management
Reflective learning helps to develop critical thinking, self-awareness, and analytical skills. It involves an individual in a reflective process.
Semester 2 sees a series of modules that allows students to study further in-depth in areas of globalization and strategic management and also to choose specialized electives in which to deepen their knowledge.
In Semester 2, the main modules International Corporate Sustainability and Globalisation, Society & Culture provide more depth and breadth to the program, looking at global issues from a socio-cultural perspective as well as a business administration. These modules represent an interdisciplinary approach to the learning process, i.e. a number of issues will be studied from various theoretical perspectives developed in different academic disciplines. The main module Business Statistics looks at the application of statistical methods and data within a company or organization. It will also prepare students for their research in the Final Project insofar as statistical analysis is a part of it. Similarly, but in a different manner, this module invites the student to combine information from different disciplines and sources so as to reach a full understanding of business-economic and social phenomena.
Semester 2 Modules
Research Methods (Final Project)
Globalization, Society & Culture
International Corporate Sustainability
Business Statistics
Strategic Management
International Consultancy
Project Module (3 Project Weeks)
Throughout Semester 1 and 2, students work on a Personal Development Plan (PDP) portfolio that culminates in three interlinked project weeks in Semester 2, in which students work in teams to fulfil a consultancy project for a regional organisation. There may be one or more projects, depending on the nature of what is available, and during the PDP and Project Module, students are guided by their tutor.
Semester 3 is completely allocated to the Final Project, in which students complete a research project, preferably instigated by a company or non-business organization. The Final Project (at the very least) will combine theory, research, and practical application.
Program Outcome
With our Master in Business Administration (MBA), you will gain the necessary skills and tools to be able to take over challenging positions with managerial responsibility. For students without previous education in Business, the MBA is the perfect program to qualify yourself for managerial positions.
Career Opportunities
MBA Enhancing Your Career!
MBA graduates are often fast-tracked into senior management positions and this MBA program has been designed for those who wish to pursue senior management positions or as preparation for further study in business, such as at the Ph.D. level.
The MBA will further the careers of:
Graduates who are working in an organization, managing people or processes, and are looking to improve their career opportunities within their current employment position.
Graduates who have been working in an organization, managing people or processes, and are looking for a full-time MBA program that will increase their employability chances in an international market;
Graduates who have completed a Bachelor's degree and have worked in an organization with responsibility for managing people or processes, who are looking to improve their career opportunities, either at their current employer or in the search for a new opportunity;
Graduates with a proven number of years managing people or processes within an organization. These students are looking for an English-taught, internationally orientated MBA program that can allow them to improve their career prospects in the job market either at home or in the Netherlands, either at their current employer or at a new organization, and possibly to continue their studies at a higher level.