MBA in
Master of Business Administration | Accounting (MBAA) (On-Campus and Online)
Millennia Atlantic University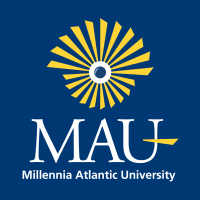 Introduction
The Master of Business Administration with an Accounting Concentration is the culminating degree offered at Millennia Atlantic University providing the final step in obtaining advanced skills in accounting. Accounting professionals are found in a variety of managerial positions in numerous enterprises. An accounting background affords the individual an opportunity to advance through the ranks of an organization. The curriculum at Millennia Atlantic University not only concentrates on the knowledge required in accounting and finance but 73 also on the managerial and leadership skills needed for upward mobility. The program emphasizes the professional accounting skills needed in today's global world economy. The curriculum combines standard theoretical aspects, practical accounting skills, and quantitative methods to ensure that students learn how the material relates to actual and current work scenarios within the accounting profession and to ensure training is received to meet the demands necessary for success in a variety of business settings.
The MBA with an Accounting Concentration consists of 12 courses with a total of 36-semester credits. The MBA Core is 8 courses covering managerial accounting and economics, finance, portfolio management, business statistics, strategic management, organizations and leadership, and operations management. The Accounting Concentration Core consists of advanced courses in managerial accounting, accounting information systems, and advanced auditing. The program concludes with a capstone course that includes contemporary issues surrounding accounting theory and research.
Curriculum
ACC 521 - Managerial Accounting 3
ACC 550 - Advanced Managerial Accounting 3
ACC 560 - Advanced Accounting Information Systems 3
ACC 570 - Advanced Auditing. 3
ACC 580 - Contemporary Accounting Theory and Research/Capstone 3
ECN 512 - Managerial Economics 3
FIN 510 - Finance 3
FIN 530 - Portfolio Management. 3
MAT 560 - Business Statistics 3
MGT 510 - Strategic Management of Organizational Behavior 3
MGT 520 - Organizations and Leadership 3
MGT 530 - Operations Management 3
Total Hours Required for Graduation - 36 hours
Career Opportunities
Graduates of the MBA with an Accounting Concentration are prepared to seek employment as professional accountants, auditors, cost accountants, management accountants, tax examiners, financial managers, budget directors, credit analysts, and internal auditors. Various public, private, and governmental organizations seek employees with accounting skills.