MBA in
Master of Business Administration (MBA)
IU International University of Applied Sciences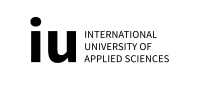 Introduction
Make 2023 your year. Change your future with IU - apply and save up to 25%!



IU is always looking for new ways to help you combine high-quality education, accessible education, no matter your circumstances. You have the chance to get up to 25% off your on-campus studies! Join IU on one of their campuses in Bad Honnef or enjoy a major European city in Berlin. Their lectures still offer great flexibility, giving you a chance to work, socialize and explore a new continent while working towards your future.



Bachelor 180 ECTS - 25% discount
Master 60 ECTS - 19% discount
MBA 90 ECTS - 6% discount
Master 120 ECTS - 17% discount



Learn More
Your degree, your way:
The Master of Business Administration at IU offers a variety of career opportunities after graduation. The international orientation of the programme makes it possible to prove one's skills in the global working world and to assign with international companies. By imparting knowledge in areas such as finance, economics, marketing and leadership, you qualify for challenging tasks in middle to upper management in various fields. With IU, you can study on campus, online, or switch between both with their new flexible studies option.
We offer our MBA in a 60 and a 90 ECTS version. Our 60-credit One-Year MBA teaches you how to analyse competitors and markets, develop new products and business ideas, advise customers, lead departments and teams or strategically position a brand. It is an excellent choice for anyone looking to enter a role in leadership or entrepreneurs that want to start their own business.
If you opt for the 90-ECTS variant, you can choose a major in the second semester and thus deepen your specialist knowledge in addition to general management know-how.
Majors
International Marketing
Finance & Accounting
IT Management
Big Data Management
Engineering Management
MBA in Healthcare Management
MBA in Human Resource Management
MBA in Supply Chain Management
MBA in Innovation & Entrepreneurship
MBA in Artifical Intelligence
We design our programmes and courses to be as flexible and innovative as possible—without sacrificing quality. We deliver specialist expertise and innovative learning materials as well as focusing on excellent student services and professional advice. With IU you can study on campus, online or combine both and switch between the two. Our distance learning materials allow you to gain an accredited degree from wherever you are and work around your job or personal commitments.
Prefer to study on campus? Get your real-life university experience at one of our two campuses in Germany and network with people from all over the world.
Why IU?
#1 University in Europe: Join Europe's largest private University with more than 100,000 students
Maximum Flexibility: Study on campus, online or switch between the two options. You choose where you want to study.
Fully Accredited Degree: All our degrees benefit from German state accreditation and are internationally recognized in major jurisdictions such as the EU, US and UK
Study at a 5-star rated University from QS: IU is the first German university that achieved a 5-star rating for Online Learning from QS
International Focus, Practical Orientation: We focus on practical training and an international outlook which gives IU graduates a decisive advantage: 94% of our graduates have a job within six months of graduation and, after an average of two years on the job, 80% move into management. Plus, we work closely with big companies such as Lufthansa, Sixt, and EY to give you great opportunities and insights.
Free Webinar and Q&A
Webinar: Study Online with IU 3:00 PM - 3:45 PM (CEST)
Rankings
Accredited.
IU International University of Applied Sciences has received system accreditation from EQAR, FIBAA, the German Accreditation Council, the German Council of Science and Humanities, and WES Canada. This means their courses, faculty and teaching material all match the rigorous standards that have been set for them and they can now accredit their own programmes.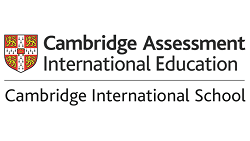 Cambridge Assessment International Education / High School Diploma Study Pathway.
IU is the first online university partner of Cambridge International's high school diploma pathway. By working with Cambridge, IU offers students a special chance to finish their high school diploma while studying for a bachelor's degree. Since they are required for your bachelor's degree, these high school diploma courses are free of charge. The Study Pathway is a unique 12 months course with a 150-hour workload which you take alongside your bachelor courses. The Pathway concludes with an exam that can be retaken an infinite number of times.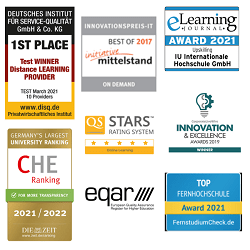 Award-Winning.
In the current CHE ranking (2020-2022), IU tops the Business Administration field in categories of "General Study Conditions," "Contact with Lecturers," "Study Programmes Offered," "Examinations," "Study Organisation," and "Practical Orientation," winning a total of six out of 25 categories and achieving more top category rankings than any of the more than 300 institutions. IU received a 5-star rating for online learning and a score of 99 out of 100 in the QS, Quacquarelli Symonds, Stars Report, making it the first German university to receive such a ranking. It was also given the FIBAA Premium Seal for Digital Excellence and has excelled in 15 out of 23 criteria, including categories like Future Orientation, Knowledge Management, Quality Assurance of Teaching, and retaining the rating for the next five years. It is the only training provider to get the DtGV's Service Award 2022 from the German Society for Consumer Studies given that it has a dedicated academic staff and trained study coaches who ensure that students are supported throughout their studies.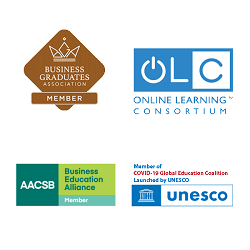 Connected.
IU is a member of the Business Graduate's Association, Online Learning Consortium, AASCB, and UNESCO's Global Education Coalition. These memberships give them connections to other institutions, companies, and NGOs as well as top-tier degree programmes and lifelong learning development courses. By leveraging cutting-edge technology, IU helps students in need to continue their education and pursue lifelong learning.
Program Outcome
Two Degrees, Double the Advantage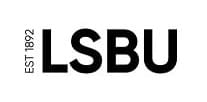 IU International University of Applied Sciences (IU) has partnered with London South Bank University to give you the chance to have your degree validated by two institutions. When you choose this option, you'll graduate from IU with both a German degree and a British degree, giving you a major career boost! This opportunity comes with no extra study courses or travelling.
Career Opportunities
Logistics & Transport
The international orientation of your studies and the logistics and transport industry makes you a global player. After graduation, for example, you can work as a Logistics Consultants, Sourcing Manager, Process Manager, etc.
Engineering Project­ Management
Excellent job prospects await you after graduation. You will be in need wherever interdisciplinary and comprehensive knowledge in the field of technology and business is required. For example, you can work as a Project Manager, Quality Manager, Engineering Project Manager, etc.
Clinical ­ Research ­Management
Clinical Research Managers develop, manage, and control the phases in clinical research, for example in the development of new drugs. Together with pharmacists, physicians, and biologists, they ensure the scientifically correct course of those development processes - against the background of legal and medical framework conditions.
After graduating, for example, you will work as a Clinical Trial Manager, Medical and Pharmaceutical Journalist, Laboratory Manager, etc.
International Business
With an MBA you bring leadership competence and comprehensive knowledge from all relevant management disciplines to the table - and thus open up your career to a wide range of opportunities. After graduation, for example, you can work as a Business Development Manager, Consultant, Senior Brand Manager, etc.
International Marketing
Since virtually every national and international company sells products or services, the career prospects in marketing are outstanding. Experts with sound marketing and sales skills are in demand almost everywhere. After graduation, for example, you can work as a Communications Manager, Brand Manager, Marketing Manager, etc.
Finance & Accounting
An MBA degree in Finance & Accounting makes you a sought-after expert in an industry with a future. After graduation, for example, you can work as a Risk Manager, Financial Controller, Compliance Officer, etc.
Health Care Management
With an MBA degree in Health Care Management, you acquire the specialist knowledge you will need as a successful leader in the healthcare industry. Your potential employers include healthcare and care insurance providers, medical facilities, pharmaceutical companies, and health tourism institutions. After graduation, for example, you can work as an Occupational Health Management Consultant, Hospital Account Manager, Healthcare Business Consultant, etc.
International Human Resource Management
HR personnel can do much more than look over applications, conduct interviews, and draft employment contracts. Because of a shortage of trained HR personnel, their skills are needed in all areas in the selection, assignment, and promotion of staff in line with corporate goals. After graduation, for example, you can work as a Human Resources Manager, Personnel Developer, Human Resources Office, etc.
IT Management
As an IT manager, you are among the most sought after professionals in the industry, the public sector, and government organisations. After graduation, for example, you can work as an IT Project Manager, Scrum Manager, HR Specialist Tech Recruiting, etc.
Hospitality
The Hospitality Management MBA programme prepares you for a range of responsibilities. After graduation, for example, you can work as a Guest Relations Manager, Project Manager, Marketing Manager, etc.
Big Data Management
Large companies and high-growth companies invest heavily in building data management systems and structures. There are many opportunities here for qualified specialists. After graduation, for example, you can work as a Big Data Scientist, Big Data Engineer, BI Consultant, etc.
Aviation
As a future manager, you will take on responsibilities in the area of ​​air traffic and logistics. After graduation, for example, you can work as an Air Freight Procurement Manager, Corporate Strategy Developer, Process Management Consultant, etc.