EMBA in
Executive MBA
Geneva School of Economics and Management GSEM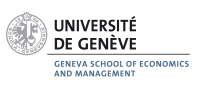 Scholarships
Explore scholarship opportunities to help fund your studies
Introduction
The Geneva EMBA is a two-year program. Throughout our program, our students will develop their interpersonal skills, the so-called soft skills. Amongst others, our students learn and apply how to manage with emotional intelligence and train group resilience, acquire cross-cultural management and leadership skills, and practice how to successfully work in teams and foster team engagement. The acquired knowledge in business administration and interpersonal skills equip our students for mastering professional and management challenges.
The Geneva EMBA is
A part-time 2-year program (90 ECTS)
Offering advanced level courses in the second year with a focus on building a global advantage, leading responsibly, and managing transformation.
A program embedded in and tailored to the needs of Geneva's vibrant and international ecosystem
Taught by academic experts and business professionals from Geneva's ecosystem.
What does the Geneva EMBA offers you
Geneva's Ecosystem: Our Geneva EMBA offers you an excellent opportunity to enlarge your professional network and develop career opportunities!
Innovative Curriculum: Our Geneva EMBA provides you with relevant contemporary management knowledge and skills for your future career.
Strong Professional Network: Our Geneva EMBA allows you to learn from your peers and build lasting relationships for your career.
Exceptional Value. Our Geneva EMBA offers you an affordable, accredited high-quality university education in Geneva (at one of the world's best universities).
Accreditations