EMBA in
Executive MBA
Geneva School of Economics and Management GSEM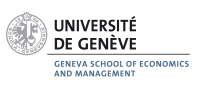 Introduction
The Geneva EMBA is a two-year program. Throughout our program, our students will develop their interpersonal skills, the so-called soft skills. Amongst others, our students learn and apply how to manage with emotional intelligence and train group resilience, acquire cross-cultural management and leadership skills, and practice how to successfully work in teams and foster team engagement. The acquired knowledge in business administration and interpersonal skills equip our students for mastering professional and management challenges.
The Geneva EMBA is
A part-time 2-year program (90 ECTS)
Offering advanced level courses in the second year with a focus on building a global advantage, leading responsibly, and managing transformation.
A program embedded in and tailored to the needs of Geneva's vibrant and international ecosystem
Taught by academic experts and business professionals from Geneva's ecosystem.
What does the Geneva EMBA offers you
Geneva's Ecosystem: Our Geneva EMBA offers you an excellent opportunity to enlarge your professional network and develop career opportunities!
Innovative Curriculum: Our Geneva EMBA provides you with relevant contemporary management knowledge and skills for your future career.
Strong Professional Network: Our Geneva EMBA allows you to learn from your peers and build lasting relationships for your career.
Exceptional Value. Our Geneva EMBA offers you an affordable, accredited high-quality university education in Geneva (at one of the world's best universities).
Accreditations
Admissions
Admission Criteria
Bachelor Degree, or equivalent (i.e. Bac+3, etc.) *
Pertinent work experience : 3 years minimum in a managerial role (excludes training sessions, internship)
Required skills:
Strong command of both written and spoken English
Computer office tools (spreadsheet, word processor, presentation tools)
Basic Accounting understanding (balance sheets/income statement, P&N, EBITDA) or ability to assimilate numbers and concepts
Selection Process
Admission to our program takes into account the candidate's academic qualifications, professional experience, and other relevant criteria (i.e, motivation, willingness to invest the required time and energy to complete the program, international exposure, etc.).
The selection process includes 4 steps:
Validation of application & documents submitted online
Quality of the dossier
One-hour interview for admissible applications. Although it is normally conducted in person, it may be done online, if necessary
Review of validated applications and final decision by the Directing Committee
Notification is sent to candidates by email.
Acceptance
Upon acceptance to the EMBA Program, candidates will need to do the following in order to finalize their enrollment in the EMBA:
Confirm their participation, and settle the CHF 5'000.- Matriculation fee within 7 days (this fee is non-refundable).
Submit certified or notarized copies of their University Diplomas and grade transcripts to the EMBA office before the start of the program.
Curriculum
1st year
The key to success in the job market is no longer an EMBA degree, but rather the EMBA graduate! What you learn is of course important, but it's what you do with this knowledge that will create your value-added and make the difference, which is why we have now integrated this factor as one of our key values.
1st year: 12 core modules (36 ECTS)
In the first year, students acquire the foundational knowledge and skills in business administration, such as marketing, strategy, organizational design, and human resource management. Core courses form the basis of management and are completed during the first year of the EMBA cycle
2nd year
Advanced Level Modules (36 ECTS)
In the second year, students take advanced level courses with a focus on the three core themes of our program: building a global advantage, leading responsibly, and managing transformation.
Building global advantage
Geneva is often referred to as the global city. It is home to many large, medium- and small-sized companies- most of which have international ties and whose workforce is highly international. Managing an international workforce, international business partners, or an international business expansion is of paramount importance for being successful in the global market. Our students acquire the skills to develop strategic thinking in a global context and learn from leading businesses in Geneva how they encounter and overcome international management challenges.
Leading responsibly
Organizations and managers are confronted with grand societal challenges such as climate change, human rights violations, and global inequality. Investors, employees, and consumers are expecting companies to #buildbackbetter and put responsible management practices front and center. Organizational responsibility and sustainability have traditionally been some of the key strengths of GSEM. Leading GSEM faculty members and business professionals equip our students with knowledge, skills, and tools to tackle an organization's toughest strategic challenges, lead with greater confidence, inspire performance at all levels, and contribute to an organization of responsibility and integrity.
Managing transformation
Business transformation is about fundamental changes in how businesses are managed. It is about rethinking business, its operations, and activities to create new and long-lasting value for stakeholders. Our students learn from leading academics and business professionals about the role of smart data, technology, and innovation in business transformation and acquire the skill to manage these transformations successfully.
EMBA Capstone Project (18 ECTS)
At the end of the second year, students work in groups on a capstone project, which brings together their acquired knowledge and skills to apply it to advance recommendations to local business in Geneva.
Program Outcome
A program for a global, responsible, and transformative career
The mission of the Geneva School of Economics and Management is to educate responsible leaders for a diverse and changing society. The Geneva EMBA offers professionals to acquire the foundational knowledge in managing and leading organizations with a focus on building a global advantage, leading responsibly, and managing transformation.
Learning Objectives
Develop and execute effective and responsible management strategies.
Develop critical and analytical thinking in organizational decision-making.
Acquire leadership and management skills to guide an organization's transformation.
Enhance soft and interpersonal skills to engage with a diverse set of stakeholders.
Acquire strategic skills for managing organizations successfully in a global context.
Scholarships and Funding
Scholarship
The University does not offer scholarships. However, eligible applicants may apply for an annual "Training Check".
Ideal Students
The EMBA Program is designed for aspiring Business Leaders with functional or sectorial leadership experience seeking a career change or professional development opportunities and put their practice in perspective.

Thus, this postgraduate education welcomes participants coming from various professional backgrounds from industry to services, and from public to private sectors.
About the School
Geneva, a cosmopolitan city conducive to negotiations and new conceptions, is the prime meeting place at the highest political and economic level. Geneva houses 174 different states, 33 international organizations and is the headquarter of a myriad of multinational corporations and banks.
Located at the heart of the city, the University of Geneva (UNIGE), founded in 1559, is highly regarded by all reliable University Rankings Tables, and enjoys an international reputation, demonstrated in particular by its cross-border mix of students and teachers.
UNIGE, the fourth largest university in Switzerland, offers 613 programs, including 344 continuing education programs covering a wide variety of fields, such as exact sciences, medicine, humanities, social sciences, economics law, and much more. Over 100 of its programs are taught on a bilingual or fully English platform. UNIGE experienced faculty is keenly aware of the need for today's managers and business leaders. Renowned for the excellence of its faculty and student body, UNIGE is home to several Nobel Prize winners.