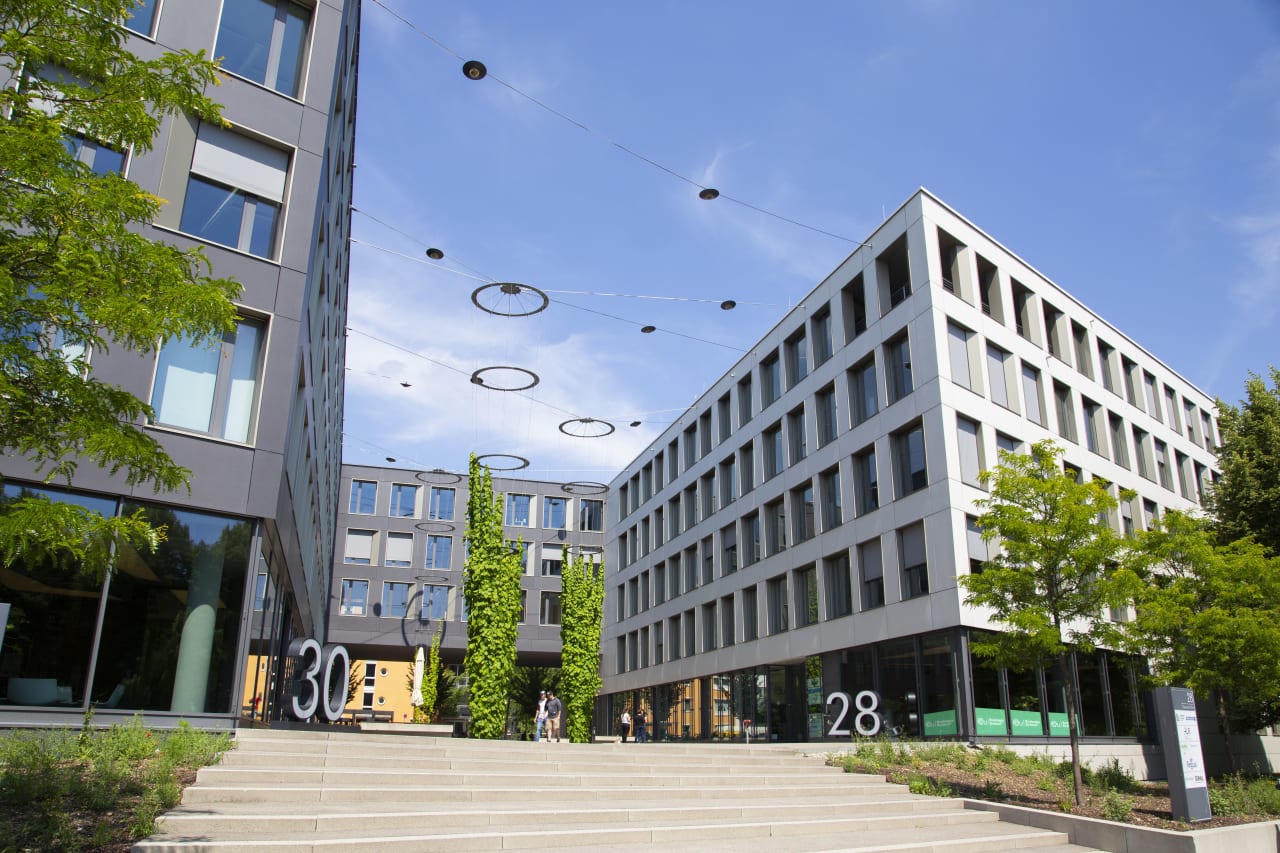 MBA in
MBA (Information Systems)
EU Business School
Key Information
---
Campus location
Munich, Germany
Tuition fees
EUR 21,900 / per year
Application deadline
Request info
Earliest start date
Jan 2024
Introduction
The Master of Business Administration (MBA) with a pathway in Information Systems is a one-year three-semester full-time program (90 ECTS). In addition to acquiring advanced skills in business management, strategy, and other key business disciplines, this EQF level 7/NFQ level 9 program with a pathway in Information Systems provides innovative knowledge in one of the key skills of the modern business world. Students will learn to critically evaluate and deploy the best practice methodologies and tools used for the design and implementation of strategic information systems. They will develop advanced skills in business and management as well as specialist knowledge of strategic business information systems, disruptive technologies, and innovation that occur in this field.
Duration: Three semesters/one year
Format: Full-time
Start Dates: October, January & March
Award Title: Master of Business Administration (MBA)
Number of Credits: 90 ECTS
Language: English
Fees per Semester: €6,950
Location: Munich
Awarding Body: Quality and Qualifications, Ireland (QQI)
Level: EQF level 7/NFQ level 9
Degree Awarded
A state-recognized Dublin Business School Master of Business Administration (MBA) degree awarded by Quality & Qualifications Ireland (QQI).
Awarding Body
Quality and Qualifications, Ireland (QQI) is the Irish State body responsible for the Quality Assurance of all education and training services in Ireland. QQI sets quality assurance criteria for the sector and regulates and approves programs of study.
Learning From Leaders
Events that introduce EU students to globally successful leaders are a fundamental aspect of our approach to providing the business education that will kick start your career.
Adrian Hallmark, CEO, and Chairman at Bentley Motors spoke about the skills needed to succeed in the corporate world, the importance of great leadership, and the trends that will continue to shape the business. See the video to find out more.
Benefits of Studying an MBA
Build your network and succeed in the global business world
International networking with classmates, lecturers, and business professionals
Foster entrepreneurial skills and start your own company
Why Munich?
Studying an MBA in Munich allows students to expand their business knowledge in the economic powerhouse of Germany. The vibrant Bavarian capital is home to numerous major multinational company headquarters including BMW and Allianz, as well as a flourishing startup scene, and is also actively pursuing initiatives to provide a greener, more sustainable living environment.
Munich may be famous for its annual Oktoberfest festival, but it has so much more to offer students wishing to study business. The city energetically promotes and supports innovative startups and tech companies, making it an ideal place for future entrepreneurs to gain knowledge, get involved, and set up new and forward-thinking ventures. Munich also offers students a superb array of sports, outdoor adventures, socializing, and entertainment opportunities, ensuring a well-rounded student experience.
Curriculum
Semester 1
Global Issues for Management
Strategic Marketing Analysis
Managerial Financial Analysis
Research Methods I
Strategic Information Systems
Semester 2
Applied Strategic Analysis
Dynamic Leadership Development
Research Methods II
Innovative and Disruptive Technologies
Semester 3
Rankings
Ranked #1 in Class & Faculty Diversity by QS Top MBA 2021
MBA Program Ranked #3 in Spain by Forbes Magazine
Awarded four stars for excellence in business education by QS Stars
EU's Online MBA ranked 20th in the world by QS Top MBA
EU's MBA is recognized as number 23 in the world by América Economía
Ranked 42nd in the QS European MBA Rankings 2021
Ranked fifth in the QS MBA Guide Return on Investment Report for salary uplift in Europe
Placed sixth as best business school for female students by Capital magazine
Ranked in the top 100 worldwide for career specialization (MBA in Entrepreneurship)
Ranked in the top 100 worldwide for career specialization (MBA in Marketing)
Ranked in the Top 140 in the QS Global MBA Rankings 2021
EU's Online MBA ranked top in CEO Magazine's Online Global Rankings seven years running
Ranked in the Top Tier for Global and European MBA programs by CEO Magazine
EU's Executive MBA ranked Tier One in CEO Magazine's Global Executive MBA Rankings
Ranked Premier DBA program by CEO Magazine
Listed as a top 20 business school by China Economic Review magazine
Listed as a top 30 European higher educational institution for entrepreneurship by EU-Startups
Program Outcome
This MBA program prepares students for future careers in global business. Upon successful completion of the program, learners will be able to:
Critically evaluate theory and practice from cross-functional areas of business in private, public, and not-for-profit organizations, both nationally and internationally.
Demonstrate critical awareness of contemporary information, tools, and techniques in management, policy, and performance in organizations both nationally and internationally on business trends, drivers, and inhibitors.
Demonstrate leadership skills to achieve individual, group, and organizational goals.
Critically evaluate approaches to primary and secondary data and select the most suitable method from qualitative and quantitative research methodologies in the resolution of a specific business problem.
Formulate and apply strategic solutions in a business context for the resolution of specific business problems.
Critically appraise the advanced diagnostic tools which inform business decisions within the global business environment and wider society.
Demonstrate an ability for enhanced ethical judgments by demonstrating a critical awareness of social, political, economic environments.
Exhibit an ability to work independently and collaboratively to build effective and efficient relationships in dynamic business environments.
Synthesize previous professional and learning experiences to inform a wide-ranging appreciation of the business world and solidarity with social norms and relationships.
Develop professional communication skills to present solutions in a cogent manner to a critical audience.
Conduct in-depth research in a specialized area of business administration to deal with a particular research problem that adds value or new knowledge to the business world.
Career Opportunities
This Master of Business Administration with a pathway in Information Systems brings learners up to speed on the knowledge and current trends in technology and how best to use them for enhanced judgment and strategic business performance. Upon successful completion of this program, graduates may be interested in the following job positions:
Computer Network Architect
Computer network architects are tasked with creating plans and layouts for data communication networks. They are responsible for presenting plans to management and outlining why they are in the organization's best interest to pursue. Among the major skills that computer network architects should possess include analytical, problem-solving, and communication skills.
Information Security Analyst
The day-to-day responsibilities of an Information Security Analyst include the constant monitoring of security access as well as the conducting of security assessments through vulnerability testing and risk analysis. They also typically perform both internal and external security audits and analyze security breaches to identify the root cause. An Information Security Analyst should be extremely adept when it comes to analyzing security system logs and security tools.
Application Analyst
Applications analysts typically operate within an organizations' IT team, taking on an analytic role to ensure that the computer application systems being used are meeting the needs of the said business. They are mainly responsible for the analysis, diagnosis, and resolution of application errors and problems that may arise. The ability to communicate technical problems and solutions to non-technical users and stakeholders is a vital skill that every Application Analyst should possess.
UX Researcher
A UX Researcher is mainly responsible for meeting clients in order to gather information regarding their requirements and to find out what might require researching, designing, or usability testing. They are also involved in sketching as well as prototyping. Required skills for this specific job position include a solid understanding of analytics and the design process.
Areas of Work
This Master of Business Administration with a pathway in Information Systems will enable graduates to critically evaluate and deploy best-practice methodologies and tools used for the design and implementation of strategic information systems. They will also be able to demonstrate critical awareness of the nature, role, and importance of technological disruption and innovation in strategic business environments. Upon successful completion of this program, graduates typically seek to work in one of the following professional areas:
Project Management
Web Application Development
Business Consultancy
Systems Analysis