1-year MBA in
Mba in protocol, creation, design and event management
Escuela Internacional de Protocolo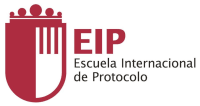 Introduction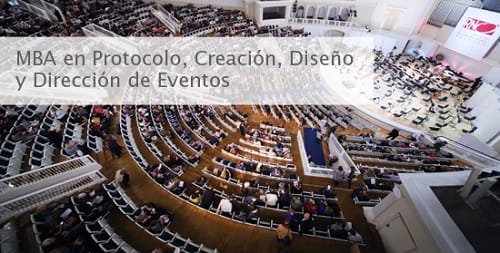 The MBA PROTOCOL, CREATION, DESIGN AND MANAGEMENT OF EVENTS , of the International School of Protocol It is a highly competitive program that prepares and enables the student professionally for the development of Creation, Design and Event Management and Institutional Relations.
This program is developed, based on industry growth forecasts suggest that all the consequent increase in the budget earmarked for organizations creating corporate events.
Currently, most companies require the figure of an expert in institutional relations and event-oriented business management and prepared to join boards and steering committees.
This program responds to a major demand for event professionals seeking not only large companies but also medium and small.
It develops in 60 ECTS credits and focuses on practical content and designed to develop the entrepreneurial spirit and resolute character.
It is aimed at people seeking training in the creation, design and management of any type of event, developing as leaders with strategic vision and entrepreneurship, at various levels of the organizations.
The program develops, as a differentiator to other studies of this type, not only traditional building techniques, design and event management, but the knowledge of the parameters that will shape the activities related to the organization of events identified are primarily three clear trends that should be included in the programs:
BUSINESS VALUES
First the prominence acquire the treatment of professional development not only within the law but of ethics, values ​​and social responsibility developed by the institution, involving the professional development of those values.
NEW PUBLIC AND NEW MESSAGES
studies to a new generation of consumers with new features, needs and demands superlative way affect the transformations of companies are directed towards adaptation.
THE USE OF MOBILE APPS IN THE EVENTS
knowledge of these technologies will be developed as a way to extend global communication and the audience connect with each other in order to optimize involvement of participants
Differential aspects
It is the first Master offers comprehensive training in the areas of protocol Marketing, Advertising, Public Relations and Communication in organizing events.
The faculty is composed equally by teachers and specialists working professionals who bring a double vision, academic and practical content.
The professional and international profile of students of this program makes networking opportunities will increase exponentially.
The platform on which the Master develops brings the latest innovations in online teaching, having many resources to facilitate the educational experience and providing constant monitoring of the student.
different sessions taught master classes at prestigious professionals explain the agenda and share his experience.
Skills and Competencies
Students acquire the tools, skills and abilities necessary to meet the necessary decisions throughout the process of organizing an event since its inception and implementation to managing post-event, through learning of specific subjects of creation, design and event management and cross materials that will allow you to develop the necessary functions to be applied at an event on issues of strategic marketing, management, Corporate Communication, Protocol and all related disciplines in the field of communication.
This is to give students knowledge of cross arms that go beyond their own expertise in the need to work in coordination with other departments in the field dela institutional communication through the development of corporate events.
Their main objective is to develop a range of skills, abilities and attitudes of students to exercise its role of coordination and team management in developing event management, always from a global view of the overall objectives of the company , helping the general direction in optimizing business performance.
Through the development of the knowledge acquired, a range of skills and competencies that allows unite for the intrinsic business knowledge with those for the treatment of people in terms of negotiation, communication and leadership itself and all those will be strengthened to they are necessary for the creation, design and management of corporate events.
-Visibility And strategy:
Get a clear view on what is now, and be clear about the overall business plan and communication to work according to common objectives
-Review Information:
To control operation of all internal information systems, technical market research and all available internal and external sources to know where to look to capture information. The high-level contacts, networks of work, family life, friendships, publications, etc. should be their means of constant knowledge that will reaffirm or shaping the vision.
-understanding Business and global vision:
Know perfectly all singularities of the business and the techniques and methodologies to develop the strategic map of the event in its design and the parts that are going to be affected. You must have a global mindset that allows you to see the organization in relation to all parties that form internally and externally with related.
I'm trying to people:
Lead and manage teams for their members to achieve their goals, have the necessary motivation and can be developed as people and professionals.
-Communication:
Mastering communication techniques and effective presentation techniques. Communication skills are basic.
-Techniques Trading
Getting a high bargaining power, by means of the techniques necessary to achieve the best results in the relations between the different public affected in the event.
-Project development:
To implement and execute the strategies defined
-Evaluation And control:
Establish control systems in developing management functions and to evaluate results.
-Personal skills:
Developing skills related to emotional intelligence (self-awareness, self-control and self-motivation) and social intelligence (the group confidence, contribution of experience, active listening, etc.)
-Evolution And change:
Knowing properly handle changes in external and internal environments and possible crises produced by those changes.
-style own action:
Create a style of leadership to motivate people and unite them towards the same goal.
Program
Module 1: Design, Building and Planning Events - 6 ECTS-
Content:
the Briefing
Creativity and innovation event
Strategic planning
Project management
Time management
Business plan
Module 2: Leadership and Corporate Event Management - 8 ECTS
Content:
Fundamentals of Economics
Management skills
Leadership and Team Management
MBO
Coaching
CSR and Sustainability
Spokesperson training
Module 3: Managing Global Communication Event - 4 ECTS-
Content:
General Communication Theory
The press office at events
The media in events
Module 4: Marketing in Events- 3 ECTS
Content:
Event Marketing
Treatment markets
The corporate image in events
Module 5: Advertising and Public Relations in Events- 3 ECTS
Content:
Public Relations events
Advertising and events
Treatment of public
Corporate Social Responsibility
Module 6: Technical Organization of protocol-6 ECTS
Content:
Protocol concept
Treatment of host
presidencies
Management systems
Types of tables
The program and its technical
Module 7: Protocol and Events -8 ECTS
Content:
legislation protocol
Official Protocol
Protocol Company
social protocol and personal image
Restaurant and Catering
International Protocol
Military Protocol
Module 8: Organization Habitual Acts - 5 ECTS
Content:
inaugurations
Receptions and receptions
Conferences
Product presentations
Organization Summit
The first stones
The budgets
Congress Organization
Module 9: Practice Management and Running Events - 10 ECTS
Content:
Set Design and Staging
Event Production
The Catering in Events
Official events Workshop
Workshop Corporate Events
Workshop Events
Workshop Sporting Events
Module 10: External Internships -5 ECTS
Objective:
Apply the theoretical and practical content acquired in the course in a real professional environment. Content:
The practices are mandatory completion and will be made in companies organizing events, protocol and communication, as well as relevant departments will both public institutions and private companies. Such practices will be supervised by a professional tutor in the target company and an academic tutor at the School.
Module 11: Master's Thesis - 6 ECTS
Objective:
Master's Thesis: determining the level of actual use of the studies undertaken through a practical exercise of scientific or project design professional event synthesis. Accreditation of achieving the specific objectives of the Master - the competences scheduled throughout the course - through programming, development and advocacy work.
Modes of study
The programs are developed in a modular way in order to make them more readable and manageable in the logical evolution of the learning process and the study methodology is based on three fundamental questions :.
B-LEARNING one classroom combining classroom teaching with online work system where students study adapts to its particular circumstances of time, place and work space is established.
This is a hybrid learning in the classroom work, the teacher explains contents, organized labor, calls for the development of tasks, proposed axioms, answers questions, etc. united all the work and research online where to carry out tasks either individually or through collaborative work is encouraged, thus developing their skills, performing continuous controls self-assessment.
The case method
Started at Harvard University, the case method appears as the need for students to face real situations and have to make decisions, evaluate performance, issue informed judgments, etc.
It is a technique of active learning, focusing on research student on a real and specific problem that helps students acquire the basis for an inductive study.
Part of the definition of a particular case so that the student is able to understand, to know and analyze the whole context and variables involved in the case.
The objectives of this technique are:
Train future professionals capable of finding for each particular problem expert, personal and adapted to the social, human and legal solution given context.
Working from a professional approach to the problems of a particular environment.
The professional approach of a real problem, with its elements of confusion, sometimes contradictory, as in reality are given and a professional description is asked, theoretically well founded, compare the specific situation presented with the theoretical model, identifying the peculiarities case, propose strategies for solving the case, implement and evaluate the results.
Create learning environments that facilitate the construction of knowledge and encourage verbalization, explicitness, contrast and reworking of ideas and knowledge.
Practices and job
The International School of Protocol is available to students career guidance service from which educational practices are managed and the jobs that companies do reach the EIP are channeled.
educational practices
Practices intended student comprehensive training through a parallel educational program at the university and enterprise combining theory and practice. The MBA Protocol, Creation, Design and Event Management includes in its curriculum 5 ECTS internship School currently has numerous agreements with companies and public institutions, which allows each year all students who wish or credit have minimum knowledge required to make their actual practices in organizing events and other related responsibilities cabinets event organization, marketing, advertising, corporate communications and institutional relations.
Similarly, the EIP promotes its own actions, under the direction of qualified experts, manage the students and having another opportunity to approach the real market. Finally the school, through its company event organization, OVC, encourages the participation of students and assistants, junior, senior and coordinators in all events organized, which is not only a perfect complement to their training, but the beginning of their development and professional maturity.