1-year MBA in
MBA in International Management
ESCP Business School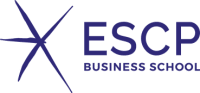 Introduction
Live the cross-cultural experience
Our MBA in International Management provides young professionals with the business skills and mindset for a successful international career.
10-month programme: An intensive MBA programme with a strong cross-cultural approach.
2 countries of your choice: Study each semester in a different ESCP inner-city campus.
2 Company Consultancy Projects over 2 countries: Consult for companies on real projects while expanding your international work experience.
24 electives offered over 7 countries: Choose to specialise or diversify your MBA experience while experiencing up to 4 more countries
65,000 alumni from 150 countries: Join a diverse professional alumni network to enhance your future international career.
155 research-active Professors from over 30 nationalities: A hands-on learning experience from our diverse full-time, affiliate and guest professors.
Challenge yourself
You will study, learn, and challenge yourself with 140 faculty among the best in their respective fields. You will acquire critical thinking and the ability to reinvent and imagine new ways of doing business. As much as the student body is diverse, so is the Faculty.
Choosing an MBA is to start or enhance your career. At ESCP, you will benefit from a range of career support activities. Or like 10% of our students you may create or join a startup.
Admissions
Admission Requirements
A previous Bachelor or Master degree, Maîtrise, Licenciatura, Laurea Magistrale or equivalent in any discipline
A minimum of 3 years' work experience
Applicants with less experience who demonstrate exceptional maturity and outstanding leadership through their professional and personal experiences will also be considered.
Proficiency in English
Do not hesitate to send your CV to one of our admissions coordinators to check your eligibility for the MBA in International Management.
Procedure
Step 1: application form
Applications are made online. The application form must be completed entirely in English.
Carefully complete the online application form and submit it before the deadline specified in the Admission Calendar providing the following required documents:
Admission Test: GMAT (40W-NP-23), GRE (DI Code 0849) or Tage Mage certificate.
If you are unable to provide a GMAT, GRE or Tage Mage certificate, you may take an ESCP admission test during the admission session on-campus or online.
English language certificate: TOEFL written test: 600; TOEFL IBT: 100; TOEFL computer-based: 250; IELTS: 7
Candidates without any language qualification certificates will be tested during the admission session on-campus or online.
Candidates who can prove that they have earned a university degree taught entirely in English or those who have lived for 3 years in an English-speaking country are exempt from the English test.
Degree certificate
Grade transcripts covering all years of university study
At least one reference (e.g. an employer's reference)
CV (in English)
Photocopy of your passport or ID
Additional language certificates are a plus.
An application fee of €180 must be paid at the end of the online application.
Step 2: personal interview
Each candidate is interviewed by a panel made up of programme directors, faculty and alumni.
A Skype interview can be offered to candidates residing outside of Europe.
Step 3: confirmation
You will receive the admission decision within three weeks after the admission session.
Admitted candidates must confirm their acceptance by the deadline indicated in the offer letter. A non-refundable deposit of €5,000 is required to secure a place in the programme once admission has been granted. This amount is deducted from the total tuition fees.
Scholarships and Funding
We have a range of financing options, as well as scholarships for eligible candidates, which can help towards funding the programme. ESCP scholarships, grants and discounts are not accumulative. The maximum amount of funding given is €15,000.
For French citizens only: please note that you can use your Compte Personnel de Formation (CPF) to help finance your MBA in International Management. Find more info on the French government website.
Curriculum
The programme covers all the functional areas of management and provides a multicultural hands-on experience.
Active participation, including the sharing of ideas and experience, are fundamental learning methods. Beyond this, methods include lectures, seminars, tutorials, case studies, workshops, projects, presentations, computer-based activities, reading and private study, group work and group assignments.
A four to six month-internship option (starting after your course requirements are completed) is available to students looking to change their career path and get knowledge in a new area increasing their employability across different sectors.
The ESCP MBA programme is principally taught by our permanent faculty from more than 20 countries. In addition, affiliate professors and business professionals complete this cutting-edge, diverse, pedagogical team.
The MBA in International Management's curriculum awards a total of 90 ECTS credits.
10-month, full-time MBA
10 months of intensive courses in management (around 500 teaching hours). The courses are taught from September to June over 2 campuses of your choice, followed by 4 electives of an available 23 over 7 countries.
All courses are taught in English.
Semester 1 – September - February
London – Paris – Turin
Induction Seminar:
Business Statistics
Financial Accounting and International Reporting
Principles of Finance
Organisational Behavior: Management Skills for International Business
International Micro-economics
International Marketing decisions
International Business Strategy
Big data and Tech Trends
Processes and Operations management
Company Consultancy Project 1
Optional Course:
Languages
Fundamentals of Mathematics
Computer Skills
Semester 2 – March - July
Berlin – Madrid – Paris
International Business Simulation
Managerial Accounting
Corporate Finance
Marketing and Business analytics
Macro-economics in globalisation contexts
International HRM
Strategic Leadership: Leading teams and organisations
Entrepreneurship Creativity and Innovation (Bootcamp)
Business and Society: Sustainability & CSR
Company Consultancy Project 2
Optional Course:
Electives
4 electives of your choice.
Rankings
#6 worldwide for Diversity (QS Global MBA Rankings 2021)
Program Outcome
Programme Objectives
Provide you with the business skills and mindset for a successful international career.
Cover all the functional areas of management and provide a multicultural hands-on experience.
Provides you with a wealth of different perspectives, teaching methods, and school of thoughts.
Acquire critical thinking and the ability to reinvent and imagine new ways of doing business.
Change or enhance your career.
Career Opportunities
The MBA in International Management proposes a career development programme, the International Leadership Advancement Programme (I-LEAP) which purpose is to assist you in finding your ideal job after graduation.
I-LEAP is developed throughout the academic year in complement to the professional competencies and managerial skills gained in classes. This programme is organised around 3 core topics for professional advancement:
Professional Self-Knowledge
Personal Career Growth
Career Goal Setting
I-LEAP is constructed with the support and resources of the ESCP Alumni Association, the expertise of ESCP Careers Service located on each of the six campuses, along with certified professional coaches. Its objective is to support you in identifying your professional objectives, confirming your career prospects while providing you with the advice, data and tools necessary for their pursuit. The programme includes:
3-day professional orientation seminar: Discover a set of personalised career tools to manage your career planning
Alumni-Mentor programme: choose an Alumni to be your mentor and connection to the professional world
Individual Professional Coaching
Through the combination of ESCP Corporate Relations Service, your membership to the Alumni Association and a variety of specialised and multi-sector job fairs in all campuses, you will gain access to job opportunities and internship offers, as well as gaining a connection to more than 60,000 active alumni in 150 countries.
English Language Requirements
Certify your English proficiency with the Duolingo English Test! The DET is a convenient, fast, and affordable online English test accepted by over 4,000 universities (like this one) around the world.