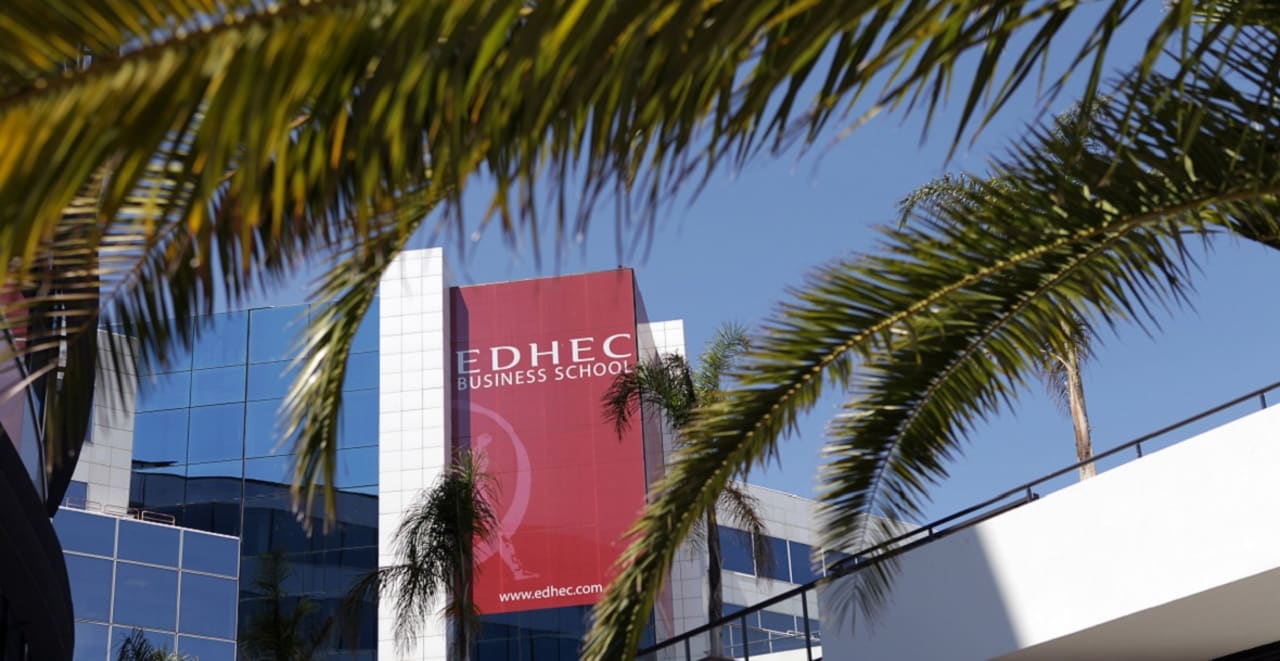 Global MBA in
EDHEC Global MBA
EDHEC Business School - MBAs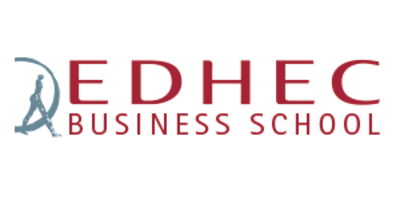 ---
Campus location
Nice, France
Tuition fees
EUR 51,000 **
Application deadline
30 Jun 2024*
Earliest start date
02 Sep 2024
* For EU/EEA applicants, deadline is 30/06/2024
** *excluding cost of flights for the Sustainability and Specialisation track trips). Fees can be reduced by Prompt Payment Reduction and our guaranteed and transparent scholarship policy.
Introduction
If you are looking to gain a real-world business education and develop an international perspective to help you develop, accelerate or change your career path, then the EDHEC Global MBA programme in Nice, south of France could be an ideal choice for you.
During the 10-month programme you will have the opportunity to share, learn and connect with fellow participants from every continent in the world – typically we have around 75 students from 30+ different nationalities combined with a highly-diverse and outstanding international faculty making it a truly global experience. Personalised options including one month of elective choices, a one-month specialisation track and an 8-week tailored project, accounting for 4 months of your programme, allowing you to tailor the programme according to your professional goals.
Use our online programme personalisation tool to see how your EDHEC experience could look.
GLOBAL VISION, PERSONAL FOCUS
The intense programme blends core business fundamentals together with a choice of specialised tracks, tailored projects and international learning expeditions which will help you to develop your business and leadership mind-set for your future career.
Because of the shorter duration of the course, the Global MBA is especially suited to candidates who already have a strong professional base – on average, participants have 8 years of experience so the ROI can be particularly strong as you will be out of the work place for less than a year but will have all the learning and development you need to define and achieve your ambitions and next steps. You can also have the option to extend your experience through a 6-month internship on completion of your studies or chose to fast-track your experience.
Each course includes a combination of academic teaching, real-life case studies and group projects to give you practical and actionable learning outcomes from a both an inter-personal and professional perspective. The programme also includes 2 one-week international learning expeditions.
Build Your Strategic Foundations
During your first 6 months, you will gain 360◦ global business vision which allows you to understand and apply relevant strategic frameworks, ask the right questions and make informed, impactful decisions.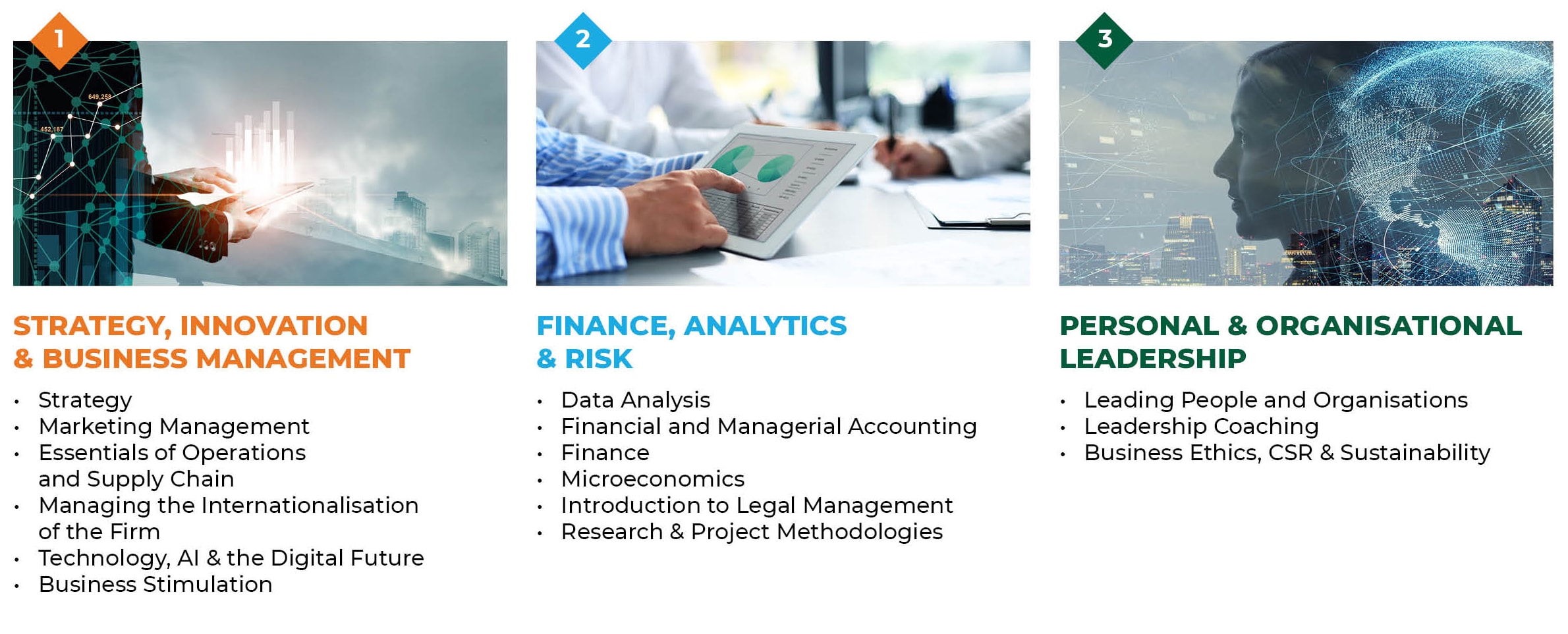 Personalise & Specialise
After building a solid foundation of the core fundamentals of business and leadership from September to February, your journey becomes a truly personalised experience from March through to the end of June.
Through a choice of electives in March and a specialisation track in April you can go deeper into your chosen field or develop new skills and perspectives. You can then choose your tailored MBA project which allows you to put into practice your learnings and experiences. Build your own programme using our programme personaliser tool.
Elective choices can include:
Macro Economics or Sales & Business Development
Case Studies in Corporate Finance or Data Visualisation and Strategic Foresight
Criminal Risk Management or Digital Marketing
Specialisation Track options currently include:

Your Tailored MBA Project (Capstone)
The 8-week period from May through June allows you to put your newly acquired skills and knowledge into practice in the form of a tailored MBA project. You can choose from one of six options designed to suit your own career goals and interests:
Internship/Job report
Consulting Project
Business Plan
Sustainability Project
Research Project
Academic Exchange
A Programme Built on Sustainable Impact
At EDHEC, we have ensured that your whole curriculum includes an integrated learning journey encompassing sustainability, social impact and ethical & principled leadership both in class and across the school.
From finance through to leadership, our programme is designed to help you understand the key issues and challenges you will need to tackle as you develop your leadership career.
Sustainable Impact Challenge
Working in teams, the Sustainable Impact Challenge encourages you to put into practise your MBA experience to tackle a real-life issue. From defining together with your team the scope of your project, researching and knowledge-gathering through to pitching your final solution, the Sustainable Impact Challenge runs from September through to March and will put your team working, leadership and business acumen to the test.
The Challenge also includes a one-week international learning expedition.
Lead360: Your personalised career & leadership development programme
The Lead360 personal & career development programme has been specifically designed to prepare you for the next step in your post-MBA journey and your future leadership career by helping you to develop the necessary skills and qualities you will need to drive your career and lead with confidence and conviction in an ever-changing, complex and diverse environment.
Personalise your development to focus on what matters most to you and your career. Through assessments, coaching and consultation, our Lead 360 and CareerSmart team will work with you to help you identify the most suitable workshops to help you build your leadership capabilities and skills. Options include: Accepting and managing conflict
Collaborating, leading, and motivating remotely
Boosting your leadership confidence
Managing difficult negotiations
Building resilience for stressful and demanding environments
Power and influence
Exceptional Learning Environment
EDHEC's Campus is located in Nice, a truly international city with an unbeatable quality of life. EDHEC Campus is in an elegant and modern complex overlooking the Mediterranean Sea. MBA participants benefit from an entire floor dedicated to executive training, learning, and research.
PROGRAMME INFO AT A GLANCE:
| | |
| --- | --- |
| Accreditation | AACSB, AMBA, EQUIS |
| Type of programme | MBA |
| Programme format | 10 months, full-time, in English |
| Specialisations | 1 month of elective choices 1 month specialised track (choice of 4 options) 8-week tailored MBA project (choice of 6 options) Optional Free French classes |
| Language of instruction | English |
| Application deadlines | 31 May |
| Starting dates | September |
| Study abroad or exchange programmes | 1-week sustainability expedition + 1 global learning trip . Option to choose an academic exchange as an MBA project |
Rankings
3rd worldwide for ESG & Net Zero Teaching
Financial Times, 2023
47th worldwide MBA
Financial Times, 2023
6th worldwide for International Mobility,
Financial Times, 2023
Scholarships and Funding
It can be hard to figure out exactly how much to budget for your MBA. We prefer for you to be able to focus on your application and then on your studies without distractions, so we provide total transparency when it comes to fees and scholarships from the very start.
Our scholarships are all guaranteed for applications received and accepted by the 31st January.
Excellence: up to 40% reduction for candidates with a GMAT score of 650 or over (or TAGE MAJE/GRE/Executive Assessment equivlent)
Women in Leadership: up to 40% reduction to encourage gender diversity in the classroom through to the boardroom
Cultural Diversity Scholarship: up to 20% reduction to encourage and support international diversity (only 2 scholarships per country)
Make an Impact : up to 30% reduction to encourage responsible & innovative entrepreneurs
Program Admission Requirements
Demonstrate your commitment and readiness to succeed in business school by taking the GMAT exam – the most widely used exam for admissions that measures your critical thinking and reasoning skills.
Download the GMAT mini quiz to get a flavour of the questions you'll find in the exam.