MBA in
MBA (Master in Business Administration)
Comillas ICADE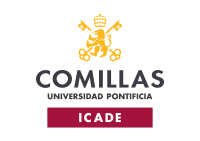 Introduction
What is the Official Master's Degree in Business Administration (MBA)?
The Official Master's Degree in Business Administration (MBA) is managed by the Faculty of Economics and Business Administration (ICADE) of the Universidad Pontificia Comillas, through Comillas ICADE.
The MBA program opens the doors to a successful professional career in the management of companies through practical teaching of the fundamental concepts for the sustainable management of businesses (management, strategy, innovation, finance, marketing, technology, human resources, and operations). It offers a comprehensive training experience that exposes students to and prepares them for, the realities of a business world that is in constant change.
This MBA offers the possibility of specializing in Management, Finance, and Marketing or Technology
It is a program designed to enable students to acquire and put into practice the skills necessary to be part of the growing European corporate investment and innovation ecosystem. It offers the possibility of specializing in Management, Finance, and Marketing or Technologies, with the TechMBA, which explores the use of data and opportunities in the digital sector. Alternatively, candidates also have the possibility of pursuing an Executive Programme in Business Analytics.
This course offers overseas studies and the opportunity to pursue real consulting or entrepreneurship projects as part of the final project. It is also possible to complete work experience during the academic year.
Tech MBA
Technology has profoundly transformed the enterprise ecosystem. To tackle this "innovation gap" it is necessary to train new leaders capable of combining new technologies with the organization of people, fostering talent creatively. Comillas ICADE offers a Tech MBA aimed at those who would like to embark on a professional career based on innovation while also developing management skills in technological environments.
The new program provides the key cognitive, instrumental, and psychological tools to perform in management positions and in an environment of technological innovation. It also provides key social networks and resources. The close connection between Comillas ICADE and companies on the cutting edge in many sectors offers TechMBA students the possibility of a real project experience that includes the technological and business dimensions.
Become the creative and innovative leader that the new enterprise and investment ecosystems need
The close collaboration between Comillas ICADE and Comillas ICAI adds a differential and truly unique value to this program. All in the context of the technological, ethical and social values of Comillas, a university with over one hundred years of history and a long tradition of innovation.
What makes us different
Ideal Students
This Official Master's Degree in Business Administration (MBA) is addressed to college graduates with more than a year and a half of professional experience. Previous college education in any field is required to access this Master's Degree (Economics, Engineering, Health Sciences, Social Sciences, Arts, etc.)
Career Opportunities
This Official Master's Degree in Business Administration (MBA) highlights its role in training active, socially useful professionals, capable of assuming responsibility for their decisions and who have decided to pursue a career in management and leadership of any operational area within a public or private organization, in any activity sector and in any location or country.
Graduates show these skills thanks to the fact that they have acquired a global and strategic vision of corporate activities and their adequacy to their environment, integrating all operative areas in the organization.
Academic Career Paths:
Moreover, The Official Master´s Degree in Business Administration (MBA) also enables holders to gain admission to official doctorate programs as provided for in Royal Decree 99/2011 of 28 January, which regulates official doctorate programs.
Curriculum
The Official Master's Degree of Business Administration (MBA) comprises 60 ECTS credits distributed as follows:
27 ECTS (24 compulsory, 3 electives) taught during the first semester, designed to allow students to acquire a high level of competence and knowledge of business management decisions in a cross-functional way (management roles are not closed areas) and intercultural (organizations live in a global environment).
27 ECTS training in the second semester, of which 12 are compulsory and 15 electives. Elective courses allow students to specialize in Technology, Management, Finance, Marketing, or Industry.
6 ECTS are specifically intended for preparation of the Final Project, and allow students to apply all competencies obtained to a real experience (consultancy project, entrepreneurship project, research work). The Final Project is developed throughout the whole academic year and there will be a public defense of the same at the end of the year.
Classes are scheduled from Monday to Friday mornings.
1st Term
Data Analysis for Decision Making3.0 ECTS
Organisational Behaviour & Talent Management3.0 ECTS
Accounting2.0 ECTS
Marketing Management3.0 ECTS
Operations Management3.0 ECTS
International Economics & the Business Environment3.0 ECTS
Ethics, Business & Society2.0 ECTS
Corporate Finance3.0 ECTS
Strategic Planning2.0 ECTS
Elective 3.0 ECTS
2nd Term
Communication for Management1.0 ECTS
Consulting3.0 ECTS
Corporate Governance3.0 ECTS
Strategy in Action3.0 ECTS
Leadership and Change2.0 ECTS
Electives 15.0 ECTS
Annual Subjects

Electives
Specialization: Technology

Data and Information3.0 ECTS
Strategic Technology Management2.0 ECTS
Global Supply Chain Management3.0 ECTS
Networks, Communication Systems and Cybersecurity3.0 ECTS
Technology and Society1.0 ECTS
Complementary Electives 6.0 ECTS

Specialization: Finance

Investment Analysis3.0 ECTS
Venture Capital and Private Equity3.0 ECTS
Advanced Corporate Finance3.0 ECTS
Mergers and Acquisitions3.0 ECTS
Global Financial Markets3.0 ECTS

Specialization: Marketing

Consumer Behavior3.0 ECTS
Commercial Management3.0 ECTS
Brand Management3.0 ECTS
Market Research3.0 ECTS
Social Media Marketing3.0 ECTS

Specialization: Management

Knowledge, Innovation and New Business Models3.0 ECTS
Entrepreneurship, Creativity and Business Start-up3.0 ECTS
Business and Sustainability3.0 ECTS
Global Supply Chain Management3.0 ECTS
Cross-Cultural Management3.0 ECTS
Negotiation and Conflict Management 3.0 ECTS
Program Outcome
General Skills
CG 01 - Analytic and synthesis cognitive capacities applied to business situations and managing and organization problems.
CG 02 - Management of data and information as key elements for decision-making and for identification, formulation and resolution of business problems.
CG 03 - Problem-solving and decision-making skills at a strategic, tactic, and operational level with regard to a business, considering the interrelationship between the different functional and business areas.
CG 04 - Application of concepts and theories on business organizations in order to discover new business opportunities and acquire long-term competitive advantages.
CG 05 - Interpersonal skills such as listening, negotiating, persuading, working in multidisciplinary teams, in order to effectively address different tasks, and, when appropriate, capacity to exert leadership in the corresponding business organization.
CG 06 - Ethical commitment with a behavior-based in moral principles and those principles of the organization when facing moral dilemmas and corporate social responsibility issues.
CG 07 - Time management capacity with the purpose of improving personal and team efficiency within business organizations, its environment, and its management.
CG 08 - Critical reasoning and argumentation according to the understanding of knowledge and know-how on business administrations, their external context and their administration and management processes.
CG 09 - Autonomous learning capacity in order to acquire more knowledge on knowledge on cognitive skills and relevant content applied to professional and business activities.
CG 10 - Initiative, creativity, and entrepreneurship when applying management techniques and related knowledge to the management and development of business organizations.
Specific Skills
CE 01 - Knowledge, understanding, and handling of tools for diagnosis of the competitive position of a company, and designing and executing the company's strategic plan.
CE 02 - Capacity for understanding and analyzing international economics and international trade in all their financial, social, cultural, political, legal, and environmental dimensions as well as their influence when defining, choosing, and implementing the company's strategy.
CE 03 - Historical and scientific knowledge on corporate governance which shall enable students to design an efficient corporate governance system.
CE 04 - Conceptualising the talent management function from a strategic and integrated approach creating value within business organizations.
CE 05 - Capacity to identify key concepts impacting and explaining people's behaviors in decision-making processes within organizational contexts, and to acknowledge and handle management tools helping individuals and teams reach planned organizational goals.
CE 06 - Ability and disposition to acquire and develop communication and negotiation skills and the ability to manage persons and teams needed to exercise leadership of a corporate organization.
CE 07 - Understanding ethical and moral values that prevail within an organization, acquiring the capacity to identify and solve any ethical dilemma encountered in business activity, and applying any management and assessment instruments from Corporate Social Responsibility so they may be incorporated to the company's strategic planning and their organizational development.
CE 08 - Capacity of identifying and establishing the strategic value of product and process design, of manufacturing control and organization, of logistics, and quality management in a service or manufacturing company.
CE 09 - Being able to analyze the problems of the company and its environment through the understanding of data and information – their nature, collection, storage, modeling and extraction – and through the use of quantitative methods, and to identify appropriate analysis and modeling techniques and apply these same techniques to predictive and simulation case studies of business management.
CE 10 - Knowing and being able to use the assets valuation techniques, to analyze and select investments, to identify financing sources, and design and implement the relevant financial strategies and techniques for advanced corporate management.
CE 11 - Understanding accounting in a globalized context: based on the International Financial Reporting Standards, the capacity to design and analyze consolidated financial statements in order to carry out a financial diagnosis and, once the current situation has been established, apply the relevant accounting policies (taxes, financial instruments, etc.) which are deemed most appropriate to optimize the company's resources and viability of certain projects in the company's decision-making processes.
CE 12 - Capacity for preparing and managing the financial and accounting information of a company through the use of advanced analysis techniques and control tools.
CE 13 - Capacity of designing and analyzing a Marketing Plan, and of implanting it and evaluating its impact on the company's performance making use of advanced digital techniques.
CE 14 - Being able to select an appropriate theoretical framework and methodological approach and to identify the most relevant literature for a given research to be conducted.