Why Study for your MBA in Rotterdam?
Entrepreneurs need to see in three directions at once: towards previous trends, the future, and deep into the present moment. So it is only right that today's MBA applicants are considering the dramatic change in the local and global situation before committing to a master's program this fall. Here's why you should study for your MBA in Rotterdam, in the Netherlands.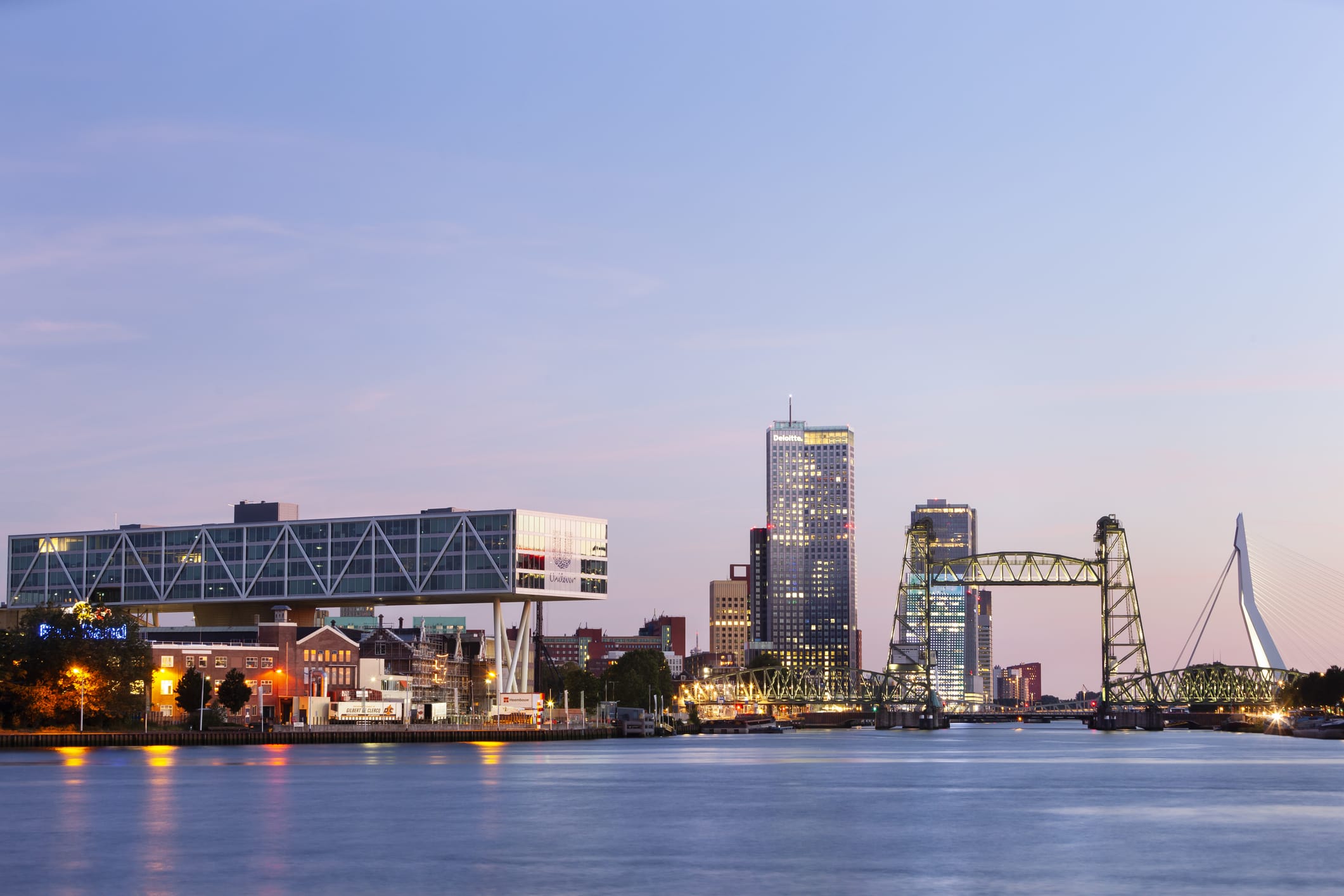 Of course, this decision is personal and depends a lot upon each applicant's situation and needs. But the MBA itself – the very concept of the Master of Business Administration – remains vital as companies worldwide approach the challenge of rebuilding the economy post-coronavirus.
Indeed, the need for students to learn within and about post-pandemic conditions is acute. The 'new normal' for business strategies and interactions will be carved out in the classrooms. For example, some classes and networking events will move online to facilitate social distancing. This is a foreshadow of how an ever-greater proportion of business will operate over the next years and decades.
An MBA remains an investment that pays off. Salaries for MBAs are higher and the jobs and opportunities that come with the degree involve greater responsibility.
Business is evolving
It may seem like the world has stopped still, but it's more accurate to say that we've shifted onto a different timeline – with its own pace of progress.
Big data is getting bigger. Artificial Intelligence is getting closer. Public scrutiny of business ethics and responsible leadership is ever more intense, and rightly so. Pollution rates may have dipped temporarily while millions work from home, but the climate is still in crisis.
"We are at a moment in time when the connection between business and society is being examined anew," writes professor Jonathan Levin. "The rise in inequality, and our struggle to address major challenges such as climate change and the impact of new technologies, are causing policy-makers, media, and the public to question whether business, long the engine of economic opportunity and well-being, is serving broad societal goals."
Business leaders are also evolving. As job competition becomes fiercer during the forthcoming recession, MBA grads will be grateful they can show up to interviews with a Master of Business Administration certificate in hand. But that certificate is just a ticket to get through the door. At the interview table, you will find a discerning panel, keener than ever to avoid an expensive recruitment mismatch. It is what learned and experienced through your MBA that will power your success.
Specializing – in marketing, consulting, or personal leadership, for example – is a popular way to tune yourself for your ideal role and get straight to the heart of the matter with interviewers and when you begin your job.
Studying in Europe
An international MBA at a European institution sets up students to navigate a fragmented global business scene (e.g., highly-politicized tariffs, Brexit, Covid-19 lockdown) – and the one-year MBA that many European schools favor offers an excellent ROI.
Within Europe, the Netherlands is a fantastic option for entrepreneurs with an international outlook. "Rotterdam has great accessibility to the rest of Europe," says Yuta Taniguchi, a Japanese hotelier and MBA at Rotterdam School of Management. "It's easy and cheap to get trains to London and Paris. I like that Rotterdam is a safe city, and it's easy to find things to do."
As Europe's largest port, Rotterdam has been a shipping industry hub for centuries. This has fostered the ideal conditions for a thriving business landscape. Today, companies including Unilever, Procter & Gamble, and Eneco have regional or international headquarters in the city. And thanks to Brexit, record numbers of foreign companies are relocating to the Netherlands.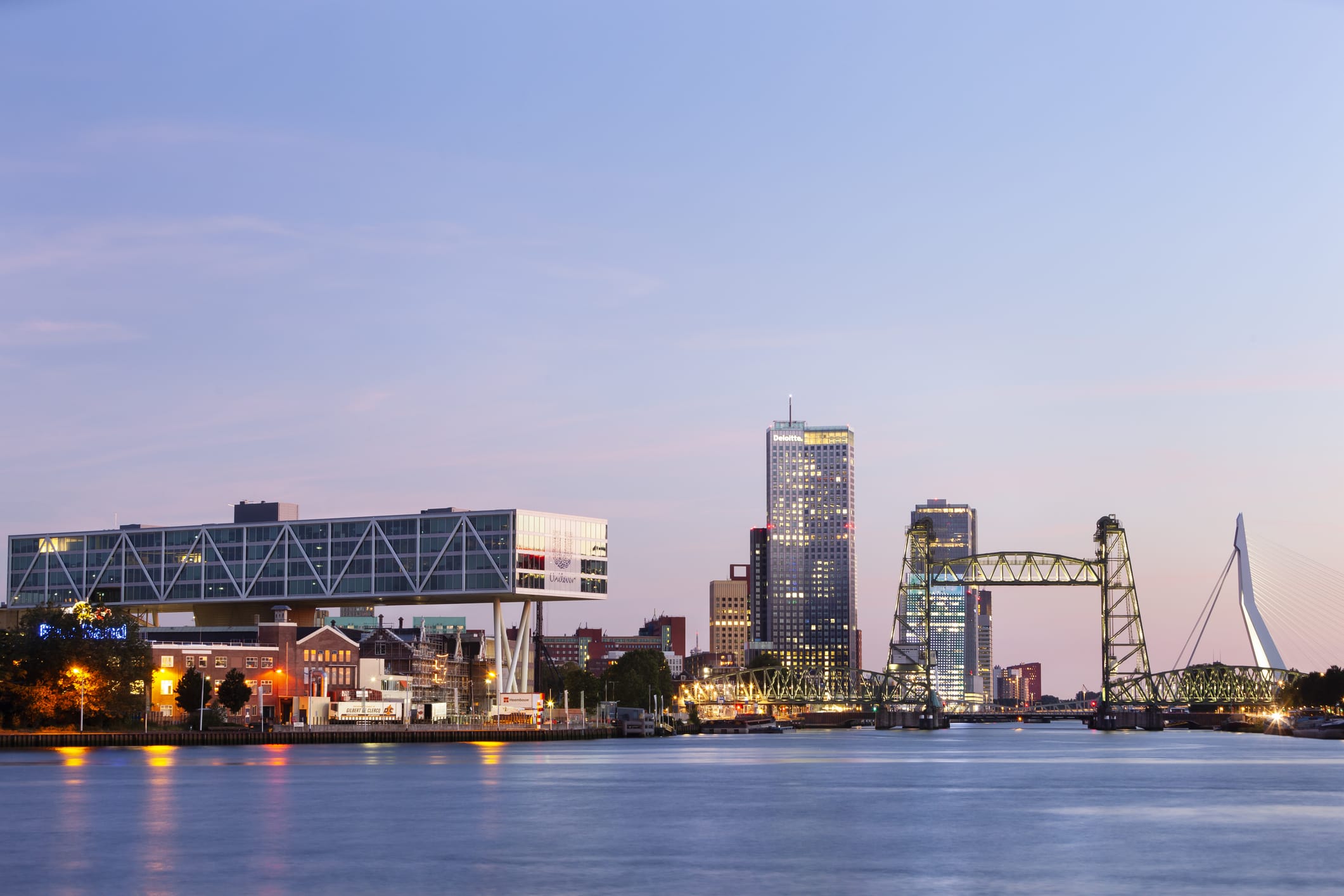 The Dutch are famous for innovation and design. Alongside the big names mentioned above, you'll find a buzzing start-up scene, with products and services ranging from 'sleep coaching' to laboratory-grown meat. Dutch Unicorns generated €44bn in start-up value between 2013-2019, creating 108,000 tech jobs across 4,311 companies.
The top school for international students
Rotterdam School of Management at Erasmus University (RSM) is the business school with the highest proportion of international students globally and is ranked the twelfth best in Europe.
The school offers a 12-month International Full-time MBA, as well as two-year, part-time Executive MBAs. The international element is central. "We bring the world to Rotterdam," says program director Ann van Dam. "We look for people who want to learn business in a growth context—and that can mean anything."
This diversity of culture and ambition nurtures graduates who can bridge cultural and language gaps with teams and clients. It also ensures a cohort of happy, supportive students. "To go through the PLD (Personal Leadership Development program)," adds van Dam, "you need to be open-minded and motivated to invest in yourself. Those are the two main factors we look for, and those often mean that a person is 'nice' too!"
RSM's program makes cornerstones of critical-thinking, problem-solving, communication, and leadership skills. The leadership element includes RSM's unique Personal Leadership Development program, a form of 'applied leadership' integrated through each module and assignment.
"It's a great opportunity to reflect on yourself and explore your own thoughts, rationales, and beliefs behind your decisions," says Taniguchi, the Japanese hotelier. "It goes down to the deepest level: my intentions. PLD keeps reminding me in what direction I want to go, and what decision I want to make. It really helps me, also in dealing with conflicts."
Sustainability as standard
The school's mission statement is 'to be a force for positive change in the world.' The statement derives from the United Nations' 17 Sustainable Development Goals, which RSM uses as a reference framework. Sustainability is an ideal that is tested in hard times, making the MBA all the more relevant as the business world recovers from coronavirus.
"MBA students learn that organizations under stress cannot just maximize short-term revenue to get out of trouble," says RSM career coach Diana Diniz, "and forget about building great teams, sustainable products, or finding new customers with digital marketing. These strategic insights become even more valuable during recessions, where companies are forced to refined business models and innovate.
"Dissecting complex business problems under high pressure and designing long-term strategic solutions is embedded in our case-based MBA programs."
One example of this is the intense, four-week Living Management Project (LMP) that is central to the program's second term. In one case, locally-based food giant Unilever invited students to develop a business solution for a more sustainable food packaging pouch. "You have to take the consumer into account," Erin Groot Hermsen, Unilever's Global Portfolio Transformation Manager, told students. "It needs to be easy to use, it needs to look appealing. But also: sustainability. Is it circular? Does it not create any food waste?"
The Living Management Project plunges students straight into real-world scenarios. The experience and networking are invaluable. The host company benefits, too, from the students' fresh thinking. "One group of students was extremely creative," remembers Hermsen. "Actually, one of those ideas we are currently using. The other group provided us with this whole box of tools that we can use to scan through new product ideas and see if these are valuable propositions."
"In the end, LMP helped a lot getting into Unilever," says one of those students, Ana Clara Teixeira, who now makes a living performing similar case studies for Unilever. "Now that I'm in, I'm actually using the project that we developed to show them that we have different solutions for some problems that we still might have."
Opportunities like these don't simply present themselves, whatever the state of global affairs. Candidates need to get out there and make them for themselves.
Article written in association with Rotterdam School of Management at Erasmus University (RSM).