Why Study at Business School in India?
More international candidates should consider studying an MBA in India. We will explain why.
It's a great place for start-ups and entrepreneurs
In 2016 the Indian government announced its Startup India Scheme, a public finance initiative to promote exciting new startups. Since then, it has helped launch more than 15,000 new enterprises and led to the generation of around 150,000 jobs.
Companies involved in the Start up-Scheme are exempt from paying income tax during the first three years, and can claim back 80% of patent costs. The scheme also makes it easier for new companies to register and acquire government tender contracts. What's more, the project is making considerable efforts to diversify India's blossoming startup scene and it is already starting to show real-world results; around 45% of India's startups have one or more female directors.
Some of the most successful startups to work alongside the scheme include Benevo. Founded by Soumya Baniwal in 2017, Benevo provides essential skills training to individuals and organizations. The courses range from accounting accreditation to awareness seminars designed to break down gender stereotypes in the corporate environment. Meanwhile, husband/wife duo Nikhil and Tanya Kutty used the Startup India Scheme to launch a brand of unique cooking sauces, 11 Flavors of Diablo, which is now on sale all over India.
Chandani Grover is the youngest entrepreneur to benefit from India's dedication to free enterprise. The 15-year-old works with Startup India mentors to provide an animal protection and rehoming service for stray dogs. Startup India Scheme has also helped innovators working in fashion, fintech, logistics, social marketing, and robotics.
India's Silicon Valley
India's tech industry is going through a golden age. It even has its own version of Silicon Valley. Also referred to as the 'IT capital of India', Bangalore is the main base for the country's top tech companies, and a go-to place for digital start-ups. Moreover, it is where you will find many of India's leading research and business institutes, as well as several major corporations which have a keen interest in tech and digital innovation, such as Bharat Electronics and National Aerospace Laboratories.
Benn Legg is the managing director of Ola Cabs, an Indian ridesharing company that offers peer-to-peer ridesharing and delivery services. Legg established Ola in Mumbai but ended up relocating to Bangalore in search of greater opportunities. Today, Ola is a global company with an annual turnover of $330 million. According to Legg, Bangalore played a huge part in turning his vision into a worldwide success. "If you want to build an awesome product quickly, you need to be in a place like Bangalore," he says.
Banglore's tech industry shows no sign of slowing down, making it an excellent destination for business students, graduates, and innovators. For example, the National Association of Software and Service Companies' (NASSCOM) Start-up Project wants to increase the number of India's tech companies to 10,000 by 2024. The project guides new companies through their incubation period, helping them grow until they are ready to integrate into the pan-Indian or global market.
The biggest names are investing in India
Some of the biggest names in business are investing colossal sums of money in the Indian economy, including tech giant Google. In July this year, Google decided to invest a whopping $4.5 billion into Jio Platforms, the digital arm of Indian conglomerate Reliance Industries. The investment makes Jio a major player in India's e-commerce sector. It will enable Jio Platforms to establish a greater online presence, and develop a range of new online shopping apps using augmented reality technology.
Google is also increasing its ubiquitous keyword search service to include local Indian dialects, and introducing Google Pay services to more Indian customers every year. Other Google-funded initiatives include a $10 billion Digitisation Fund that will empower local businesses to go digital, and create new AI technologies for social good in health, education, and agriculture.
India will continue to grow
According to economic forecasts, the Indian economy could triple within the next 20 years. One of the biggest drivers of this predicted growth is demographics. India has the world's second-largest population, with an increasing number of people migrating to urban areas in search of opportunity. Moreover, the nation's high birth rate means almost half of all Indians are 24 or younger. They will continue to provide India with a young, energetic workforce for many generations to come.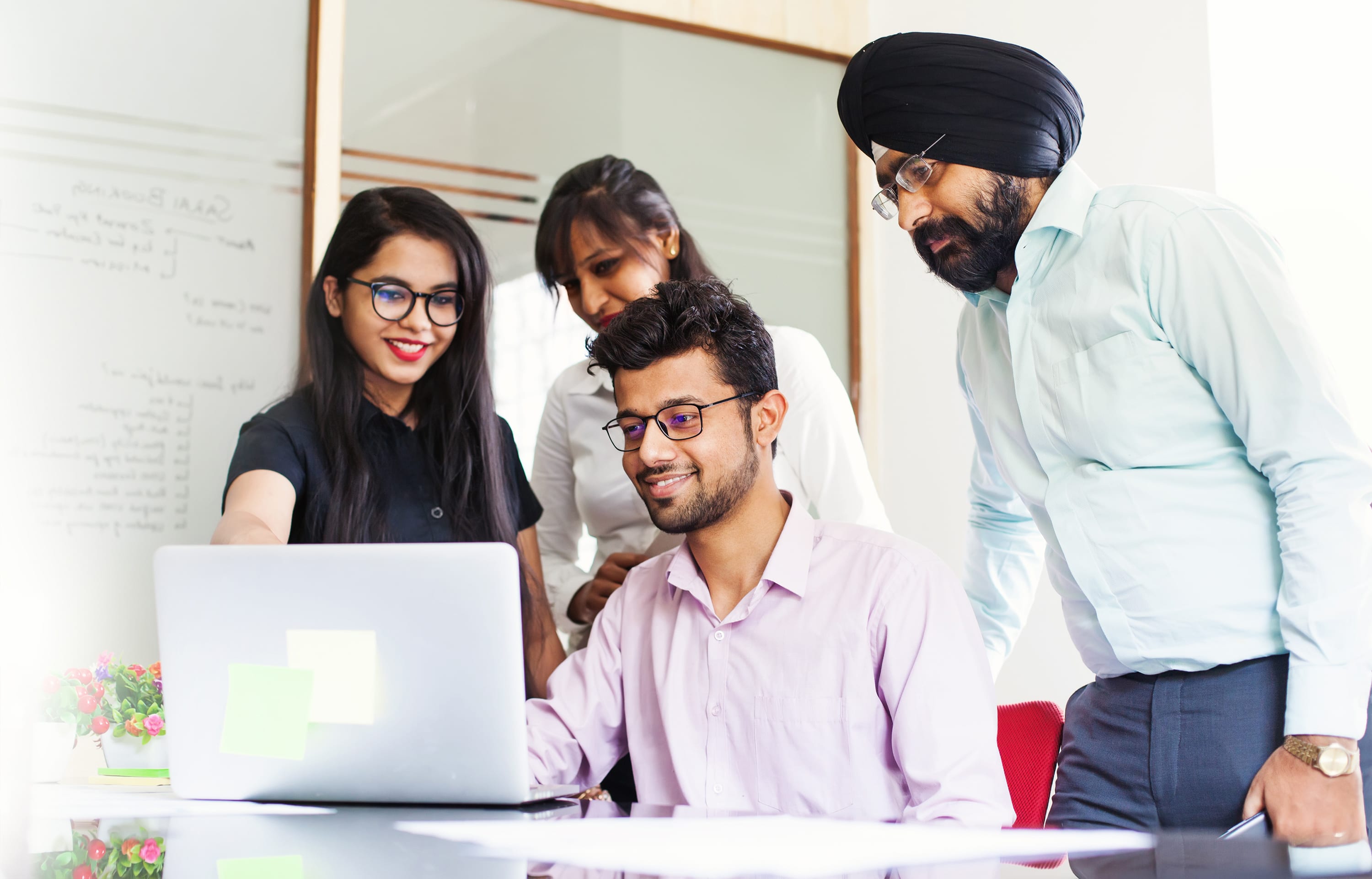 Tech development is the spearhead of India's emergence onto the global stage. However, business experts are also excited about India's green-energy initiatives, financial sector, and agriculture industry. Indian economic growth also looks set to encourage greater social mobility. The expanded middle classes should have more disposable income, creating an increased demand for goods, services, and luxury items.
India has great business schools
Studying for an MBA in India is a chance to learn from some of the very best. India's top business school, Indian Institute of Management (IIM) Bangalore, made its way into the 2020 QS Global Executive MBA ranking. It's now ranked 36th in the world, jumping up 25 places since last year. Also, the Indian School of Business (ISB) only just missed out on this year's top 100 rankings, coming in at a very respectable position of 101 thanks to its innovative part-time MBA programs for working professionals.
India is also a great destination if you're looking to specialize in a particular business area. The Goa Institute of Management has a two-year MBA program with specializations in healthcare management and finance. Alternatively, you can focus your studies on big data, which an increasing number of business students are specializing in since it overtook oil as the world's most valuable resource.
Value for money
Including living expenses, the cost of studying for an MBA in Europe or the USA can often exceed $100,000. A business student in India can often get a similar education for less than half of that amount. For example, tuition fees for a two-year MBA program at the International Management Institute (IMI) in Delhi are $35,250. At the same time, the Bangalore IFIM Business School charges $22,300 for its business and finance course. That even includes a room at the student dormitory, which is just a stone's throw away from Bangalore's Silicon Valley district. What's more, many Indian business schools set aside scholarships for international students that cover up to 100% of tuition.
Top business schools in India provide internationally recognized qualifications, allowing you to work almost anywhere in the world following graduation. Figures suggest MBA graduates earn around $106,757 a year. Given the relatively low cost of business programs in India, that equates to a massive return on investment. For example, students at the Indian Institute of Management pay $30,000 in tuition fees, while graduates from the same school earn an average of $186,170 per year.
India is an exciting destination for business students. You can study at top schools, and there are plenty of opportunities to turn your great ideas into a thriving business after you graduate.
Find your perfect program
Use our search to find and compare programs from universities all over the world!
India

After graduating with a degree in English literature and creative writing, Ashley worked as a bartender, insurance broker, and teacher. He became a full-time freelance writer in 2016. He lives and writes in Manchester, England.
Find a program in these categories