Why Study a Sustainability-Focused MBA?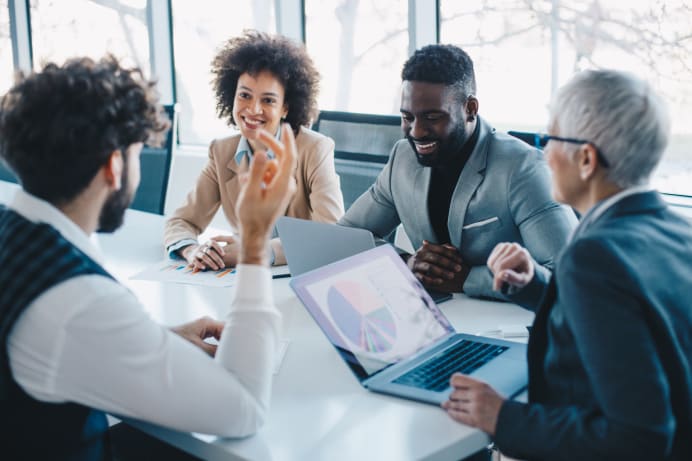 With more companies looking to reap the benefits of embracing sustainability strategies, they will need knowledgeable, skilled, and capable leaders to navigate the obstacles and the opportunities. Pursuing an MBA with focus on sustainability can position you to lead the way. Here's a closer look at the sustainability mandate, along with how a business degree can help you hit the ground running.
Why sustainability matters in business
The practice of sustainability involves reducing a company's eco-footprint both by limiting reliance on non-renewable resources as well as in recognizing the importance of human rights. While this may seem ancillary to the bottom line, the two increasingly go hand-in-hand.
According to a CGS study, sustainability drives both consumer demand and loyalty, with just under 70 percent of respondents saying sustainability is important to them. In an intensely competitive business landscape in which organizations must go above and beyond merely to keep up, perhaps Investis Digital put it best in declaring, "Corporations have to go all-in with sustainability/ESG if they want to survive."
There are a multitude of reasons why sustainability matters. These include improving your brand image and gaining a competitive advantage, increasing productivity and reducing costs, increasing compliance, attracting employees and investors, reducing waste, and pleasing shareholders. Research also indicates 66 percent of consumers are willing to pay more for sustainable brands.
"More companies are managing sustainability to improve processes, pursue growth, and add value to their companies rather than focusing on reputation alone," adds McKinsey & Co. These include major multinationals such as Siemens, Cisco, Philips, Johnson & Johnson, Henkel, BMW, and L'Oréal.
Despite all of these benefits and a shift by some very visible companies toward sustainability, others have been slow to sustainability to prioritize sustainability. "Executives are often reluctant to place sustainability core to their company's business strategy in the mistaken belief that the costs outweigh the benefits. On the contrary, academic research and business experience point to quite the opposite," explains Harvard Business Review.
Corporate leadership and sustainability
So businesses that keep sustainability at their centers have a lot to gain. An MBA can facilitate sought-after perspectives into business and sustainability. According to a report published in MIT Sloan Management Review, leaders with sustainability experience have the rare ability to look beyond environmental and regulatory terms to see the bigger picture comprising the holistic impact of sustainability-forward approaches. "Simply put, [executives with sustainability expertise] saw sustainability as an integral part of value creation," the report explains.
The MIT researchers also honed in on seven behaviors seen in "top sustainability performers," including acting quickly and decisively even amidst uncertainty, balancing short- and long-term goals, embracing top-down and bottom-up initiatives, integrating sustainability as opposed to siloing it, measuring and improving, recognizing the value of intangible benefits, and committing to authenticity and transparency -- both internally and externally.
Soft skills will also be invaluable as we move forward, according to SSR career coach Shannon Houde. Specifically, Houde identifies problem solving, critical thinking, innovation, adaptability, negotiating, and emotional intelligence as must-have traits for sustainability leaders.
A sustainability-forward MBA
Now that we've established the importance of sustainability in business, as well as the critical need for sustainability leaders, it begs the question: If you'd like to make a difference as a sustainable leader, how can you get the knowledge, skills, and experience you need to succeed?
Rotterdam School of Management -- Erasmus University (RSM), located in the Netherlands, a world leader in terms of sustainability, hasn't just evolved to integrate sustainability in its curriculum, it's created Sustainable RSM, a branch within the business school focused on sustainability, global social responsibility and ethical behavior, in alignment with the United Nations' Principles of Responsible Management (PRME) initiative.
Indeed, driving positive change is built into everything RSM does. Offering a breadth and depth undergraduate and postgraduate degrees in business, RSM also lays claim to the cutting-edge MSc Management of Innovation, as well as an international full-time MBA, and executive MBA, a global executive MBA, and the Cologne-Rotterdam Executive MBA. In addition to learning about sustainability, students in the program also practice and develop essential soft skills, including leadership development.
Rotterdam's culture of sustainability is reflected in a number of ways, not the least its place in Corporate Knights' Top 40 Better World MBA Ranking list.
It's sometimes argued sustainability is a trend, but experts agree it's here to stay. While the need for it in business existed long before COVID, the pandemic underscored its importance and rapidly accelerated its trajectory.
According to the International Institute for Sustainable Development (IISD), three sustainability themes are emerging as a result of COVID: the need for resilience, a call for sustainable economic stimulus and support packages, and the magnification of inequality. Under the guidance of its leaders, the business world will be tackling these complex yet fascinating challenges for years to come.
"The only way to continue growing and continue being a successful business is to treat sustainability as a key business lever in the same way that you treat marketing, finance, culture, HR, or supply chain. So really it's core to the ability of the business to grow," Santiago Gowland, formerly of Unilever and now Executive Vice President Global Innovation and MD for Latin America at The Nature Conservancy, told MIT Sloan Management.
A business degree with a focus on sustainability will not only help you catch the eye of employers, it will also help you shape the future of business while simultaneously doing your part for the planet.
Article written in association with Rotterdam School of Management -- Erasmus University.

Joanna worked in higher education administration for many years at a leading research institution before becoming a full-time freelance writer. She lives in the beautiful White Mountains region of New Hampshire with her family.
Find a program in these categories