Why Forward-Thinking B-Students are Looking to Saudi Arabia's Newest City
Feb 12, 2018
Student Tips

International News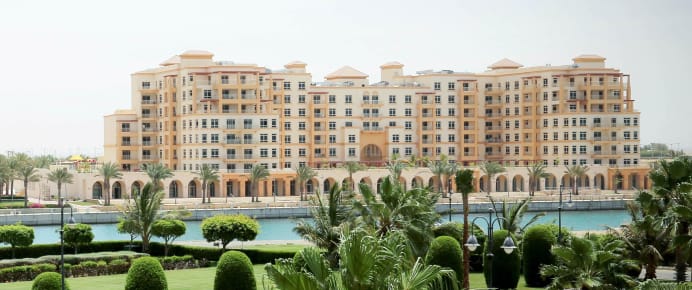 Heralded as a "game changer" and declared to be "one of the world's most ambitious megaprojects." the King Abdullah Economic City (KAEC, pronounced "cake") is positioned as a new world city in Saudi Arabia. It's also a destination of increasing interest for global business students eager to take advantage of the many benefits of studying in this one-of-a-kind destination. Here's a closer look at KAEC, along with one higher education institution which matches their optimism with opportunities.
Reshaping and Rebranding
Crown Prince Mohammed bin Salman ("MBS") recently made news when he debuted plans for sweeping change for the country that would rebrand Saudi Arabia on the international stage. "Driven by the young prince, the reforms are aimed at transforming the way the world sees Saudi Arabia, wean it off of oil and remake the hermetic Gulf kingdom into a hub of international business, finance and technology," reported NBC News of MBS's speech at a business and finance conference in Riyadh in October.
The conference's attendance speaks to the potential many people see in Saudi Arabia. Said one professor of Middle Eastern history of the tremendous turnout, "When I look at who came they really were pulling in some of the heavy hitters of the global economy, and if they're coming to Saudi Arabia it's because they think they can make a buck here."
MBS's ultimate pledge? "We are returning to what we were before -- a country of moderate Islam that is open to all religions and to the world. We will not spend the next 30 years of our lives dealing with destructive ideas. We will destroy them today."
About KAEC
In fact, constructive may be the more appropriate word to discuss ongoing changes in Saudi Arabia -- literally, in the case of KAEC. The world's largest privately-funded (and publicly listed) city is one of cour new Saudi Arabian cities aimed at supporting industrial expansion, diversifying the economy, and providing housing and jobs for the country's young people. Located on the west coast of Saudi Arabia, KAEC is roughly the size of Washington, DC at 181 square kilometers. It is home to King Abdullah Port, the Coastal Communities residential districts, the Industrial Valley, and the Haramain Railway district.
Insists the KAEC website, "KAEC is the perfect location to connect East and West. From its state-of-the-art deepwater port on the Red Sea shore, KAEC can handle the world's largest ships. And with new road and rail networks, KAEC is just an hour from Jeddah, Mecca, and Medina."
Says NewCities, meanwhile, "Centered on a new port, the goal of KAEC is to become a global logistics and manufacturing hub. Through its 'industrial valley,' KAEC seeks to develop sectors including logistics, fast moving consumer goods (FMCG), plastics, automotive, building materials, and pharmaceuticals."
A large part of the vision for KAEC and the future of Saudi Arabia? The country's massive youth generation: people under the age of 30 comprise 65 percent of the population.
Looking to the Future
Certainly, there are abundant opportunities to be found in Saudi Arabia, and aspiring business leaders are eager to get in on the action. One recent graduate of a prestigious American business school told CNNMoney of his return to Saudi Arabia to start his business, "We are going into a new era, change is happening... it's going in the right direction….I had a chance of staying in the U.S. and after a while that place got comfortable to me. But with all the reforms, the exciting momentum happening here, I thought why stay there when I can come back and be a force of further change through my entrepreneurial efforts."
KAEC is at the center of much of it. Said Saudi Arabian General Investment Authority (SAGIA) Eng. Ibrahim Al-Omar at a recent address, "Under Vision 2030 we are creating new growth engines in strategic sectors such as transport, healthcare, ICT, renewable energy and local manufacturing to drive greater economic diversification in the Kingdom. KAEC, which combines a strategic location, strong national and international connectivity and a robust private sector mindset, is an important part of our vision for the future."
Enter KAEC's Prince Mohammad Bin Salman College for Business and Entrepreneurship (MBSC). Embodying the optimism and enthusiasm of MBS's Saudi Arabia, this new private college was established through an international partnership between Emaar the Economic City, Babson Global (a wholly-owned subsidiary of Babson College, USA) and MISK. Offering both full-time and part-time MBA programs as well as Executive Education programs, MBSC curricula are specifically designed to teach students to think and act like entrepreneurs.
"MBSC aims to develop a new generation of transformative leaders who think creatively and act boldly. The Kingdom needs more job creators and not just job consumers. MBSC is designed to fill this void by creating Entrepreneurs of All Kinds (EAK®)," reveals its website.
Indeed, there's no better time than now to aim high, one student in Saudi Arabia told CNNMoney: "Anyone in this country, now in this time, can be a great entrepreneur or an owner of a great company," he said. "The last action of Prince Mohammed bin Salman... [tells us] that corruption is not going to be a problem anymore: 'Go work, go find a job, go develop your skills. I'll be with you through all the challenges.'"
For many forward-thinking business students (and tomorrow's empowered business leaders), MBSC offers the training they need to hit the ground running.
Read more about Prince Mohammad Bin Salman College.
Find your perfect program
Use our search to find and compare programs from universities all over the world!
MBA

Joanna worked in higher education administration for many years at a leading research institution before becoming a full-time freelance writer. She lives in the beautiful White Mountains region of New Hampshire with her family.
Find a program in these categories