Why an MBA Will Make You Stand Out in the Post-COVID-19 Job Market?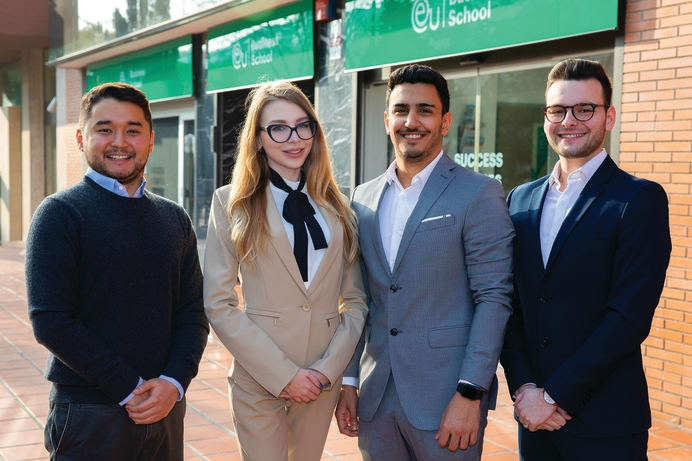 There are several steps you can take towards making a decision about your MBA and improving your chance of a successful application. Some steps are very direct. Have you thought about preparing for your GMAT or GRE test? Your score will remain valid for five years, so using this time to study for it is a smart move. When your local test center reopens, take the test as soon as you are ready.
But also look at the wider picture. What can you do to make yourself not just a more appealing candidate, but also a better businessperson? Connect with professors and alumni of your favored business school. Reach out to leaders you admire, too. Look for help and advice. You can put your new focus and ideas straight to work by supporting your community during this difficult time.
Now, what about that MBA?
Choosing an MBA in difficult times.
The decision to apply for an MBA right now depends a lot on personal and local factors such as budget and travel restrictions. However, the economic downturn is likely to encourage a lot of budding entrepreneurs to apply while there are fewer job options available and a need for fresh ideas. The challenges and opportunities of a recession pull entrepreneurs' priorities into sharp focus.
It's not just the downturn but the world 'after' coronavirus in general that will make the MBA skillset so valuable over the coming years. Nobody knows exactly what business will look like, so adaptability and flexibility will be essential. Business leaders will need to apply this flexibility to inspire new types of teams, in new styles of working, and to spot chances to innovate as conditions continue to improve.
"Business needs people who can not only analyze data but draw insights and make informed decisions from it," says business school chief Margaret O'Neill. "[People] who can work successfully in cross-cultural, global teams, who are creative problem solvers and who can work from first principles when confronted with new situations for which there is no existing model."
You've seen how fast business practices have changed during the lockdown. A new generation of business leaders will emerge to make sense of it all in the wake of coronavirus. An MBA is the best place to meet these people – and become one of them. The experience and qualification will significantly improve your prospects in difficult times.
A business school for a new generation
EU Business School (EU) is a high-ranking and international school with campuses in Barcelona, Geneva, Montreux, Munich, and online. With nearly half a century of history and an alumni network of more than 27,000 graduates, EU has firm foundations on which to base your studies. But it's still very much an institution for the future.
"I would recommend people to join EU Business School if they would like to get out in the workforce with leadership skills, communication skills, and the ambition to move forward," says recent graduate Amir Baroud. "The person that I am today is a much better version than I was when I first came here."
The forward-looking attitude at EU is exemplified by the successful way the school has dealt with the sudden lockdown. "I'm really thankful that EU already provides online classes," says International Relations student Olivia Buitenwerf. "That makes me a bit more comfortable in this situation because they've left nothing to the unknown. The transition was really smooth, and all the professors and councilors were able to answer all my questions and insecurities."
A variety of topics in a multicultural setting
The school's programs include up to date takes on well-established business areas and newer specialisms at the cutting edge of international business. Students can choose between 11 dynamic MBA majors, including Global Banking & Finance, Digital Business, Human Resources Management and Blockchain Management.
It is possible to take a one-year, full-time option or a two-year, part-time program. All classes are in English but fellow students speak an average of 3.5 languages each – making EU a truly multicultural experience.
"Studying with students from around the world really broadened my perspective, especially as an American," says Business & Design Management student Caroline Bayani. "And it very much opened my perspective to how different cultures work much more than I was aware of from traveling to Europe before."
You can expect to converse freely with EU's impressive roster of lecturers, too. "I was really able to get to know them one-on-one," says Bayani. "And they really do care about you. They know you by name, they know things that you like, they send you articles that might be of interest specifically to you."
"The lecturers at EU are not just lecturers," says Zia Siddiqui, who graduated from EU's International Business program, "they are working professionals who are actually bringing in the knowledge from their real-life experience."
Campus life in Spain, Germany or Switzerland (or online)
Your choice of campus will depend on your preferences and situation, but there are additional advantages for each destination. There is also an option to transfer between campuses and enjoy the best of all worlds.
Barcelona and Munich are major economic powers: a thriving start-up hub and an established international business base, respectively. Montreux, in the Lake Geneva region, is close to major global headquarters for businesses and other types of international organizations.
And advantages of a business education at the Geneva campus speak for themselves. The Swiss city a major political and economic center and the world's largest hub of multilateral diplomacy; home to over 200 international organizations, including the UN's European headquarters, UN agencies, and numerous NGOs.
Also, EU maintains a permanent online study option, which is perfect if you're always on the move – or unable to travel at all in the near future.
Each campus invites prestigious guest speakers to speak to students, including leaders of companies such as Deloitte, Massimo Dutti, Amazon, PUMA, and Nestlé. EU's 'In the Spotlight' sessions connect students directly with industry leaders who have forged careers in their specific areas of interest. And students can get 'hands-on' with workshops led by industry specialists from these top companies and more.
EU offers a thorough, modern, and adaptable experience perfectly tuned to the needs of the post-pandemic generation of entrepreneurs and problem-solvers. If you are considering business school in these strange times, EU Business School could be the most productive, creative way to occupy your busy business mind!
Article written in association with EU Business School.
Find your perfect program
Use our search to find and compare programs from universities all over the world!
EU Business School
Find a program in these categories