Top Five European Countries for Wine Studies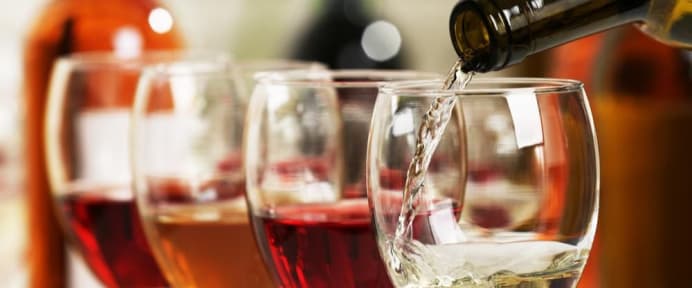 The global wine market is booming. Valued at 287.38 billion USD in 2016, it's expected to skyrocket to USD 402 billion by 2023. What's driving the trend? Several factors, including "the consumption habits of wine, rapid urbanization, the changing lifestyles and high disposable incomes, and popularity of wine products during social celebrations and aging population preferring wine over hard drinks," according to Mordor Intelligence.
When it comes to wine production and consumption, Europe reigns supreme laying claim to more than half of the global wine trade. The takeaway? If you're thinking of turning your passion for wine into a career, Europe is the place to be. But where, specifically, should you go? Read on for a roundup of five great countries for wine studies.
1. France
It's hardly a surprise that wine claims the first spot on this list. Continues Mordor Intelligence, "Currently, there are about one million small and big winemakers globally and the world's most famous brands (around 84 percent) are French."
Adds Engel & Völkers, "Wine is integral to French culture, the country has a long history of wine production and almost every region of France produces a variety of wines. The proportion of land used for viniculture in France is expansive, and the quality of wine produced in France is widely acknowledged to be the best in the world. It's no wonder then that France is the leading producer of wines in the world."
It's safe to say that France is the heart of the wine world, so why not study at the center of it all? Take INSEEC Chambéry Business School's MSc./MBA in Luxury Brand Management, Food & Wine M2 October. This multidisciplinary program fuses a solid business foundation with practical experience preparing graduates to hit the ground running in the luxury service industry in a number of areas, including gastronomy and wine.
2. Italy
France is far from the only country where wine is part of the culture. Also making the list? Italy. After all, the Romans actually had their own God of wine, Bacchus. (And they weren't the only ones, either: the Greeks had Dionysus.) Italy is also home to numerous renowned wine-growing regions, including Latium; Tuscany; Umbria; Emilia-Romagna; The Veneto; Trentino-Alto Adige; Friuli-Venezia Giulia; Lombardy; The Piedmont; Campania; Sicily.
It follows that aspiring students of wine have their pick of programs from which to choose, including Istituto Europeo di Design Florence's Master in Brand Design and Management: Food, Wine and Tourism; Il Sole 24 ORE Business School's Master in Food & Wine Management; and the University of Padova's Master of Science in Italian Food and Wine. We're getting hungry and thirsty just writing about it!
3. Germany
Just because beer is to Germany what wine is to France doesn't mean Germany doesn't have a vibrant wine culture of its own.
For starters, there's the fact that winemaking in Germany dates back to the 1200s. And then there's the fact that "Germany is the undisputed king of Riesling." Perhaps German vintner Ulrich Allendorf put it best when he told the Matador Network that while beer drinking is something people do to forget, wine is for life's most special occasions -- the ones meant to be savored and remembered.
If you're considering studying wine in Germany, check out the University of Applied Sciences Ludwigshafen Am Rhein's MBA in Wine, Sustainability & Sales. This two-year program takes an international approach with a focus on sustainable management and sales in the context of the contemporary wine industry.
4. Spain
Did you know that Spain is home to the world's only museum "dedicated to ennobling an exceptional wine?" Located in La Rioja, a small region famous for its Tempranillo black grapes, the Wine Culture Museum traces the rich history of wine in Spain throughout history.
Enthuses Worldwide Wine Tours of Spain's remarkable wine variety, meanwhile, "From rustic to refined, traditional to innovative, red, white, sparkling and fortified, the wines of Spain along with her legendary cuisine, friendly people and spellbinding natural beauty have something very special to offer visitors. A wine vacation in sunny Spain is a feast for the senses you will never forget."
But why settle for a vacation when you can make Spain your home base for wine studies?
5. Hungary
If you haven't yet heard of Hungarian wines, it's only a matter of time. Says Eurail in including Tokaj-Hegyalja, Hungary on its list of the Top 10 Wine Regions in Europe By Train, "Hungary is an underappreciated wine country, but well-developed with more than a thousand years of wine making experience. There are 22 wine regions in the country. Most noteworthy is the wine region of Tokaj-Hegyalja, which is also a World Heritage Site. An excellent place to start your exploration here is in the foothills of the Zemplén Mountains, in Tokaj. This town is famous for its full-bodied sweet dessert wine, Tokaji Aszú. If you want to sip this wine in the place it's made, you can get take a train from Budapest to Tokaj in 4 hours."
Perhaps Wine Folly puts it best in heralding Hungary as "the best-kept secret of the wine world." So while others are flocking to better-known locations, making Hungary your wine studies destination shows that you're uniquely in-the-know.
More than half a century ago, the New York Times proposed, "To take wine into our mouths is to savor a droplet of the river of human history." If you're interested in becoming part of the future of this inimitable industry, you'll find extraordinary opportunities to do so in these five European destinations.

Joanna worked in higher education administration for many years at a leading research institution before becoming a full-time freelance writer. She lives in the beautiful White Mountains region of New Hampshire with her family.
Find a program in these categories