The Power of a Network in the Innovation Economy
Innovation is a major currency in 21st-century business -- but new ideas aren't generated in a bubble. The 20th-century model of the lone genius who figures it out for themselves and strides on to take the glory has become dated.
In major innovation ecosystems like Silicon Valley and San Diego, business leadership is not about what you know or even who you know: it's about how you work together. So let's have a look at just how your network can empower you to lead and create at the frontier of new tomorrows.
More opportunities
It's hard to recognize the value of your network as a source of new opportunities while you are still starting out. You may work on building a network for months before you see it start to pay off, and it often does so in the most unexpected ways. Sometimes it is not immediately apparent that an opportunity came through your network – either because you didn't consider this or that person to be part of your network (rather a friend or just somebody you met) or because the person who approaches you got your name from a mutual contact.
But that's how the network works. Strong bonds with your immediate circle strengthen your connections to the broader world of business, and multiple connections multiply the opportunities that come your way.
The fact is, when people need collaborators fast, it is easier to identify and verify somebody that is already part of their extended network than to search or advertise for someone new. Just being part of that network can create new opportunities – because once people connect to begin work, new chemistries occur and new ideas abound. This is how new business happens: one study showed that regular attendance of networking events leads to a 90% increase in business opportunities.
Get advice for your business
You can read all the business books in the world, but you will never match the power of personal, one-to-one advice. Wisdom is embedded in experience and context, and the people around you can tailor their advice and feedback to your specific ideas and potential. The learning process is so much more potent when it's done face-to-face or in the field. You're more likely to find yourself frequently referring back to a single guiding principle offered to you personally by someone you respect rather than conjuring memories of a heavy textbook.
And the thing is, you can build your network while asking for that advice. Approach somebody you admire with a personal email (or better still, catch them in the elevator or on campus) and, should they respond, you not only get some words of advice but a new contact. Established business people often see those to whom they offer advice as a different kind of investment: a personal investment in people and in the future of the global community.
It doesn't mean that everybody has time to coach you one-on-one. But check in with them again a little further down the line, and you could discover they're keen to hear about your progress, and maybe even to get involved.
Mix business with pleasure
Not everybody enjoys networking for networking's sake. Life's pretty short, after all – and sometimes networking events can leave attendees feeling cold, or over-concerned about who has something they 'need' and who has something to offer. Networking during leisure time can feel far more natural and actually be a lot more effective since much of the pressure of the white-wine-and-nametag scenario is removed.
Greg Gretsch, founding partner with early-stage investment firm Jackson Square Ventures, is just one example of a leading tech business professional who hits the cycling trail to keep fit, take his mind off things – and to network.
"Connecting with people is important to what I do, and you can learn a lot about a person, and from a person, on the bike," he told The New York Times. "Outside of college, the strongest relationships I have are with people I have worked with or worked out with."
As his contemporaries note in the same article, it's not always appropriate (or physically possible) to deliver a winning pitch in the peloton – but you learn about somebody's grit and develop a camaraderie that can lead to bigger things professionally.
Rady - more than a business school
Rady School of Management was established to answer to the growing need for management in San Diego's thriving tech community. As such, the school incorporates the human factor and networking as vital facets of a student's development, alongside fundamental leadership, innovation, and entrepreneurship skills.
Over 100 mentors, including community leaders, start-up founders, and venture capitalists, work with Rady's MBAs each year, enabling students to connect with and learn from a broad range of minds from across the industry. These entrepreneurs and visionaries may lead talks, provide mentorship, or critique and assess work. The San Diego innovation community has embraced Rady from its beginning, eager to develop strong bonds and build on the tremendous potential of the school's ethos and position.
Conversely, class sizes are small, permitting MBAs to develop deep, close-knit, and supportive relationships with a diverse cohort of colleagues from around the world. These classmates and the alumni who went before them are personally invested in each other's success. Between those who choose to stay on in San Diego and those who disperse around the world, these tight links form a sturdy foundation to each graduate's extended network.
These relationships and more flourish beyond the classroom thanks to Rady's unique array of opportunities and extracurricular activities. Student-run organizations such as RadyX partner with industry, such as Amazon, Google, Facebook, and Qualcomm, to facilitate interaction and share perspectives with Rady students. Accelerator programs offer invaluable support to students and alumni with big ideas, connecting them with resources and investors. The Rady School has 182 Rady student- and alumni-founded companies operational today.
Lada Rasochova, Ph.D., MBA, executive director of the California Institute for Innovation and Development (CIID) at Rady, is the perfect example of all of this. Rasochova is the director of StartR Accelerator, Rady's mentorship and company development program; director of Rady Venture Fund, which gives Rady MBA students hands-on experience in investment; and director of the TriNet Challenge, an annual competition for Rady students, staff, and faculty intended to bring forward-thinking environmental ideas to market.

"Very often Rady students want to continue with their startup ideas after graduation. They are looking for support but get denied from larger San Diego incubators such as EvoNexus because they are far too early and the competition is fierce," Rasochova says. "I am however happy to report that the Rady School currently has 182 alumni or student founded companies, many of which have gone through StartR. This has validated why StartR accelerator was created to begin with."
"I really enjoy working with each of our students," she says. "I want to see them succeed in every way possible."
Ultimately, there's nothing like working and learning together to bond connections in the network. At Rady, innovation goes hand-in-hand with the power of human networks.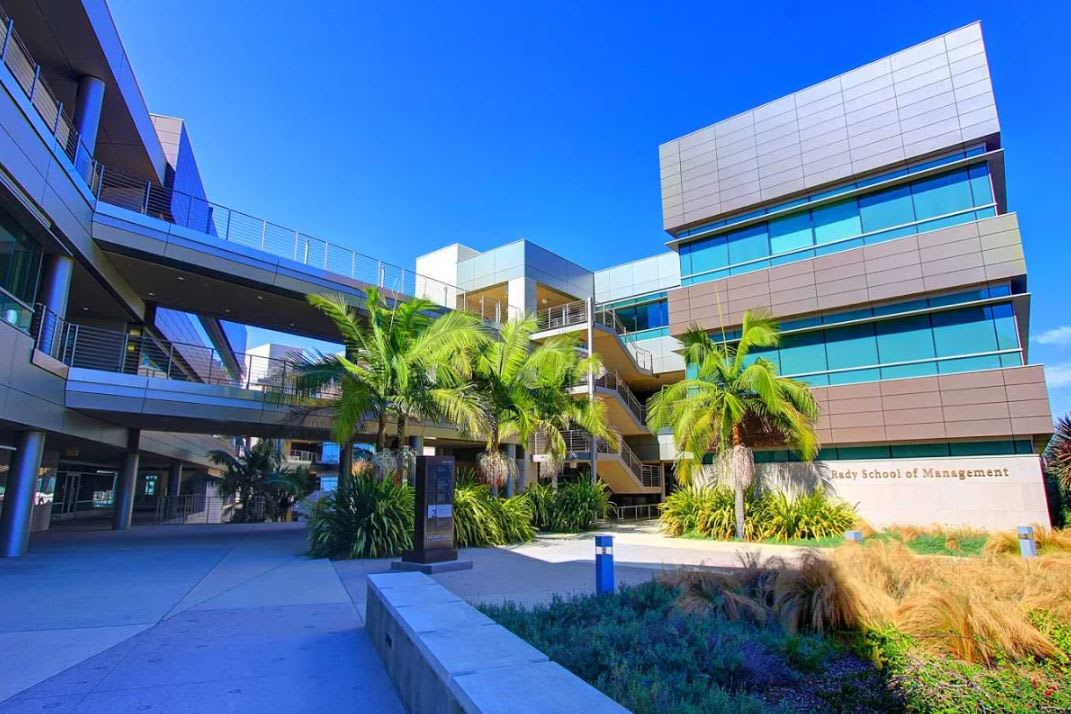 Rady School of Management
Article written in association with Rady School of Management.
Find your perfect program
Use our search to find and compare programs from universities all over the world!
Rady School of Management
Find a program in these categories