Start-up Or Corporate: Where Should You Work?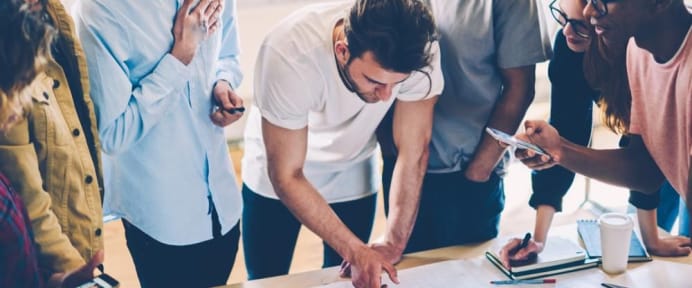 You are finishing your MBA. What will make you happiest? A corporate gig with a ladder to climb? Or a start-up where there's no ladder but a diving board?
Do you want a job where you will know what to expect all the time or something that has a bit more mystery to it?
How much risk are you willing to assume after you graduate? Let's take a closer look at the benefits of starting off in the corporate world and the start-up world.
Corporate
Living a corporate life has its benefits, from structure and network to perks and a wide array of learning opportunities. Here are four reasons to consider a corporate job:
1. Structured training programs
One thing you can count on in the corporate world: big companies have tailored training programs in technology, human resources, intellectual property, business processes, and industry-specific fields.
This means that you can take that MBA you just earned and amplify it nearly immediately in a big business. Find a company that wants to take you under its wing and let them teach you to soar.
2. Great professional network
Once you're in, you're in -- and you have access to thousands of people worldwide.
You never know who you'll work with and when--and when those folks might pop back into your lives.
Working for a big corporation right off the bat lets you start growing that network exponentially immediately. Do a good job and they'll remember -- and chances are that everywhere you go, people will know who you worked for.
Make it a good thing and capitalize on it.
3. Great perks
Salaries aside, big companies often have lots of extras, like lunch, sports gyms, and training meetings, often in fun locations.
Startups usually don't have these perks because they often run on shoe-string budgets.
A large, respected company with a decent budget will be able to offer you a great salary and benefits in addition to some fun perks, too.
4. The politics of business
You will learn them faster than you can blink. Better to learn them early in your career than later, too.
It's not just about who and what you know. It's about how you use the knowledge you have acquired to your benefit and the benefit of others.
You will learn how to negotiate, how to haggle, and how to make contacts. You will also learn how to make yourself stand out without being obnoxious about it. All very useful skills.
Start-up
An MBA in Business is really helpful for start-ups, there's a lot of opportunities if you are ready to take the bull by the horns. Here are four benefits to taking a job with a start-up:
1. Learn a lot
In a start-up, you hit the ground running and learn a lot all at once. With loads of responsibility (see #2), you will work on everything. This means that you will work well outside your job description and not just learn a lot, but learn a lot quickly.
What does this mean? You will learn your pitfalls and how to avoid them -- and you will learn how to make smart decisions quickly.
You constantly solve problems in a start-up -- big ones and small ones. The more you do it, the better you get at it.
2. More responsibilities
When you work at a start-up, you're probably in your own department, or a very tiny one. What does this mean? Lots of opportunity for growth.
You will take your core set of skills and apply them across the company--with any luck, quickly and efficiently.
Do it well and you make your department.
3. Heart of innovation
People who start their own businesses have drive and ambition. They also have a vision for how they want to solve problems.
You might not see this right away at a corporate job, but you will at a start-up. Why? Entrepreneurs are constantly driven to solve problems better and more efficiently. That desire fuels innovation. It will probably inspire you to want to do better, too.
4. Relaxed atmosphere
Start-ups are generally a lot more chill than corporate jobs. Dress codes are fairly lax, and everyone has the same vision. There are probably more opportunities to work from home, too.
Don't be fooled. You will probably work more hours at a start-up than at a corporate job. The beauty of it is you can define what those hours are.
Find a program in these categories