Six Emerging Tech Fields for MBAs
The business world is increasingly impacted by technology. It follows that business leaders with knowledge of the latest emerging tech fields will have an inside edge on the job market. As a graduate with an MBA, you will be poised to step into a role in a tech company, if you are savvy enough to know what you're looking for. Here's a closer look at six up-and-coming tech fields with relevancy in the business world.

The business world is increasingly impacted by technology. It follows that business leaders with knowledge of the latest emerging tech fields will have an inside edge on the job market. "As companies grow and scale, the skills team members with MBAs bring can be invaluable," says David Cancel, the co-founder and CEO of Drift, a tech company that provides a digital platform for marketing and sales to businesses and entrepreneur-in-residence at Harvard Business School.
A great idea, product development, scaling production, marketing and advertising, finance nuances, and much more are challenges and exciting fast-paced decision-making that happens in boardrooms, especially in the constantly changing tech field. As a graduate with an MBA, you will be poised to step into a role in a tech company, if you are savvy enough to know what you're looking for.
Liz Arnold, associate director for tech, entrepreneurship, and venture capital in the Career Management Center at Cornell's Samuel Curtis Johnson Graduate School of Management, says, "When students are looking for MBA programs, they should really dig into the curriculum. I also encourage all students interested in tech to build their entrepreneurial skill set, to really understand how to take the initiative on their own to go from idea to launch. I think that particular skill set is relatively [...] valued at most tech companies, because the tech companies want students to be autonomous and take projects and run with those ideas and move them forward."
The traditional Master of Business Administration (MBA) offers students core courses that cover various areas of business such as accounting, applied statistics, business communication, business ethics, business law, finance, managerial economics, management, entrepreneurship, marketing and operations, in a manner most relevant to management analysis and strategy.
Increasingly it has become important for CEOs of companies to be 'in the know' about the latest tech trends. For example, Aaron Skonnard, CEO and writer for Inc., writes, "Tech-savvy CEOs have an easier time earning the trust of their technical group. You can't fake speaking the same language, and there's a certain authority and respect you can only command through knowing how to code. Personal experience with coding greases the wheels with everything from time management to delegation, because you know better what outcomes to expect. Asking your programming team to do things that you don't truly comprehend yourself is tantamount to trying to lead an army with no competency in military strategy." Be open-minded -- learning to code or having a background in computer science could give you the most successful competitive edge when combined with an MBA degree.
Paying attention to the curriculum, course work, and internship opportunities is important when selecting any higher education program. However, it has become especially important if you're interested in pursuing a career in business with an MBA, to pay attention to the overlapping nature of MBA studies with the emerging and established tech fields. Wondering which areas are especially hot? Here's a closer look at six up-and-coming tech fields with relevancy in the business world.
1. Automation, robotics, and artificial Intelligence (AI)
The Jetsons might have had it right with their robot dog and maid. Who knows what the future holds? The tech field is evolving and developing at such a fast pace around automation, robotics, and artificial intelligence (AI). All the tech buzz in the news these days is about driverless car technology. Helping to create and launch the next up-and-coming hot product like the driverless car, even if you have an MBA, requires specialized skills.
Automation -- using platforms, apps, and more to set up automated systems that do menial tasks and organizational tools to manage workflow --is an essential managerial and leadership tool in today's business world. The Harvard Business Review explains, "One of the most recent automation technologies to emerge is robotic process automation, or RPA. RPA is a category of software tools that enable complex digital processes to be automated by performing them in the same way a human user might perform them, using the user interface and following a set of predefined rules. What sets RPA apart from other automation technologies is that its ability to imitate a human user of one or more information systems reduces development time and extends the range of functions that can be automated across a much wider range of business activities."
More and more the study of robotics and associated side courses are creeping into the MBA, a traditionally wide-ranging and versatile degree.
MBA professor Anil Vaidya suggests it's important for MBA students to get the right technological foundation in order to build sound business perspectives on top. Students must learn how to write a bot, how to stream data, how to ask the right questions, to recruit the right vendors to do the job and so on. Additionally, MBA students must appreciate the business value of all such exercises, and learn how to integrate all these concepts with businesses, to develop various business models and to improve the levels of customer engagement."
2. Data analytics
As an MBA student in Data Analytics, you will also want to polish your data analytical skills. Data now drives decision making. Being able to analyze data and direct research in new key areas will be essential in the real world where business deals are decided based on facts, polls, and crunching the numbers. Understanding how, when, and why the conclusions from data are trustworthy -- whether those conclusions have to do with romantic or financial endeavors -- is vital to the decision-making process. Proficiency in process and tools of data analytics is more than a 'soft skill'. In fact, it is one of the five skills employers look for in a recent MBA grad.
3. The Internet of Things
We cannot deny that we live in a world driven by cyberspace and also what is now known as the Internet of Things (IoT), which McKinsey Digital defines as, "the network of digitally connected devices whose economic value could amount to trillions of dollars per year -- the IoT's impact varies greatly from one company to the next. Many enterprises have launched pilot projects to develop IoT-enabled products and services or use the IoT to achieve operational improvements." Guaranteeing two-day delivery, or faster on products bought with a click of a button, online streaming of the newest movies and television...this is big business. MBA candidates will want to research these trends and even consider attending the annual Internet of Things World Forum to stay competitive in the job market.
4. Design thinking
While not technically an area of technology, design thinking is an important way of thinking that businesses are increasingly looking for in terms of harnessing the full power of technology. Design elements are essential to the development of new products, and understanding the principles of design will help you in your career in business. It's like learning to think, even dream, in a foreign language -- the more fluent you are, the more nuanced and better conversations you'll have. Jasmine Ee of rackspace says, "design thinking is a problem-solving process that focuses on solving the needs of a specific group of people: in our case, it's customers. The approach aims to match customer needs with what is technologically possible and convert this into a business strategy that offers value and market opportunity." Don't sell yourself short and think this won't help you advance in your business career. Tech needs MBA grads skilled in design thinking.
5. Fintech
Fintech is an abbreviation for financial technology. It's a topic and idea that is, as we speak, is revolutionizing how organizations large and small treat, process, and understand financial processes. Are your friends all buying Bitcoin? Or finding new ways to invest and manage their money? This technology is being developed at a faster and faster rate to keep up with trends in financial investments, the ever-changing market economy, and also in response to consumer demand. To put it simply, technology is changing the way we conceive of money, manage our businesses and our bank accounts. According to business.com, fintech is one of the fastest growing startup sectors. In 2015, fintech saw exponential growth and it doesn't look like it is ceasing anytime soon.
Don't get left behind as an MBA grad in this emerging field. Pay attention in finance class and befriend the computer science and coding students. Even better, become one yourself and advance your career.
6. Security
In the modern age, cybersecurity needs to be very tight. Security is one of the most important elements of running a competitive, cutting-edge business. You will want to protect not just your intellectual property, but also secure employee data, passwords, and compartmentalize access with special firewalls and security codes.
Industry Week reported that "last year revealed that about 62% of global CEOs worry cyber threats will affect their company's growth prospects." All MBA students hope to be a CEO or head of a department one day. Well, with great jobs at the top, comes great responsibility. It is recommended you learn how to make cyber-security a strategic business strategy in your classes while in your MBA program. Or look for an internship that can give you the experience of seeing best practices in security in action. After all, you would not want to be hacked on your first day in the job...
Bill Gates says, "The first rule of any technology used in a business is that automation applied to an efficient operation will magnify the efficiency. The second is that automation applied to an inefficient operation will magnify the inefficiency." More and more MBA programs are working towards incorporating knowledge of these six tech fields into their curricula. Take the advice from Bill Gates and increase your efficiency --give yourself the competitive edge as a future MBA graduate by incorporating tech field studies into your degree program.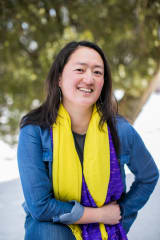 S. M. Audsley is a freelance writer and poet who lives and works in Vermont, a small but mighty state in the United States. She is an avid outdoor enthusiast and a lover of potlucks.
Find a program in these categories