How to Choose the Right Business School For You
1. Environment Businessman Harold S. Geneen, "who virtually invented the international conglomerate," according to the New York Times, once said, "In the business world, everyone is paid in two coins: cash and experience. Take the experience first; the cash will come later." While this holds true across the board, it's especially applicable to business schools.
Choosing one with an international perspective offers excellent practice for the global economic environment in which today's businesses operate. In fact, according to the results of French human resource company Emerging's Global Employability University Survey, international exposure is the second-highest consideration for employers, second only to experience with an institution's graduates. AlphaSights recruiter Clare Powers said of studying at an international business school, "The confidence and self-awareness students gain from putting down roots somewhere new is an asset for any business."
It is also important to choose the right city for studying business. The innovation hub of Barcelona, for example, was recently ranked third in Europe for startups in a report by Atomico, one of the world's largest tech venture funds. Geneva and the Swiss Riviera are home to an unsurpassed concentration of international organizations of the stature of the UN agencies along with prestigious financial institutions and multinational headquarters, which underpin its global reputation as a center of finance and diplomacy. Munich brings together some of Germany's biggest companies, a city council-driven commitment to research and innovation, and a flourishing startup scene that create a dynamic business environment.
One major attribute of an international business school environment is English-taught courses. According to Harvard Business Review (HBR), "Ready or not, English is now the global language of business. More and more multinational companies are mandating English as the common corporate language - Airbus, Daimler-Chrysler, Fast Retailing, Nokia, Renault, Samsung, SAP, Technicolor, and Microsoft in Beijing, to name a few -- in an attempt to facilitate communication and performance across geographically diverse functions and business endeavors."
And while other regions of the world may be growing in strength, the soft power of the US and UK are undeniable, positioning English to retain its dominance. The B2B News Network concludes, "It will take something colossal to upstage these economies and the structure they already have in place -- including the language in which business is conducted. [...] English as the lingua franca continues to be the modus operandi of the international business scene."
2. Faculty
Experience and internationalism also apply to a business school's faculty. The best business schools boast high-caliber faculty with both academic and real-world expertise.
Unfortunately, this is not always the case in academia, where recruitment and promoting often relies on publishing over practice. The unhappy result, according to HBR, is that "business schools are creating faculties filled with individuals whose main professional aspiration is a career devoted to science. Today it is possible to find tenured professors of management who have never set foot inside a real business, except as customers."
Prospective business school students can avoid this outcome -- and gain a truly holistic perspective of the business world - by looking for business schools with faculty offering a mix of academic and professional staff, such as entrepreneurs, consultants, and business leaders (whether current or former).
3. Class size
What good is an excellent faculty if you have limited access to them due to large class sizes? Seeking out a business school with small classes increases opportunities for interactions between students and faculty. These interactions not only come in handy during the business school years, but can continue to yield benefits throughout your career, in terms of networking opportunities. Your former business school teacher might be your mentor or even your business partner - but only if you've actually had the chance to build a relationship.
4. Reputation
The question arises often: just how important is reputation for a business school? The answer is very, but perhaps not in the way that you think. Just because a program boasts an elite name does not mean it has what you need to reach your career goals. In this sense, business school rankings can be useful because they yield insight into important factors like quality of programs, research, faculty, student services, and career support. Weighing these elements against your goals can help you find a school that excels in the areas that are most valuable to you and to your career.
But what makes a truly "great" business school? One dean told BizEd, "The great business schools of the world are considered invaluable in their communities. They're invaluable not only because they produce great students, but also because they produce great ideas for public debate and information about business practices in general."
5. Opportunities
Today's employers are looking for candidates with more than mere theoretical knowledge. They also want proof that employees can put that knowledge to work in the real world. Deloitte head of student recruitment Rob Fryer insists, "Universities are very good at the technical training, but they're not necessarily training students to apply that within a professional environment."
As a result, factors like resilience, innovation, and goal orientation are now taking center stage with prospective employers as opposed to past achievements alone. To acquire these sought-after skills, prioritize business school curricula which include case studies, hands-on practice, and other forms of experiential learning.
Networking is crucial for professional success, and opportunities for making global contacts is a key consideration when selecting a business school. Choosing an institution which offers an international student and faculty body will ensure that students access a multicultural pool of contacts that will last beyond their study program, particularly if they can make use of an extensive alumni network.
EU Business School
One school that checks all five boxes? EU Business School. With campuses in Barcelona, Geneva, Montreux, Munich, and online (and offering the option for students to transfer between these campuses), EU Business School (EU) is the embodiment of an international environment. For starters, its student body comprises more than 100 nationalities, and a staggering 98 percent of its students speak two or more languages. As well as benefiting from this multicultural environment during their studies, students can also access a global network of contacts and potential mentors through EU's alumni network, which currently numbers more than 27,000.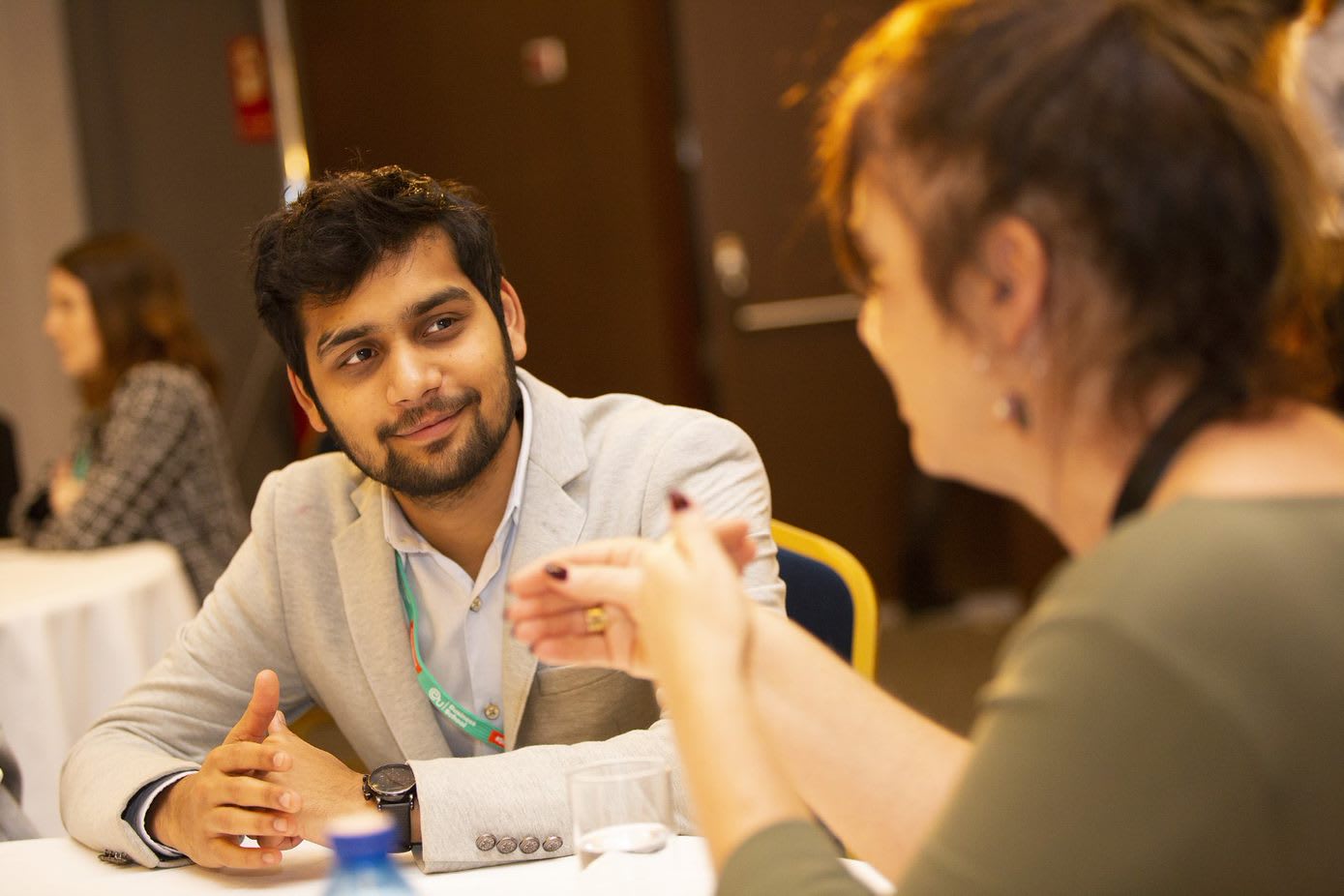 EU Business School
This diversity is also interwoven into its remarkable faculty, which is not only international but also a mix of full-time academics with doctoral degrees and part-time instructors who are current members of the international business community. Its English-taught curriculum, small class sizes, and use of experiential learning further attest to EU Business School's ability to position its graduates for success.
And then there's the fact that it's possible to earn two qualifications in your choice of one year of full-time study or a two-year, part-time study program: MBAs from both EU Business School and its partner organization, London's University of Roehampton (UoR).
EU Business School
With ACBSP, IACBE, CEEMAN IQA, CHEA, and eduQua accreditations, EU Business School comes out on top in reputation, too, with rankings that make it a true standout. Its online MBA program has claimed the top spot on CEO Magazine's Online Global Rankings for five consecutive years and it has also been awarded four stars for excellence in business education by QS Stars. EU Business School's other accolades include a sixth place finish on Capital magazine's list of best business schools for female students; the fifth place spot in the QS MBA Guide Return on Investment Report for salary uplift in Europe; and a Tier One ranking for its Executive MBA program in CEO Magazine's Global Executive MBA. It was also ranked in the Top Tier for Global and European MBA programs by CEO Magazine.
All business schools are not created equal. Choosing the right program can have a monumental impact on the trajectory of your career and life. When it comes to offering everything, you need to navigate the challenges of today's global and competitive business landscape, EU Business School truly shines.
Article written in association with EU Business School.
Find your perfect program
Use our search to find and compare programs from universities all over the world!
EU Business School

Joanna worked in higher education administration for many years at a leading research institution before becoming a full-time freelance writer. She lives in the beautiful White Mountains region of New Hampshire with her family.
Find a program in these categories