How Smart Business Students Use Social Media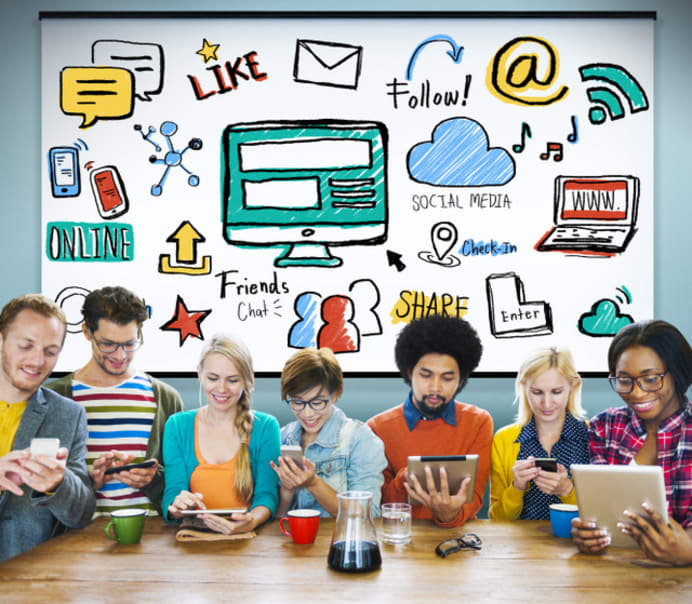 It's difficult to find a business student, or for that matter a middle-schooler or senior-citizen, without some sort of social-media presence. Social media sites and applications are now an integral part of modern life, and people use them to stay connected, share photos, loose weight, find recipes, search for jobs, and countless other daily activities. And social media has long been an important part of the business world. But there's more to corporate social media than an up-to-date LinkdIn profile and a Twitter account. Here's how smart business students use social media to study, network, and build their brand.
1. Discover Your Ideal B-School
Nowadays, we use social media to get to know people. We 'friend,' each other on Facebook, follow celebrities on Twitter, and google our dates before (and after) we meet in person. So why would you be less rigorous about your social-media inspection of a business school? Business schools know that they need to reach their students, both current and prospective, through a wide variety of mediums, and one of the best ways to get to know your school is online. Many schools have Twitter feeds and Facebook pages where students and administrators can interact, but business schools are also turning to apps like Snapchat and Periscope to share glimpses of student life and special events. They're also using sites like LinkdIn to help students connect with alumni and network with potential employers. So before applying to b-school hit the web and see what kind of social media presence your favorite schools maintain and see which school and socialization style is right for you.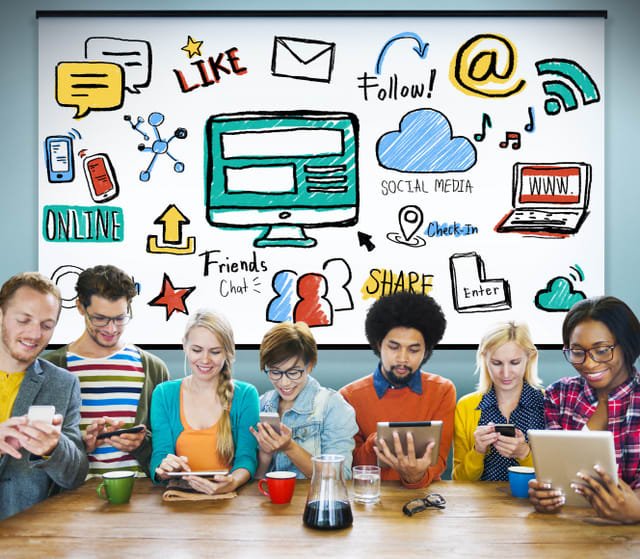 2. Complete Your Applications
You can use social media to get to know your prospective school, but social media can also give you the opportunity to introduce yourself to the admissions board. We all realize that admissions officers will probably be considering your social media activity and that it's a good idea to self-censor your content and max-out privacy settings, but an entirely blank social-media profile can be just as damaging as one filled with unsavory photos and drunken rants. Instead, probe the social media profiles of the school, deans, and admissions counselors to get a sense of the types of candidates they're expecting. Highlight those qualities in your social media profiles and make sure that they're easy to find. Google yourself and make sure that main search results lead to the information you want public.

3. Build Relationships
There's a tendency with social media to imagine that quantity equals quality, but the number of friends, likes, or followers doesn't always correlate to actual human relationships and for business students, this can be a real pitfall. When everyone can connect with a click of a button, genuine human contact is at a premium. Take the time with your social media profiles to build relationships. Resist the urge to like and follow everything and instead, craft an online presence that has depth. Make sure that you can manage your connections and maintain meaningful contact. This will help to establish your profile while you're a student and is excellent practice for the business world where the ability to develop and sustain relationships will make you stand out.

4. Target Audiences
The other benefit to keeping your online social circle to a manageable minimum? It will be easier to identify and target your audience. Remember that you are, essentially, a brand and future employers, clients, and collaborators are already looking for you. Make it easy for them to locate you by using social media to understand how you are perceived. Use apps like Hootsuite to track your social media presence and see the demographics of the people and organizations that follow and interact with you. And even if you don't utilize this information, understanding how to create and promote a brand is good practice for business students, especially those focusing on marketing or entrepreneurship.
Find your perfect program
Use our search to find and compare programs from universities all over the world!
MBA
Find a program in these categories