How Can You Advance Your Career While Earning an MBA?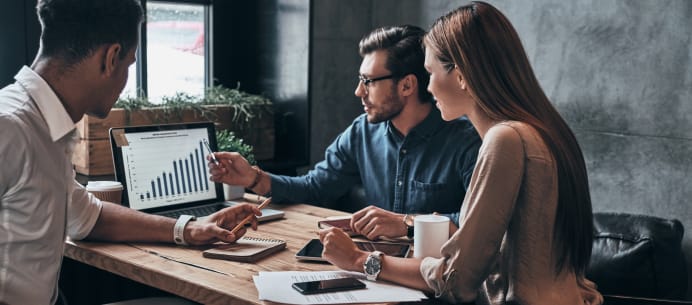 Flexible MBAs
It's fair to say we're on the cusp of an educational revolution. New technologies like AI and augmented reality are appearing on college campuses, but one of the biggest changes is not how students learn, but where. Some institutions now offer some form of online learning. This new, flexible approach has enabled thousands to pursue their ambitions while managing other important personal responsibilities, such as raising a family or continuing on their current career path.
Flexible online courses are often less expensive than traditional alternatives, making them an excellent option for people who are interested in MBAs but are deterred by the potential expense. What's more, that's not the only way you'll save money. Flexible learning programs mean you do not have to relocate to a new city or spend an excessive amount of cash on traveling to and from campus. But most importantly, you can carry on earning a salary, and you won't have to take any lengthy career breaks while you study for your MBA.
Prashant Malaviya, a senior associate dean for MBA programs, believes these flexible programs are the beginning of an entirely new way of learning built around each individual student. He says, "Through new formats, including hybrid classes, the addition of Saturday electives, and the ability to shrink or stretch the duration of the program from 2.5 to 5 years, our students can build a program that works for their individual needs."
How to manage it
Juggling your MBA studies with a full-time job won't be easy. Thankfully, as a high-achieving future business leader, you already have much of what it takes to succeed. Organization is key, so it's time to put your time-management skills to good use. As well as planning all your workloads well in advance, you will need to find the best times to focus on your coursework. If you are a night owl, hit the books for a few hours after everyone else has gone to bed. Alternatively, morning people can set an alarm clock for a few hours earlier and get their studying done before they start the rest of the day.
And get creative! Look for small slots where you can cram in some studying. Lunchbreaks and commutes are great for some extra reading time. Even if you only get through a few pages of a textbook or scan over a case study, these marginal gains will start to add up, lightening the load when it's time to get down to serious work.
You might feel nervous about telling your boss about your plans to study an MBA. But here's where you can polish those sales and negotiation skills. If your boss is concerned you might be stretching yourself a bit thin, it is a chance to explain the benefits of having an employee with an MBA. Tell them how you plan to use all your new-found knowledge to help the company grow, focusing on how your studies will complement your current job role rather the hinder it. In other words, you want them to understand that having an employee with an MBA is a tremendous asset to the company.
Mary Swaffa knows precisely what it takes to balance an MBA with full-time work. She is currently studying for an MBA while working as a government contractor for the US Department of Defense. Doubling her workload certainly provides a challenge, but Mary is confident that the long-term gains will far outweigh the short-term sacrifice. She says, "I'm going to be qualified to do anything I want to do in the industry because I'll have technical credentials and managerial credentials. I'm not going to be limited, because I'll check every box that someone would want."
The International School of Management
If this sounds like the right path for you, then The International School of Management is positioned to help you meet your academic and career goals! Its International Business Administration (IMBA) program is designed for young working professionals with their drive and desire to become the next generation of business leaders.
The highly flexible IMBA is self-paced, allowing mid- and high-level executives to learn even more about the business world without putting their careers on hold. Courses run all year in Paris, there is an annual program in New York, and programs run on a rotating basis at the school's worldwide network of partner locations in established business hubs and emerging economic powerhouses -- São Paulo, Cape Town, New Delhi, and Shanghai.
And with even more online learning options, IMBA students can build their timetables around their professional commitments. This fully flexible approach allows learners to dedicate the amount of time they are able to to their studies, depending on the ever-changing demands of the modern executive life.
As well as learning all the 'hard' skills to succeed at the very highest levels, IMBA students also get an opportunity to become part of a global community of high-flying executives, giving you a chance to build up a network of contacts and relationships.
But don't take it from us -- take it from the students themselves! "The full-time MBA at ISM allowed me to study in a program that was truly international, often with more than ten different nationalities in a small group of students," says Johannes Schwarzer, an IMBA alumnus from Germany. "We received intense face-to-face classes and had the opportunity to work in international teams to develop new strategies or solve complex business tasks."
"I wanted to do my MBA at a school that would fit my international background and experiences. We received intense face-to-face classes and had the opportunity to work in international teams to develop new strategies or solve complex business tasks. With professors from all over the world who have in-depth theoretical and practical experiences in business and education, we gained hands-on experience that truly helps me in my day-to-day business."
And Mahdea Belleka from Liberia, another IMBA alumnus, says, "My first priority was to study an American curriculum for my MBA. Secondly, I wanted to study in France. I've always considered France to be such a melting pot, and Paris such an international center. So I was flipping through the Economist and I saw ISM's ad. I went to their website and I found they have so many different student profiles! That's really what convinced me: the international mix of the student body.
"I have to say I was surprised at my first seminar, because the maturity and the experience of the students really surpassed my expectations. And the professors are very diligent in terms of their grading and comments. Going over my own work, I see they were right. The school itself does everything to make your education go smoothly. The payment plans are flexible and the staff is accommodating. I see teamwork being reinforced in the classroom, and that's a great lesson for the workplace: that several people together can support each other to accomplish something greater than anyone could do alone."
So if you are looking for a school where you can learn and earn at the same time, check out The International School of Management (ISM) and begin the next exciting stage of your journey to the top of the business world!
Article written in association with The International School of Management.

After graduating with a degree in English literature and creative writing, Ashley worked as a bartender, insurance broker, and teacher. He became a full-time freelance writer in 2016. He lives and writes in Manchester, England.
Find a program in these categories