How Can MBAs Improve Diversity in Business?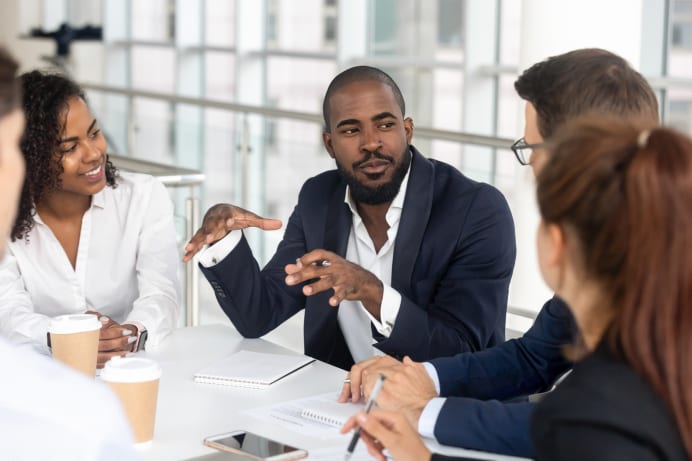 It wouldn't be in business schools' nature because these institutions, and their MBA students and graduates, aren't about problems. They're about solutions. For instance, the University of Oxford has recently partnered with the Robert Toigo Foundation to provide up to $10,000 in leadership development training and career coaching to support underrepresented professionals towards senior roles.
MBA schools and students are innovating strategies to promote diversity in the fields they feed. There is a lot of work to be done. But it is in the nature of MBA culture to say that business needs diversity solutions – and here's what we will do.
Why diversity in business matters
Diversity in business begins at business school. A diverse class and faculty feed into the system, as well as encouraging underrepresented applicants to attend.
But diversity has business-specific implications beyond equality, fairness, and representation. Business today is truly global, and the well-equipped business professional has the cultural sensitivity and insight to work with, and innovate for, a multicultural network. Some of these skills can be taught, but there is nothing like studying and working shoulder to shoulder with a diverse team of colleagues.
Studying in such an environment, you cannot fail to develop a global mindset. And even if you end up working within a primarily local market, you will bring a wealth of multicultural approaches and ideas to bear on the solutions you develop.
A global mindset equips you to work within an international marketplace. This could be from the standpoint of an international company based in your home country. Or, you could use it to pursue your career internationally, slotting into exciting roles around the world. You'll have the skills to get straight to work – but also the preparation to know how to learn more about your specific environment.
Of course, diversity is not only a global matter. In the US, for instance, minority groups will soon be in the majority when the white population dips below the 50% mark. You don't have to study with someone from halfway around the world to develop empathy for your immediate neighbor – but it helps.
And on the bottom line, diversity is profitable. A report from the Boston Consulting Group found companies who "reported above-average diversity on their management teams also reported innovation revenue that was 19 percentage points higher than that of companies with below-average leadership diversity."
How US universities are doing
But progress, even at business school, does not come without resistance. As economist and educator, Eban Goodstein points out. "Historically, MBA programs have been largely comprised of white males," writes Goodstein. "This sense that MBAs are hotbeds of male-dominated professional development continues today. As recently as 1959, Harvard Business School did not admit women to their MBA program."
Goodstein highlights the MBA In Sustainability at Bard as a case study in how schools can promote diversity. It begins with the understanding that diverse groups have diverse needs. Flexible business school programs run by adaptable professors create an environment where minorities feel welcome and meet the practical requirements they may have.
The Stanford Graduate School of Business has established an Action Plan for Racial Equity, acknowledging "sobering and powerful accounts of bias, including on our own campus, and the obstacles many in our community have overcome to succeed." Stanford sets out strategies to:
Increase representation
Build a culture of inclusion and belonging
Make positive change beyond the boundaries of the school itself
Hold themselves accountable.
Meanwhile, two alumni of The University of Michigan's Ross School of Business have established the $6m Blau Initiative for Diversity in Real Estate and Infrastructure. The initiative promises to spark student interest in business and investing, improve affordability to attract and recruit students to Ross, and offer learning experiences and internships in real estate and investing.
And the Foster School of Business at the University of Washington has created the Fostering Inclusion and Diversity fund to promote diversity, representation, and a sense of belonging. The University of Washington has also created the position of Dean's Impact Scholar to coordinate a diverse visitorship of business leaders to the school.
The best business schools are aware of the importance and benefits of diversity and promote it from the admissions stage. They have an abundance of top talent from which to choose and the luxury of being able to select a class that is balanced and multicultural. And they look beyond test scores to see which individuals are most likely to promote good practice and embody progressive, inclusive values. For example, Harvard Business School claims to select students who exemplify "Habit of Leadership; Analytical Aptitude and Appetite; and Engaged Community Citizenship."
The MBA Tour
The MBA Tour is an organization that connects institutions with MBA candidates. As a conduit into the business school world -- and, by extension, business -- the MBA Tour upholds the highest diversity and inclusion standards. The organization is part of the Graduate Management Admission Council™ (GMAC™), which recently restated their belief "in the free flow of talent, and that people should be able to study in the location of their choice at the program that is the best fit for their goals."
"As a community that values diversity," the statement says, "we are greatly saddened and disturbed to know that people of Asian heritage are reporting experiencing acts of discrimination and violence. The uptick in crimes, racist acts and bullying against individuals of Asian heritage, Asian Americans and Pacific Islanders cannot stand. One act of this nature is too many."
On June 2nd, The MBA Tour is hosting The MBA Tour Spotlight on Black and Latinx MBAs - an initiative to showcase resources available to underserved communities in graduate management education. The event will highlight program offerings, scholarships, and career opportunities that actively promote Diversity, Equity, and Inclusion initiatives to support this group.
At this highly interactive and exclusive event, you will have the opportunity to:
Learn how top business schools are making their programs and campuses more inclusive and how they are supporting Black and Latinx candidates through the application process and beyond.
Connect with current students, alumni, and business school staff and be reassured that there is a path for you.
Get insights into what initiatives business schools are taking to empower Black and Latinx candidates and how an MBA can fuel a more inclusive and equitable career advancement.
A diverse approach broadens student horizons. For example, Oluwaseun Adebara says she wouldn't have known about the possibilities open to her without participating in the tour. "The MBA Tour definitely gave me more confidence to apply," adds Adebara. "Before the tour, I knew I wanted to go [to business school], but now I'm convinced that I should go."
To find out more about the role you could play in improving diversity at business school – and in business – sign up for The MBA Tour Spotlight on Black and Latinx MBAs on June 2nd.
Article written in association with The MBA Tour.
Find your perfect program
Use our search to find and compare programs from universities all over the world!
The MBA Tour
Find a program in these categories