Four Reasons to do an EMBA in Germany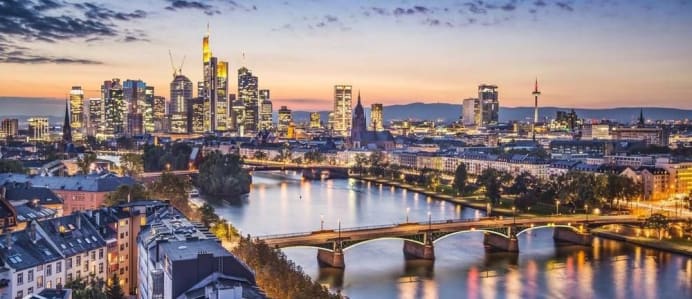 While MBA degrees cater primarily to young professionals seeking entry- or mid-level management jobs, what about executives with extensive work experience who are looking to level up in their own careers? Enter the EMBA. This alternate business degree option provides business professionals with the leadership and management training they need to level up -- all in a flexible environment conducive to their personal and professional commitments.
EMBAs offer many benefits, but deciding to pursue this sought-after degree is only the first step in your journey to career growth. Choosing the right program in the right place is also essential. One increasingly popular destination for students from all over the world? Germany. Here's a closer look at four reasons to do your EMBA in Germany.
1. Germany is at the center of Europe.
Germany is at the center of Europe -- geographically, economically and politically. As the largest economy in the EU and the fourth largest in the world, Germany boasts "great innovativeness and strong focus on exports to thank for its competitiveness and global networking," according to Facts About Germany.
In addition to "big name" business hubs like Munich, Hamburg, Berlin and Frankfurt, many other German business cities also host major industries. Take Leipzig, for example. Not only is it home to major engineering and construction industries, but many multinational companies also operate in Leipzig, including Amazon, Porsche, BMW, and DHL. According to the city's economic development plan for 2016, meanwhile, "Leipzig is continuing to grow – because it's continuing to attract all those people with business ventures in mind, who are seeking good educational opportunities, employment prospects and an outstanding arts scene, and who appreciate a city which is both urbane and open to the world."
Leipzig is also generating many future business leaders thanks to HHL Leipzig Graduate School of Management and its global EMBA program. Taught completely in English, this 21-month program focuses on business practices in Western Europe while also looking at the economy and culture of key emerging markets in order to prepare graduates with the business knowledge and cultural competencies they need to navigate today's complex business landscape.
Furthermore, a commitment to "learning by doing," is interwoven throughout the entire HHL EMBA experience, while a breadth and depth of global partnerships speak to the school's status.
2. Germany is drawing more attention from international businesses.
Germany cities claimed five spots on Business Insider's roundup of "The Top 20 Best European Cities for Businesses."
In the wake of Brexit, Germany is eliciting even greater interest from companies looking to relocate their headquarters, as well as from young entrepreneurs and MBA in Business students. Toby Coppel, the co-founder of venture capital firm Mosaic, recently told The Guardian, "The next entrepreneur who's 22 years old, graduating from a technical university in Germany may, instead of moving to London to do their Fintech startup, decide to go to Berlin instead. I think that's one of the biggest concerns I have about the trajectory of the London technical ecosystem."
Frankfurt is also garnering attention for its up-and-coming status. Proposed Keeping Up With the Germans: A History of Anglo-German Encounters author Philip Oltermann of the city's post-Brexit possibilities, "[Frankfurt] is in pole position to gain banking jobs from the UK." Echoed Peter Ferres, a former managing director for Credit Suisse, "Frankfurt was booming anyway, but Brexit has put extra wind in our sails."
All of which is what makes the Frankfurt School of Finance & Management's EMBA a wise choice for experienced business executives aiming to build their management experience and leadership skills in the heart of Germany's financial capital."
3. Career services are strong at German business schools.
German EMBA programs want you to succeed as much as you do. After all, their reputations hang in the balance.
Take top-ranked business education institution Mannheim Business School, for example. In addition to providing a comprehensive premiere business education taught by internationally recognized faculty, the Mannheim Business School EMBA also prioritizes helping graduates find jobs through individual coaching and support. It also has the placement numbers to show for it: All graduates from its lass class received at least one job offer while a whopping 70 percent had signed employment contracts prior to completing their studies.
4. German business schools prize the practical over the pedagogical.
While MBAs often focus primarily on imbuing students with basic business concepts and terminologies, Germany's EMBA programs offer more sophisticated curricula targeted to meet the needs of more advanced business professionals. This means coursework is less about classroom teaching and more about the real-world application of concepts in order to help participants hone their potential as leaders across less tangible measures, including soft skills, team management, and intercultural skills.
Today's upwardly-mobile business professionals have many choices when it comes to business education. For many, EMBAs from top German business schools offer an invaluable inside edge to reaching their career goals in today's intensely competitive global marketplace.

Joanna worked in higher education administration for many years at a leading research institution before becoming a full-time freelance writer. She lives in the beautiful White Mountains region of New Hampshire with her family.
Find a program in these categories