Boom times
Ghana's story of economic and social progress is nothing short of remarkable. Less than 30 years ago, the country stood on the brink of economic and social collapse due to years of widespread famine and political corruption. Today, Ghana is one of the fastest-growing economies in the world, with experts from the International Monetary Fund (IMF) predicting a sustained period of growth over the next few years. And after four successful free elections, as well as new laws to promote economic freedoms, investors from all over the world are pouring big money into the country.
Export economy
A healthy export economy is essential for economic development. More exports require increased domestic production, which then creates more jobs. More jobs lead to higher amounts of disposable income, stimulating the consumer and service economies.
According to economic models, the value of Ghana's exports will hit around $1.18 billion in 2021, increasing to $1.25 billion by 2022. That will mostly come from gold, cocoa, and timber products, although Ghana also exports large amounts of tuna, aluminum, magnesium ore, and diamonds. And in 2019, the Ghana National Petroleum Corporation (GNPC) discovered 1.5 billon barrels worth of oil and around 700 billion cubic feet of gas in the West Cape area. Ghana's energy industry is still very much in its infancy, but these latest finds are another sign that the economic boom times are here to stay.
The ripple effect
It only takes one country to stimulate an entire economic region. In Europe, it was British industrialization, while post-World War II changes to Japan's economic and social policies transformed the East. This means Ghana's recent progress could cause a ripple effect across sub-Saharan Africa, which is home to some of the poorest countries in the world, including Burkina Faso, Guinea, and Togo. If so, millions of people could be lifted out of extreme poverty over the coming decades. And those who study and set up businesses in Ghana could play a big role in making this happen, by creating jobs and prosperity.
The keys to Ghana's success
Ghana has several geographic advantages over many of the poorer African countries. Firstly, it sits right on the coast and has many ports for exporting and importing goods. It has a population of around 30 million, which is big enough to create a robust domestic market but largely resistant to the problems associated with overpopulation, such as providing enough food, jobs, and services. Moreover, almost half of the population is of Akan ethnic descent. This relatively large sense of ethnic homogeneity has prevented Ghana from sliding into the kind of inter-ethnic conflict that has affected some African nations.
Ghana has embraced a set of cultural policies that promote individual freedoms, both politically and economically. Quality of life is rising across the country, making it an increasingly appealing destination for international students. Ghana also scores high on key indicators, including governance quality, freedom, democracy, ease of doing business, while recent governments have put an end to corruption and malpractice. Ghana also has a lower child mortality rate than its neighbors. It also invests heavily in early years education and literacy, preparing future generations to build an even brighter and more prosperous future.
Training future African business leaders
A thriving economy needs a steady supply of talented and well-educated business leaders and entrepreneurs. That's why Morgan State University (MSU) has established a campus in Ghana, where students can study for a Master of Business Administration, a Master of Science in Global Multimedia Journalism and Communications, or a Bachelor of Science in Entrepreneurship. There are also plans to introduce additional degrees in future industries, such as machine learning, coding, cloud computing, and AI.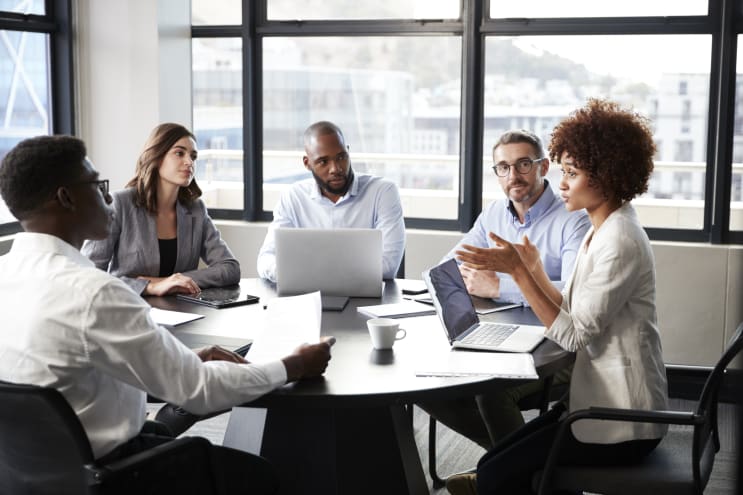 Having an American University set up a campus in the country is a real coup for Ghana, as only a handful currently administer courses in African countries. It's also a statement of intent by the Ghanaian government and a ringing endorsement of the untapped potential of the Ghanian people and the African continent. Lesia Crumpton-Young, the Senior Vice-President for Academic Affairs at Morgan State University, says, "Morgan State University will deliver highly innovative M.S. and B.S. programs that fully prepare individuals to be global leaders. These program graduates will serve as catalysts for economic growth and development throughout the African continent and beyond."
Gender equality
On February 1st this year, Kadijah Amoah became the first Ghanian woman to head a multinational oil company. Before smashing through the glass ceiling of an industry dominated by male CEOs, she worked as a lawyer and holds degrees in law and political science, as well as a postgraduate degree in international business from the University of Ghana. And she did all this while raising two children and mentoring young female students.
At the moment, Kadijah's story is still the exception in Ghana, especially among women from rural communities with limited access to educational and employment opportunities. But women are steadily gaining more representation in government offices. The current chief justice is Sophia Akuffo, the second woman to hold the position. And with many NGOs and charities pushing for increased equality of opportunity for Ghanaian women, there's a real chance these trailblazing women will inspire millions of young girls to follow and achieve their dreams.
Powering business
The Ghana Union Movement (GUM) recently launched its manifesto for the upcoming 2020 presidential and parliamentary elections. Dubbed 'The New Ghana' manifesto, it promises a new wave of industrialization, technical education, agriculture, and job creation, as well as a commitment to encouraging people to start small and medium businesses. And it's more than just election talk. Specific policies would include free use of the port and free electricity for native business owners. Presidential contender Christian Kwabena Andrews said, "We have good plans and good policies for a better future, and it is a plan to make Ghana prosper and be great again."
Stay ahead of the curve
The best business people and entrepreneurs stay ahead of the curve, so if you are thinking about studying in Ghana, it's worth noting what kind of businesses are on the rise. Anyone looking for untapped markets may be wise to consider consumer and service industries, such as bars, restaurants, and beauty salons. Luxury goods such as jewelry, cosmetics, tech accessories, and high-end alcohol will also become increasingly sought after as Ghanaians find themselves with more disposable income to enjoy. Also, the demand for new homes looks set to rise, so you might want to think about investing in the future property market. Alternatively, you could create a company that provides construction material or labor.
Ghana is one of Africa's most recent success stories. After decades of struggle, the country known as the golden child of the continent is now looking forward to a long period of growth and increasing prosperity. So if you want to be part of the rebirth of a nation, you know exactly where to go...