Ultimately, the decision of what's best for you comes down to your unique wants and needs. If you're trying to determine which path to choose, understanding the benefits of each can help you hone in on what matters. Here's a closer look at the differences between online and on-campus study.
The benefits of an online MBA
Online MBAs have grown in popularity in recent years for many reasons. At the top of the list is flexibility and convenience. While there may be some synchronous coursework, students have significant freedom when it comes to their schedules. This freedom makes an online MBA an excellent choice for people with other commitments, like work or family. And you won't need to relocate.
Other benefits of studying online include:
● Accessibility. Access online materials (including lectures) wherever you are. Choose a study environment that works for you, and don't miss a thing if you have to travel or are required to isolate at home.
● Diversity. Online degrees welcome students from all over the world who are working in their native business environment. This is both inspiring and beneficial to your network.
● Technology. Juggling so much information can be a lot easier when it is digitized. An online syllabus provides instant, easy access to reading lists, textbooks, and communication tools, as well as streamlined lectures.
● Access to campus resources. Just because you're online, doesn't mean you can't make use of the university's services. Accessing campus resources such as admin or technical support can be quick and flexible through an online study portal.
The option to study virtually is especially compelling during the pandemic. Lots of people are using this opportunity to learn, but it can be a big ask to commit to a campus program when even the next few weeks are unpredictable:
"Perhaps you go back to work if you were furloughed, or something else changes, and there are different demands on your time," says online MBA program director W. Brooke Elliott. "Perhaps your kids don't go back to school in the fall because of COVID-19. You have the flexibility to take fewer courses or skip a term. You are not forced down the same path as everyone else in a residential program that requires a two-year commitment. You can take a break if things get busy and get right back on track."
Indeed, as the business world goes virtual, it makes sense to develop your skills in an online environment. "With the global workforce becoming more distant and managers working across borders, effectively co-operating from a distance is critical," notes Elizabeth Mitros, a business consultant and MBA student.
However, to succeed in an online MBA, certain skills are required, including self-motivation, discipline, and commitment. You need to create and stick to your own schedule, and can't rely on professors and colleagues to prompt you. An online degree provides flexibility, which is helpful if you are also working or running a business – but you have to be disciplined. Strong writing skills are also advantageous since much of your communication with professors and classmates will be via email.
The benefits of an on-campus MBA
There's no denying online MBAs are appealing for a variety of reasons. But this option is not a perfect fit for everyone. In fact, if you are looking for a more traditional academic experience, then an on-campus MBA may suit you better.
Other reasons to consider an on-campus MBA include:
● A structured learning environment. When your attendance is required at a given time and place, you are more likely to honor your commitment. Homework and projects may also have stricter deadlines, preventing you from procrastinating.
● Face-to-face interaction. Some people learn better and communicate better when they're in a room with their professor or classmates. If you're in it for the group dynamic, the campus is the perfect place to cultivate that.
● Local networking. Although many campus MBAs welcome students from around the world just as online courses do, meeting with them in a local environment offers different advantages and increases chance encounters.
● Direct access to on-campus resources, facilities, and activities. These include physical libraries, guest talks with meet-and-greets, and extracurricular resources such as athletic facilities, student union premises, and media equipment.
Like many technological developments, the success of online learning doesn't mean the death of campus learning; instead, it means both types can work to their strengths and develop complementary facets to give students what they need, how they need it.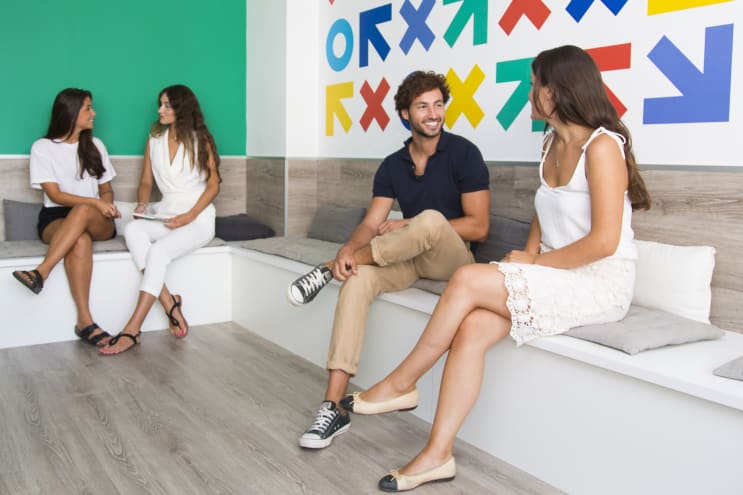 A "best of both worlds" option
Established in Switzerland in 1973, EU Business School ('EU') is an international business school with campuses in Barcelona, Geneva, Montreux, and Munich. EU also has an online campus. The school's dynamic online learning platform brings together students from around the world and provides flexibility, with on-campus weeks enabling online students to meet and connect with one another at key moments in the course. There are three on-campus weeks for online students throughout the year, and attendance at one is mandatory. For students of their on-campus programs, EU Business School has implemented extensive coronavirus prevention measures to ensure that students can continue to enjoy excellent learning, despite the disruption caused by the pandemic. Their innovative on-campus hybrid learning methodology combines the best of online and in-person teaching with the flexibility to ensure continuity is maintained throughout this period of uncertainty.
EU's online MBA is ranked 11th globally by QS Top MBA (2020) and number one in CEO Magazine's online global rankings for six years running. The program and its platform have been tweaked to maximize flexibility and convenience for online students. A flexible timetable allows students to fit their academic commitments with their other commitments, with obvious benefits for work-life balance and wellbeing.
The school has designed its virtual classrooms to maximize interaction and collaboration between online peers, creating a healthy worldwide network of virtual learners. It is not just the technology but state-of-the-art pedagogic methodology that empowers students to bring out the best in each other and potentialize future opportunities.
EU's brick-and-mortar campuses in cosmopolitan cities across Europe provide a diverse community rich with networking opportunities. Their campuses offer the best of the traditional student experience while maintaining cutting-edge facilities and progressive values. EU's on-campus education is ranked number 42 in the QS European MBA Rankings and figures in the CEO Magazine's top tier for global and European MBA programs.
The Barcelona campus is at the heart of the city, close to the endless golden beaches and surrounded by celebrated architecture. Barcelona is rightly recognized as a leading smart city and is a hub for top international tech talent and startups.
Meanwhile, the Munich campus is in Germany's economic capital, an international student hub which has been ranked fourth globally for quality of living.
The EU Montreux campus occupies the Villa Ormond, an 18th-century mansion surrounded by gardens on the banks of Lake Geneva -- yet conveniently within the city. As a getaway spot for Europe's top entrepreneurs, it's a great place to network. The Geneva campus is a brand-new gem in Geneva's banking district. The faculty prioritizes student well-being, and there are excellent rail links to Switzerland's exquisite and mountainous landscape.
Today's MBA candidates have more options than ever before. One especially great option worth considering for both online and on-campus learning is EU Business School.
Article written in association with EU Business School.