Tongji-Mannheim Dual-degree Executive MBA
Home ›
EMBA ›
Tongji-Mannheim Dual-degree Executive MBA
Program Description
TONGJI-MANNHEIM Dual Degree Executive MBA Program
Overview
The TONGJI-MANNHEIM Dual Degree Executive MBA (EMBA) Program with its strong Sino-German focus responds to the growing demand for managers who can successfully navigate the challenges of both cultures. It will provide executives from around the world with the skills and tools they need for positions in international top management.
The Universities of both Mannheim and Tongji are renowned for their high academic quality, cutting-edge research, and teaching excellence. They are two partners with significant experience in executive education. Moreover, both contain excellent corporate and alumni networks and demonstrate a high Sino-German affinity. The TONGJI-MANNHEIM Executive MBA (EMBA) makes the best use of this valuable collaboration to provide participants with the very best in EMBA education.
Features
World-Class Faculty
A Highly Flexible Curriculum
Corporation with Global Leading Companies
Effective Peer-To-Peer Learning Through Highly Diverse Classes
Emphasis on Team/Project Work and Soft Skill Training
Class Profile
The class profile comprises the core value of the TONGJI-MANNHEIM EMBA Program with a profile showing the diversity of work experience, geographical background and a wide range of previous educational experiences. While bringing a multiplicity of cultures and experiences to the program, our participants share a strong Sino-German affinity. Small class sizes foster active group discussions that reflect the diversity of perspectives.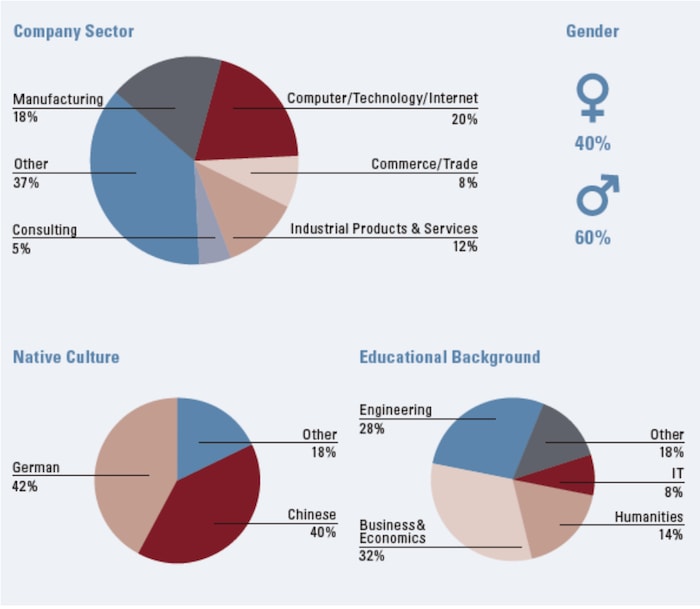 Average age: 36 yrs
Average work experience: 12 yrs
40% female participants
More than 60% international participants
Excellence in Ranking
Financial Times
#11 worldwide in the Financial Times Executive Education ranking for Customized Programs (2016)
#4 in the Financial Times Global MBA Ranking (2017) in the category 'employed at three months'
#45 in the Global Executive MBA Ranking (2016)
The Economist
#26 in the Global Executive MBA Ranking (2015)
QS Global Joint Executive MBA Ranking
TONGJI-MANNHEIM Executive MBA #14 worldwide (2017)
Curriculum
A Unique Sino-German Learning Experience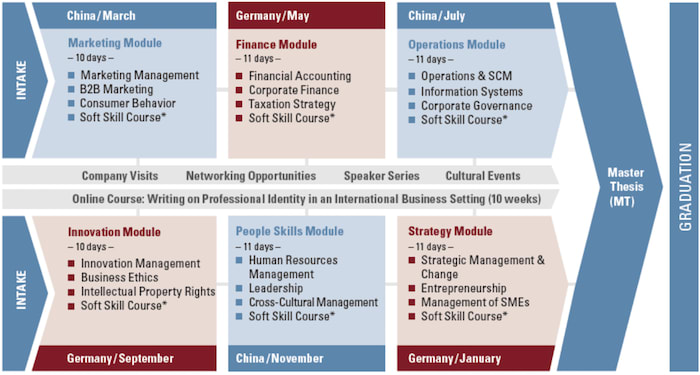 *Subject to change
Flexibility for Executive Agendas
In today's fast-paced business environment, executives need to be extremely flexible. For that reason, the TONGJI- MANNHEIM EMBA Program offers you three different study options. This flexible concept allows participants and companies to adapt the program to their individual career management, while at the same time enabling participants to conveniently combine their studies with work and family life.
Option 1: Take the Fast Track to Your EMBA!
Participants can complete six self-contained modules plus the Master Thesis in one and a half years and receive their dual degrees.
Option 2: An EMBA in a Timeframe of Your Choice!
Participants can receive credit for modules and courses, followed by the completion of the Master Thesis in a maximum timeframe of three and a half years to obtain their MBA degree. You can start the EMBA program in March or September each year.
Option 3: Choose What Suits You Best!
Participants can attend individual modules or courses and receive a certificate. If you change your mind, the certificate can be the first step towards an EMBA.
Admissions
Requirements
Bachelor degree or above
8 years working experience (at last four years of leadership experience)
Fluent in English (written and oral skills) proved by TOEFL or interview
Application Procedure
The admissions process involves 3 steps:
Step 1. Application
Submit the TONGJI-MANNHEIM EMBA Application Form with the required documents through Tongji University or Mannheim Business School
Step 2. Interview
Upon receiving your application, it will be reviewed by the pre-selection teams. Shortlisted candidates will be invited for the interview. A non-refundable application fee of Euro € 150 is payable by all applicants.
Step 3. Final Review
The Admissions Committee will make a decision regarding admission by reviewing the application in full. The decision will be confirmed by both institutions. Applicants will be informed of the final decision by e-mail.
*Entry Requirement for PRC Nationals
PRC nationals who wish to enroll in an Executive MBA granted by a Chinese Institution must register for a pre-entry exam. The actual entrance exam will be conducted in December. For further details, please visit our website or contact us.
Contact Us
School of Economics & Management, Tongji University
Add: Rm403, Block C. Sino-French Center, 1239, Siping Rd, Shanghai, China 200092
Last updated Oct 2019
About the School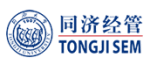 Tongji University began programs in Economics and Management in 1956, and was one of the earliest universities in China to launch such programs. The School of Economic Management was founded in 1984, ... Read More
Tongji University began programs in Economics and Management in 1956, and was one of the earliest universities in China to launch such programs. The School of Economic Management was founded in 1984, and merged with the Business School to become the School of Economics and Management (hereinafter referred to as SEM) in 1998. At present, SEM covers the main disciplines of Economics and Management through the Department of Management Science and Engineering, the Department of Construction Management and Real Estate, the Department of Business Administration, the Department of Accounting, the Department of Public Administration, and the Department of Economics and Finance. Corresponding research institutes and laboratories have also been established in second-level disciplines.
Read less