Tongji-Manchester Dual Degree MBA Program
Home ›
Tongji-Manchester Dual Degree MBA Program
Program Description
Tongji-Manchester Dual Degree MBA Program
Programme Overview
Tongji University and the University of Manchester are strategic partners. The Tongji-Manchester MBA Dual-Degree Programme was launched in 2009 and it combines the top-level MBA courses of Manchester Business School and the specialized courses of Tongji University in project management.
Upon successful completion of the 2.5-year part-time programme, the students will be awarded double MBA degrees, respectively from Tongji University and the University of Manchester and post-graduate certificate from Tongji University.
Partner
Founded in 1824, the University of Manchester is the largest university in the UK. With the highest score of its research activities in the UK government research assessment exercise (RAE) and a proud history of academic and research achievements of 25 Nobel Prize winners, the University of Manchester ranks among the best not only in Europe but also in the world.
After 50 years of development, Manchester Business School (MBS) has possessed 6 overseas centres, which makes it a reputable and top business school all around the world. The original Manchester Method of MBS enjoys a reputation as high as the Case-based Teaching of Harvard Business School in the field of management science.
The 2017 Financial Times survey ranks its MBA No.3 in the UK, top 10 in Europe and top 30 worldwide. According to the FT, MBA students can expect a 108% salary increase three years after their graduation.
Programme Features
Small class size (30-35 students each class), with courses fully delivered in English.
TOP Global MBA courses +Specialized Courses in Project Management. Courses are also delivered in the forms of business simulation, company project and mobile classes etc.
Top Faculty and Experts from Both Universities: Faculty consists of prestigious professors and experts from both schools with top academic standard and rich experience. The emphasis is put on the development of soft skills under a global context.
Flexible Overseas Study Trips: Students are encouraged to enrich their experiences by participating in workshops at one of the international centres (Manchester, Hong Kong, Singapore, Dubai and Brazil). Applications can be made according to their schedules without any extra charge of tuition fee, and the accommodation subsidy will be offered by the MBS.
Excellent Career Development Service: We have a professional team to provide plentiful resources in both schools for career development (online and offline), such as one-to-one coaching and advice, workshops and global on-line seminars and monthly webinars.
Rich Alumni Resources: Every student can have access to the alumni resources and actives of both partner universities.
Curriculum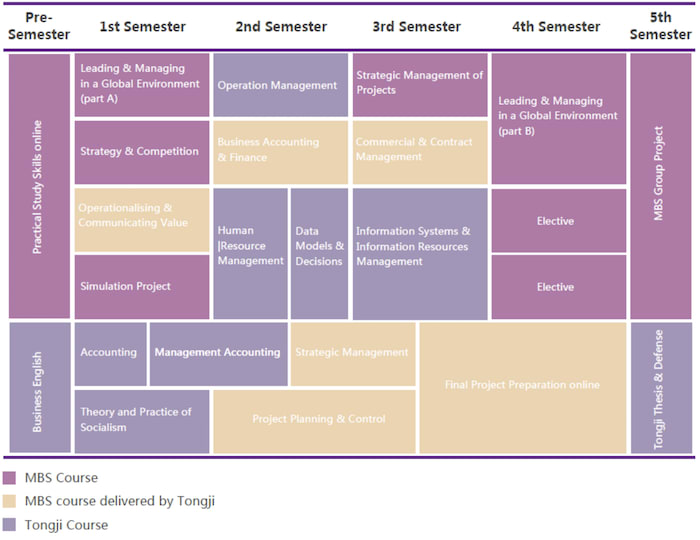 Voice of Our Alumni
CHEN Jiao: Award for Outstanding Graduate
Tongji-Manchester Dual Degree MBA program is the best commitment we have made to our professional lives. It has provided networks with equally ambitious professionals. The practical approach ensured a thorough grounding in business theory, and the opportunity to test the theories in our workplace. I would get frightened when workshops or exams were getting close and I never gained so much knowledge so quickly in my life. But now, at the end of this journey, I have discovered that all these fears have gone. I have a stronger will, and I am more disciplined than ever expected. I believe that is what is called "personal growth", the painful process of breaking out of one's shell and becoming better.
Even though we did not take a break from society, we are now better prepared to face it. We believe we are free to succeed but it takes hardship and a dream to achieve success. Education is a lifelong journey and we are ready to challenge convention, offer new ideas, and relentlessly strive for improvement. And we will always remember where we came from, that is Tongji University---the place that helped to shape us.
Application Process
Contact Us
MBA Admissions Office
School of Economics and Management, Tongji University
7/F, Tongji Building A, Siping Road 1500, Shanghai 200092
Last updated Oct 2019
About the School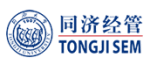 Tongji University began programs in Economics and Management in 1956, and was one of the earliest universities in China to launch such programs. The School of Economic Management was founded in 1984, ... Read More
Tongji University began programs in Economics and Management in 1956, and was one of the earliest universities in China to launch such programs. The School of Economic Management was founded in 1984, and merged with the Business School to become the School of Economics and Management (hereinafter referred to as SEM) in 1998. At present, SEM covers the main disciplines of Economics and Management through the Department of Management Science and Engineering, the Department of Construction Management and Real Estate, the Department of Business Administration, the Department of Accounting, the Department of Public Administration, and the Department of Economics and Finance. Corresponding research institutes and laboratories have also been established in second-level disciplines.
Read less