The Johnson Cornell Tech MBA
Home ›
The Johnson Cornell Tech MBA
Program Description
Johnson Cornell Tech MBA
Technology is transforming every aspect of business — from marketing and customer relations to product development and supply chain — fueling a competitive environment that rewards the most innovative and entrepreneurial players. The Johnson-Cornell Tech MBA provides students the leadership, management and teamwork skills for dynamic tech companies and product teams.
A Complete Johnson MBA with a Technology Focus
The Johnson-Cornell Tech MBA is conferred by the Samuel Curtis Johnson Graduate School of Management at Cornell University, one of the top 15 business schools in the country, according to U.S. News & World Report. In addition to offering you the same foundational curriculum as Johnson's other MBA programs, the Johnson Cornell Tech MBA provides:
Unmatched Speed to Market: The Tech MBA is based on an immersive educational model that allows you to complete the program in just one year, so you spend less time out of the workforce and start earning the rewards of your study much earlier than you would with a traditional MBA.
Unmatched Experience: The Tech MBA is structured around three experiential pillars: an immersive first semester at Cornell's Ithaca campus where you'll take your core business courses with other Johnson MBA students; a Product Studio project in which you and a cross-functional team of classmates that includes law, engineering and computer science students will develop a technology-driven solution to a strategic business need of a real client; a Startup Studio project in which you and your team will develop a new business idea from concept to launch.
Unmatched Confidence and Credibility: You'll earn your degree in the heart of New York City's vibrant tech startup community, working with faculty members whose research and ideas--as well as their own entrepreneurial activity--are shaping the evolution of technology and business. You'll also rub shoulders with some of the nation's most innovative business leaders so you graduate with the experience, the network and the name recognition you need to compete and succeed in any market.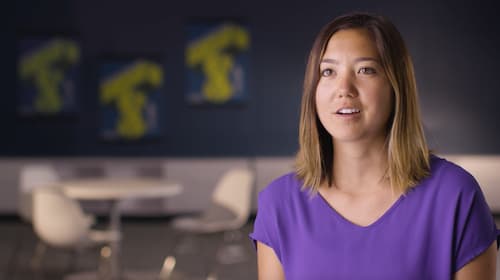 Who Should Apply?
You should apply to the Johnson Cornell Tech MBA if you have a passion for technology and an entrepreneurial spirit. Strong digital experience is required, with a background in science and engineering preferred. A digital background can include activities such as digital marketing, design, software development, prototyping and other related activities. Overall, the Admissions Committee expects each candidate to be a critical thinker, demonstrated leader, strong communicator and problem solver. The Admissions Committee renders its decisions based on previous academic success, professional achievements, character and professional promise.
A One-Year MBA and Two-Year MBA are also offered in Ithaca by the Samuel Curtis Johnson Graduate School of Management at Cornell University for professionals seeking leadership development and management expertise, rather than Cornell Tech's experiential immersion in technology and entrepreneurship.
Topics Covered
Data Science
Digital Marketing
Business Models
Startup Finance
Tech Strategy
Negotiations
FEATURED COURSE
iTrek
Credits 1.50
The Tech MBA program is notable for students' proactive and practical learning experiences through projects and interactions with start-ups, large tech companies, and companies that implement disruptive technologies. The trek to Israel falls within this realm. The trek's main objective is to engage students in an active and meaningful way with firms in the digital economy; to understand the challenges they face; to interact and experience working with people and startups from a different culture, and to gain insight that will help students in their professional life. Leading up to the trek, students work in teams on a consulting project with an Israeli startup to help solve some of the challenges the firm faces. During the trek itself, students visit the companies and present their solution to the startup, others in the iTrek class, and outside guests such VCs, angel investors, and bankers.
Careers in the Field
Product Manager
Product Marketing Manager
Project Manager
Startup Founder
Curriculum
The Johnson Cornell Tech MBA begins on the Cornell University campus in Ithaca, New York with a ten-week intensive program of core business and leadership education.
On your 11th week, you will move to the New York City campus for two semesters of rigorous, interdisciplinary, innovative entrepreneurial courses. In the January between those two semesters, you and your classmates will travel to Israel to network and present business solutions to local startups.
In an educational innovation unique to Cornell Tech, you'll also participate in an immersive Studio experience, in which you'll develop your team-building and leadership skills while developing a new product idea in response to the strategic needs of a real organization and create your own startup.
What Your Schedule Might Look Like
In the summer, you'll lay the foundation for your Tech MBA on the Cornell University campus in Ithaca with an intensive 10-week program of core business and leadership courses.
In the fall semester, you'll move to Cornell Tech's NYC campus. You'll typically spend your mornings on courses related to technical entrepreneurship and your afternoons working on team-based projects in Product Studio and Startup Ideas and learn firsthand from industry leaders in Conversations in the Studio.
In early January you will travel to Israel on a networking and consult trip. You'll spend the rest of the spring back on Cornell Tech's NYC campus with even more morning courses on the creation and management of startups and team-based projects in Startup Studio and Product Management in the afternoons.
Application Timeline
The 2018-2019 application will be available on Tuesday, August 1, 2017. Application deadlines are as follows:
Round 1 - Thursday, October 5, 2017 at 11:59 pm ET
Round 2 - Wednesday, November 15, 2017 at 11:59 pm ET
Round 3 - Wednesday, January 10, 2018 at 11:59 pm ET*
Round 4 - Thursday, February 15, 2018 at 11:59 pm ET
Applications submitted after February 15, 2018 will be reviewed on a rolling basis.
Scholarship Decision: All admitted candidates will be considered for merit-based scholarships based on the strength of your application for admission.
*Scholarship: To be considered for a merit-based scholarship, applicants are strongly encouraged to apply by the January 10th Round 3 application deadline.
Application Requirements
To be considered, all applicants must provide the following in their online application:
Résumé
You must submit a current résumé along with your application. With the use of LinkedIn, you will have the option to auto-populate the employment and education information listed within your online professional profile. Any information that is auto-populated from LinkedIn can be edited.
Please note all provided information must be the most current and relevant information regarding education and all post–bachelor's degree employment.
Creativity
Here at Cornell Tech, you will be part of an environment where creativity, technical depth and leadership share seats at the table. We value expressions of who you are and what you add to this formula. Please provide an example of your creativity, style, and technical depth by sending us a link to your work or providing a written sample. Your submission should highlight your personal experiences that demonstrate your creativity, leadership and technical abilities.
In particular, feel free to elaborate on projects you have completed, their creative and technical aspects; any entrepreneurial or leadership experiences; your professional career goals; the benefits of being part of the tech ecosystem in New York City; and why the Johnson Cornell Tech MBA is for you. You may simply upload a Word or PDF document with an essay, or you may provide a link to any sort of media online. This may include videos, blogs or any other multimedia expression you desire.
References
You should select two to three references who are familiar with your background and have an understanding of how you have positioned yourself to test your skills. Consider asking a current or former manager, supervisor or client.
Test Scores
Either the GRE or the GMAT is required for admission to the Johnson Cornell Tech MBA. All official test scores should be reported directly to the Johnson Graduate School of Management.
Transcripts
Transcripts from each previously attended college or university, which must be listed on the application and your résumé, are required. If admitted, you will be required to submit an official transcript directly to the Johnson School prior to matriculation in May.
Application Fee
You must submit a nonrefundable application fee of $200 to complete your application.
Interview Process
The interview process is two rounds and by invitation only. The first round is a 20-minute phone interview. Shortly after that, you will be notified if you have been selected for an on-campus second round interview. We strongly encourage and prefer that you come to campus if invited to an interview the second round. Additional information regarding when we offer the second round interviews and how to prepare will be communicated in the invitation.
International Applicants
Transcripts
Provided transcripts must be translated into English before submission. However, if admitted, you will be required to submit an official transcript in the original language to the Johnson Graduate School of Management.
Academic Requirements
As an international applicant, you're expected to have received a baccalaureate degree from a college or university of recognized standing that is equivalent to a four-year American baccalaureate degree.
TOEFL and IELTS
All candidates must also demonstrate proficiency in the English language. An English language exam score report is required if your native language is not English. The TOEFL is the preferred exam, but we will accept the IELTS or the Person Test of English.
The TOEFL requirement may be waived if you meet at least one of these criteria:
You are a native citizen of the United States, Australia, Canada (except Quebec), Ireland, New Zealand or the United Kingdom.
You studied in full-time status for at least two academic years within the last five years in the United States, Australia, Ireland, New Zealand or the United Kingdom, or with English language instruction in Canada or South Africa. You must submit a transcript that shows you have attended college in one of these approved locations.
Last updated Nov 2018
About the School

Cornell Tech is a revolutionary model for graduate education that fuses technology with business and creative thinking. Cornell Tech brings together like-minded faculty, business leaders, tech entrepr ... Read More
Cornell Tech is a revolutionary model for graduate education that fuses technology with business and creative thinking. Cornell Tech brings together like-minded faculty, business leaders, tech entrepreneurs and students in a catalytic environment to produce visionary ideas grounded in significant needs that will reinvent the way we live.
Read less