Program Description
Solvay Executive MBA is a unique program in the heart of Europe, created by Solvay Brussels School of Economics and Management to accompany executives in their career evolution and growth. Solvay Executive MBA includes cutting-edge courses, world-class professors, inspiring guest speakers, multicultural diversity in the classroom, personal development and individual coaching. Through a strong personal approach, we help our participants transform their own lives and careers in order to make a difference in society at large, working together in the name of "being in business to make a better world.
We offer an 18-month Programme, compatible with a personal and professional life balance, thanks to classes taking place on a long week-end every 3 weeks in Brussels.
Who is it for
Solvay Executive MBA is directed towards dynamic managers and executives who are looking to advance in their career as well as to improve their knowledge of the latest management tools.

It is also tailored for professionals who want to advance their career into a management position or to change their current field or career path.
6 reasons to take Solvay Executive MBA
CAREER ADVANCEMENT FOCUS
Solvay Executive MBA will make you a world-class leader and give you a competitive advantage in the international employment market. Management skills are no longer enough. You need to turn your talent, achievements, character, and potential into a valuable position that puts you in the forefront. With the Career Advancement Programme, you will receive professional coaching and methods to meet the market with clear goals, superior skills and the confidence to win the challenging and rewarding opportunity you seek.
HOLISTIC 360° Approach
Solvay Executive MBA transforms theory into practice. Today's business world demands knowledge and skill, strategic vision and detailed expertise, proactive individual initiative, and ground-breaking teamwork. From the first day you integrate knowledge gained from subjects and apply your insights to real business situations, gaining hard and soft skills as well as a resourcefulness that will help you adapt to any new situation. You will be ready to implement your knowledge at work from day one. The real-world challenge culminates with a real-world project in Entrepreneurship Lab, Strategy Lab or Advisory Lab.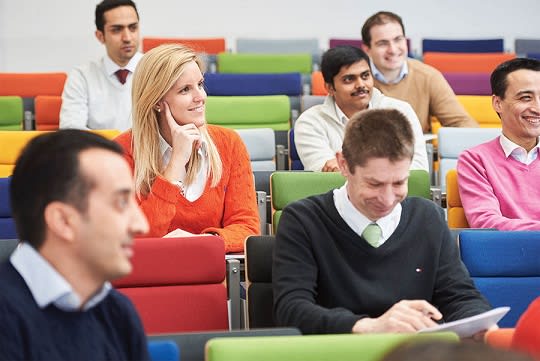 INTERNATIONAL LEARNING ENVIRONMENT
Solvay Executive MBA provides a stimulating multicultural experience in English. We attract participants from over 30 countries, with diverse professional backgrounds, including science and technology, finance, commerce, law, marketing, public affairs, consulting and arts. Our commitment to diversity ensures the cross-fertilization of ideas and methods, creating innovation and synergies, and preparing you for the complex challenges of the global changes. GLOBAL ALUMNI NETWORKS In today's mobile economy a strong international network makes the critical difference in your career, your results, and your performance. Our active and engaged alumni association adds up to more than 20.000 active members, based in more than 100 countries. It provides you with lifelong contacts for business opportunities, solutions and mentoring, wherever you are, wherever you want to go. OUTSTANDING INTERNATIONAL FACULTY A dynamic and highly qualified faculty from around the world is a leading force in the success of Solvay Executive MBA. Throughout the programme, you benefit from state-of-the-art business education customized for you by renowned international managers, academics, practitioners and experts. You are sure to be exposed to the cutting edge of business practices, to knowledge from all corners of the globe, and to diverse points of view. BRUSSELS, The Heart of Europe With Solvay Executive MBA classroom you can step into the fast-growing social and economic enterprise that is Europe. Take the opportunity to learn how to master European business, and take your knowledge into the world. Solvay Ponts is your gateway into and out of Europe, with partner campuses in Vietnam, USA and Mexico, to link with the most powerful business networks internationally. Admission Requirements Applicants are required:
To have significant and valuable work experience;
Outstanding academic record - Proficiency in business English;
A desire to work in an international environment and openness for diversity;
Professional ambition;
Leadership skills and diligence, coupled with the ability to work under stress.
We aim to create a community of participants that would contribute to the diversity and uniqueness of the MBA programme. Therefore, the Admission Committee will meticulously examine the biographical and academic background information, GMAT score, achievements, awards and honours, employment history, and letters of recommendation.
Last updated Feb 2019
About the School

Created in 1903 by Ernest Solvay, the famous Belgian chemical industrial of his times, Solvay Brussels School is the faculty of Economics and Management of the Université libre de Bruxelles, one of th ... Read More
Created in 1903 by Ernest Solvay, the famous Belgian chemical industrial of his times, Solvay Brussels School is the faculty of Economics and Management of the Université libre de Bruxelles, one of the largest universities in Belgium.
Read less