Program Description
Program Overview - HKU Part-time MBA
The part-time MBA at HKU is designed to help you comprehend, come to grips with, manage and capitalise on the region's dynamic and fast-evolving business environment. As the Asian economy continues to grow, it is vital that business leaders from the region are exposed to cutting-edge business education which is tailor-made for achieving success in the dynamic Asian arena.

The HKU MBA adopts an experiential-learning approach, with a strong focus on China and Asia. You will learn how to apply business principles and models to real-world business problems in China and the region. All the courses are taught using context-rich business scenarios and cases based on actual experiences at well-known Asian and global companies.

Five essential themes critical to the success of multinational and regional firms in Asia today are featured in our courses:
1. China and the Global Economy
2. Entrepreneurship and Innovation
3. Finance
4. Services and Marketing Management
5. Technology and Operations Management.

These five themes identify the various challenges faced by firms in Asia as they build their sustainable corporate advantage. We believe that by acquiring up-to-date knowledge, analytical tools and management skills related to these themes, MBA students would be well prepared for their careers as senior executives in Asia.
Program Modes
Weekday and Weekend Modes
HKU MBA is now offered both in weekday and weekend modes. Students may choose the most suitable study mode depending upon their work commitments. Upon approval, a certain degree of flexibility between weekday and weekend mode courses may be allowed. Weekday or weekend mode applies to core courses only, while electives are offered from a common pool which consists of weekday and weekend mode courses.
Weekday Mode
Students study at the heart of the city in our Town Centre located in Admiralty. Classes meet twice a week on weekday evenings. Evening classes will be held from 6:30pm to 9:45pm.
Weekend Mode
Classes will be held on Saturdays at our Town Centre located in Admiralty, HKU main campus in Pokfulam or our new centre located at Cyberport. As classes will be conducted only once a week on Saturday, students will be expected to dedicate the entire day from 10am to 7pm.
Programme Highlights
A minimum of two years and a maximum of four years for completion
Asia-focus, case based learning materials and methodology
Renowned professors with strong regional business and industry experience
Modular structure, with each module lasting about five weeks, so that students can concentrate on one course at a time
Possibility of spending a semester or undertaking some courses at London Business School or Columbia Business School
Students in Hong Kong, if assigned to work in Shanghai, allowed to take equivalent courses in our IMBA Programme at Fudan University, Shanghai and eligible for credit transfer
Being part of a strong HKU (ranked 24th in the world) alumni network
Accreditation
The Faculty of Business and Economics is fully accredited by EQUIS (European Quality Information System).
EQUIS is the leading international system of quality assessment, improvement, and accreditation of higher education institutions in management and business administration. Its fundamental objective, linked to the mission of EFMD, is to raise the standard of management education worldwide.
EQUIS is not primarily focused on the MBA or any other specific programme. Its scope covers all programmes offered by an institution from the first degree up to the Ph.D.
EQUIS has established its prestige and recognition worldwide. In its first seven years of existence, EQUIS has accredited 82 institutions in 28 countries.
Last updated Apr 2020
About the School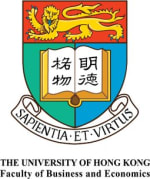 Tracing its roots back over a century, the University of Hong Kong (HKU) today proudly stands as one of the leading institutions of higher education in Asia. And with it, the Faculty of Business and E ... Read More
Tracing its roots back over a century, the University of Hong Kong (HKU) today proudly stands as one of the leading institutions of higher education in Asia. And with it, the Faculty of Business and Economics (FBE) has grown to become a widely recognised and respected business school in the region.
Read less